Extend Your Camping Season: An RVer's Guide to Winter
Extend Your Camping Season: An RVer's Guide to Winter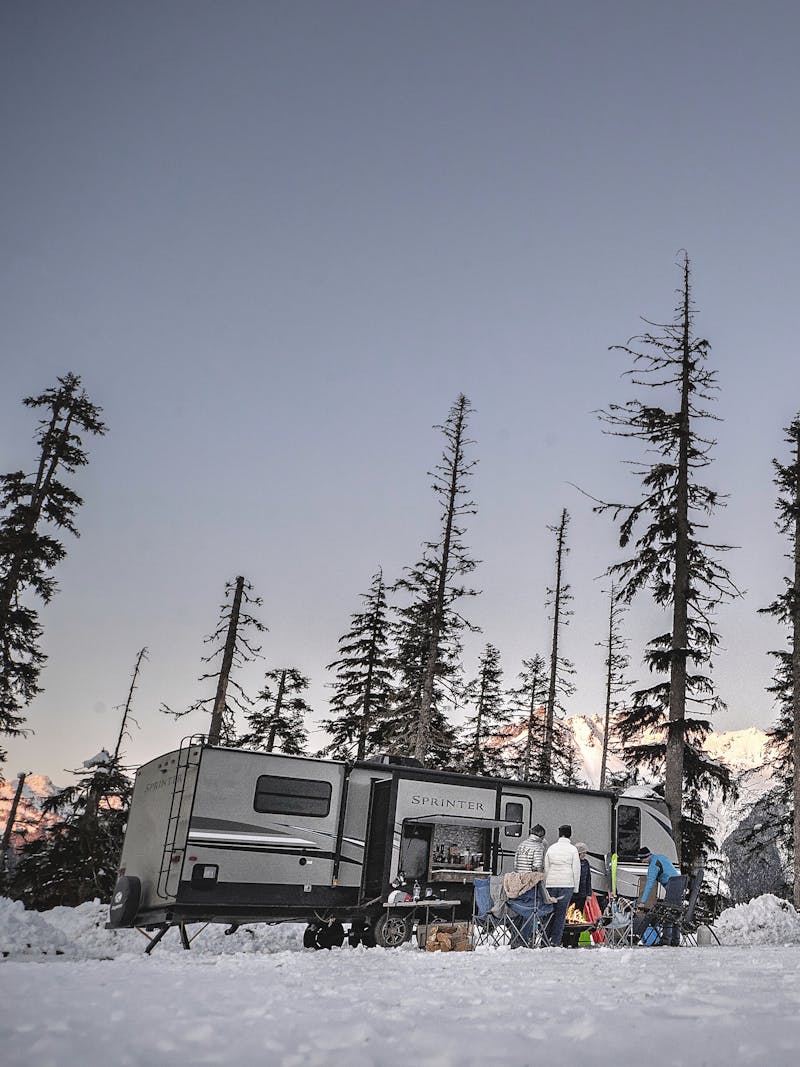 There are a lot of benefits to winter camping. Similar to camping in the fall, parks and campgrounds are less crowded, and bugs and wildlife are less prevalent. Plus, conditions for skiing, snowboarding, snowshoeing, and other winter activities are ideal. And while RVs are made to keep you safe and comfortable across the seasons, there are some extra things to keep in mind when planning a winter RV trip. Be sure to research your specific RV and contact your dealer to understand any cold weather limitations or requirements.
FAQs: RVing in the Winter
Are campgrounds and parks still open in the winter?
Yes, many campgrounds and parks stay open year-round—especially those in warmer climates. Some campgrounds and parks even offer winter-friendly amenities like full hookups, hot tubs, indoor laundry, and showers. Be sure to call ahead and ask about any seasonal closures or requirements.
What should I bring with me on a winter camping trip?
Warm clothes, extra propane and hearty foods are three items you should always have on your winter packing list. Specifically for your RV, we recommend heated tape or pads to prevent freezing in your tanks and pipes, and an exterior vehicle skirt to help keep the underbelly warm and protected. Each RV is different, so it's important to consult experts to understand what is ideal for your RV and the climate at your destination. 
Why do I need to prep my RV for the winter?
With potentially freezing temperatures and snowy weather, there are important steps that you need to take to protect your RV during the winter. You can either winterize your RV for storage or properly outfit your RV if you plan to use it. See below for more information on these two options.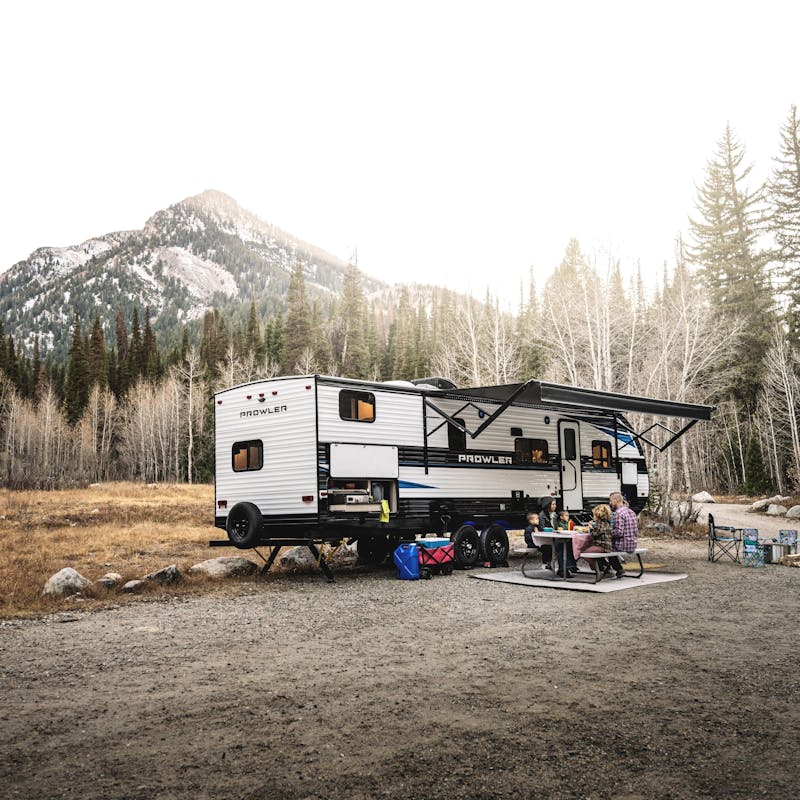 Important Things to Consider When Winter Camping
Trip Planning—Before heading out on a winter camping trip, it's always a good idea to contact your dealer to understand any cold weather limitations or requirements for your specific RV. When choosing a winter campground, double check the weather and road conditions to ensure everything is clear for your trip. It makes a big difference if you'll be camping when the temperatures drop below freezing so it's important to have a rough idea of the daily temperatures. Try to pick a campsite that is sheltered from the wind, free of avalanche danger and offers exposure to sunrise to help your RV warm-up quicker. It's also worth noting that just because it's winter doesn't mean you have to camp in the snow. There are plenty of campgrounds and RV parks in warmer parts of the country—think Florida, California, and Texas—that offer beautiful weather for sun-chasing snowbirds.

Packing Essentials—First, consider what type of activities you'll be doing on your trip. Clothing, shoes and accessories will vary if you plan to be active and outside or cozy and inside. Either way, you'll want to bring plenty of layered clothing, including a waterproof outer layer. Thick socks, a hat and some gloves are also good items to have to keep your body warm. If you plan to be outdoors in the snow, insulated and waterproof shoes are important for keeping your feet dry. For the RV, be sure to bring a shovel, tire chains, wooden blocks to place beneath your stabilizing jacks (stabilizers can freeze and get stuck to the ground) and window covers or drapes to help insulate the interior.

Prepping Your RV—Getting your RV prepped and ready for cold weather depends on where you are going, the temperatures (below freezing or not) and the amenities you'll have at your site. For example, a popular RV park with full hookups will require less winter prep than a remote boondocking spot in the mountains. And while we recommended always checking with your dealer first, below are a few examples of things to check when taking your RV out for a winter camping trip:

- Wrap your pipes and tanks with heated tape and pads to prevent freezing in your plumbing systems and water lines

- Add an exterior vehicle skirt to help protect the RV's underbelly from wind and cold

- Make sure there are no cracks or holes in your roof, siding and windows to allow cold air inside

- Check your propane tank levels to ensure you have plenty for your trip (bring extra just in case)

- Double check your RV and tow vehicle's tire pressure, as low temperatures often lead to low tire pressure

If you are camping in an area that will drop below freezing, you will need to evaluate what components of your RV will be usable, and you may need to winterize your RV ahead of your camping trip. If winterizing is your best option—then you'll need to take some additional steps to ensure that your RV is safe and secure. This includes things like draining all freshwater and holding tanks; draining the water heater, ice maker and any other appliance that uses water; removing water from all water valves including those in the toilet, sinks, and shower; opening and draining the low-point drains; and blowing compressed air or running antifreeze through all plumbing and water pumps. For more information on winterizing your RV, check out this helpful article.
Winter Camping Advice & Trip Inspiration
Winter can be such a beautiful time to explore the outdoors. And with the right precautions and information, you can have a truly memorable RV camping experience—even when it's freezing outside! Share your winter adventures with us by tagging @thorindustries or using the hashtag #ExploreWithTHOR.
Find Your Perfect RV
Whether you're new to the world of RVing or you're ready to narrow your search, we're here to help you sort through it all and find the RV that's right for you. Explore RVs based off of your lifestyle and the features important to you.
Find Your RV