Some of the country's best winter camping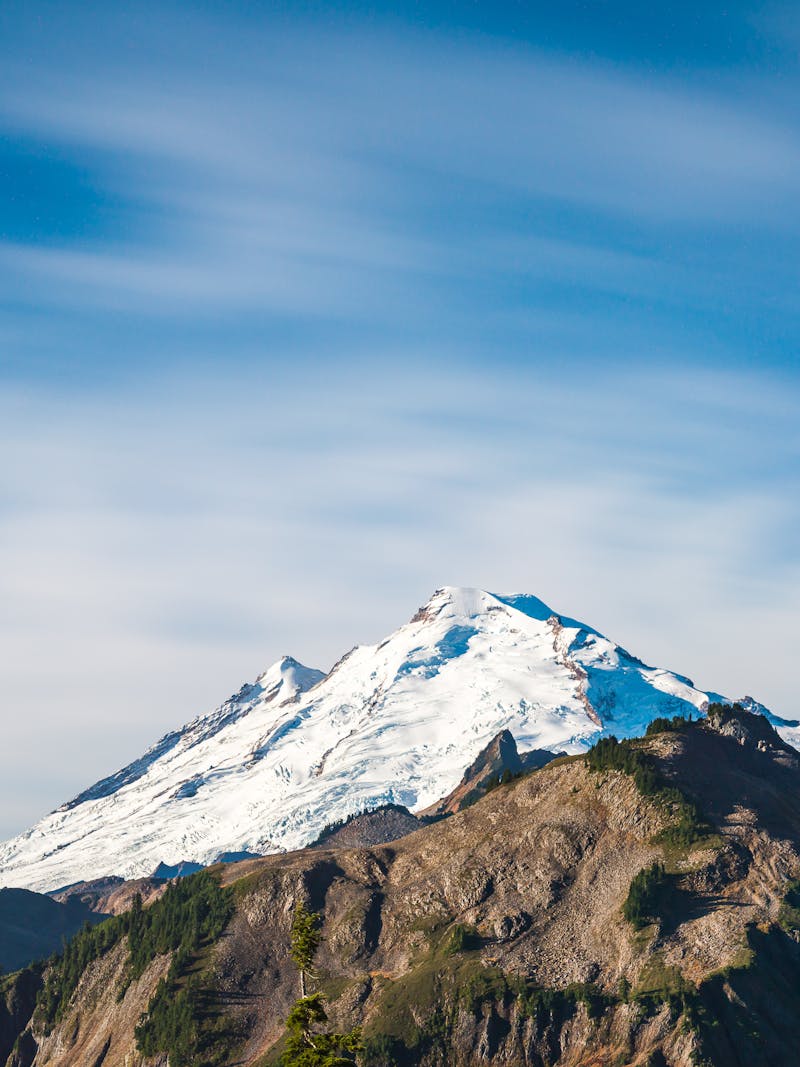 This guide first appeared on Roadtrippers in December 2019.
Don't let the thought of camping in the winter make you shiver. There are numerous benefits to taking your RV out during the colder months—less crowds, fewer bugs, and the peaceful tranquility only a quiet winter morning can provide (did we mention the hot cocoa?). So if you're longing to get outside, but unsure where to go once the snow starts to fall, check out some of these winter-friendly camping spots and find the one closest to you.
1. Lake Wenatchee State Park Campground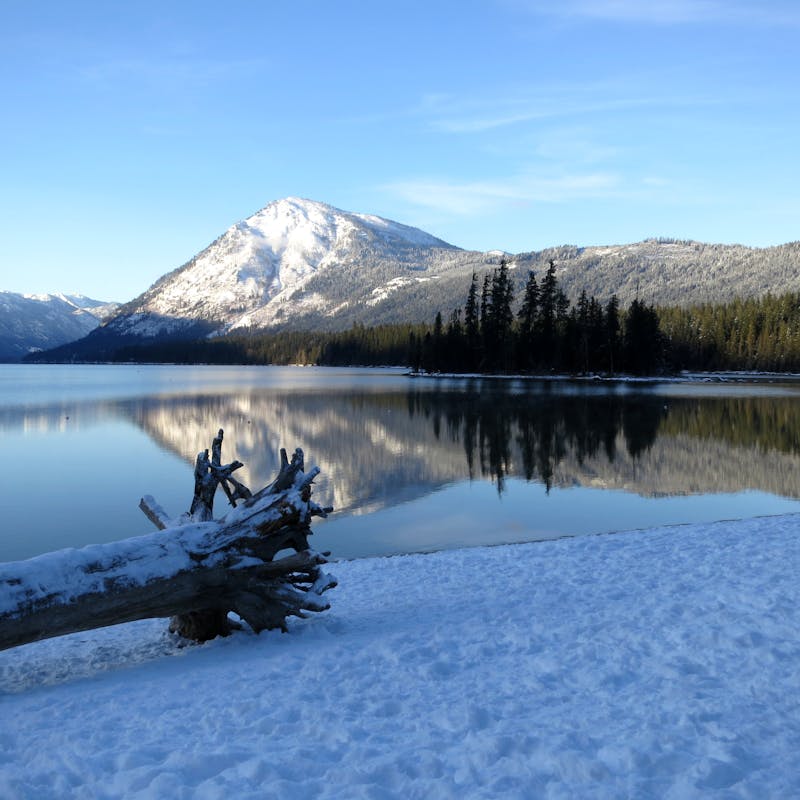 Located 16 miles north of Leavenworth, Lake Wenatchee State Park is the perfect place for snow camping beginners. While many of the park's more developed campgrounds close after the first snowfall—usually late October or early November—winter camping is offered in the southern part of the park on a first-come, first-served basis. The sites here are relatively flat and accessible by car or RV (meaning no hiking in the snow to reach your spot!). Hookups are not available during the winter months, but the park does offer heated restrooms, hot showers, and warming shelters. In addition to the snowy waterfront views, you can also enjoy a sled hill and 30-plus miles of cross-country ski and snowshoe trails.
2. Bothe Napa Valley State Park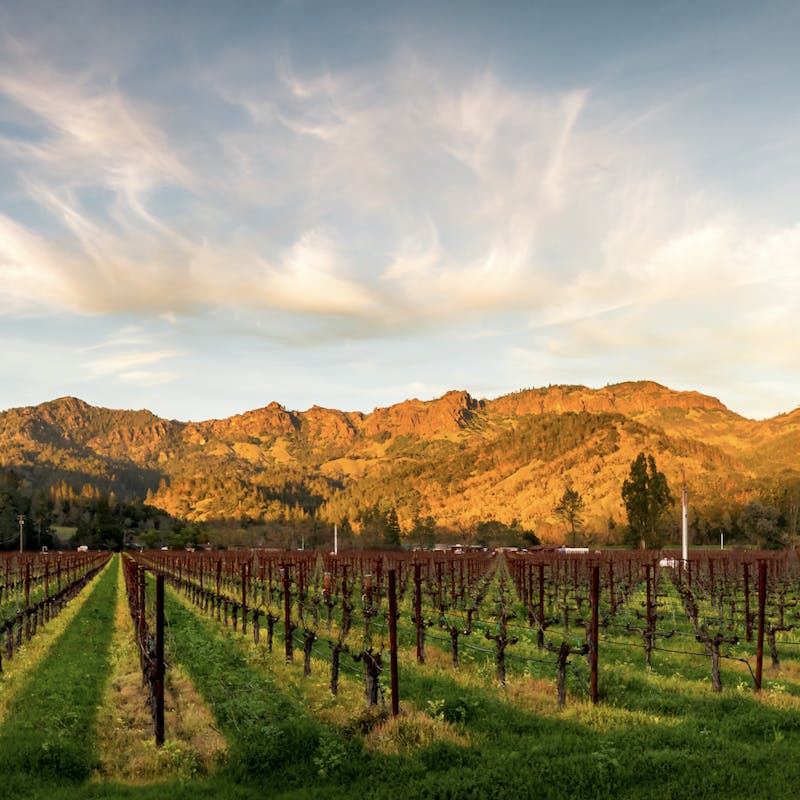 Nestled in the heart of California's wine country, Bothe Napa Valley State Park is the perfect place for year-round camping, picnicking, hiking, and, of course, wine tasting. But with temperatures often reaching 105 degrees in the summer, fall and winter are actually the more desirable—and less crowded—times to visit. Not only is the park surrounded by lush wineries and towering redwoods, it also comes equipped with 30 RV campsites, BBQ grills, fire rings, picnic tables, and showers. If you do plan to camp with your RV, be advised of length restrictions: 31-foot max for motor homes, and 24-foot max for trailers.
3. Great Sand Dunes National Park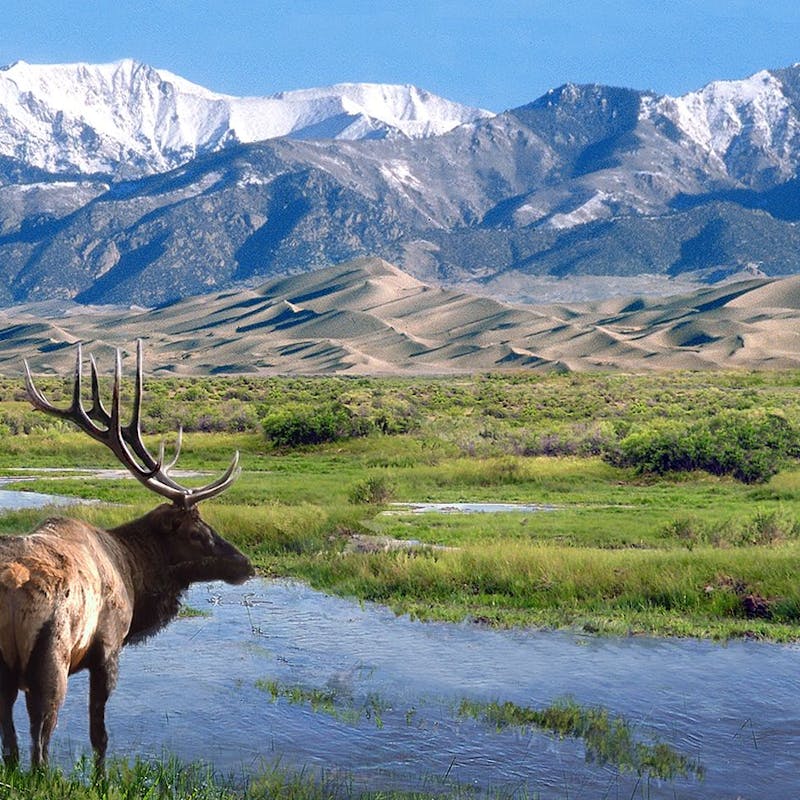 Great Sand Dunes National Park is as outlandish as it is beautiful. I mean where else can you find soft, golden hills of sand directly beneath steep, snowcapped mountains? A must-see if you're in Colorado for the winter, the park may not allow camping within its grounds but there are plenty of spots within just a few miles. A bit more rural and rugged, Zapata Falls Campground is 11 miles south of the park's visitor center and offers spectacular views of the entire dunefield and San Luis Valley. Cool Sunshine RV Park—while a bit further away from Great Sand Dunes—is another great option. Made for RVs of all shapes and sizes, Cool Sunshines features full-hookup sites, back-in sites, and pull-through sites, as well as laundry facilities, propane fill stations, showers, WiFi, and a putting green.
4. Hot Springs National Park KOA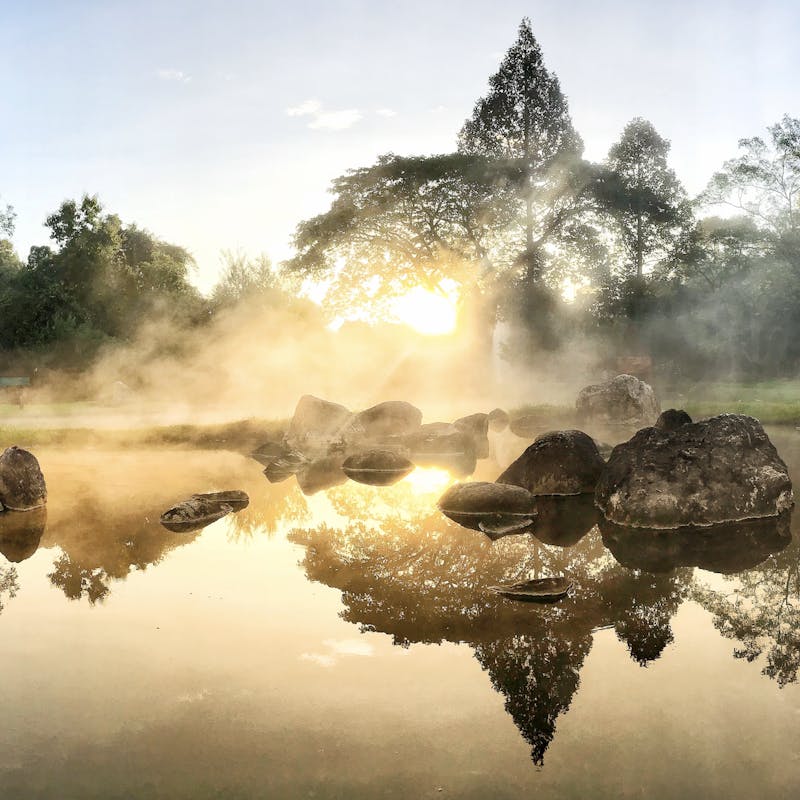 As winter makes its way across the country, what better way to warm up than in a hot spring? Located within minutes of Hot Springs National Park, this KOA campground is a great way to visit both the park and the surrounding attractions. In fact, the campground even offers a shuttle to various points in town, so you won't have to worry about unhitching or driving your RV. Hop on and check out one of the 47 natural hot springs in the park (where the average water temperature is about 143 degrees). Or take a tour of Bathhouse Row and see the stunningly beautiful Fordyce Bathhouse and its stained glass masterpieces. Once you're back at the KOA campground, enjoy some unique amenities such as a fully-stocked snack bar, mini golf, and an arcade room.
5. Padre Island National Seashore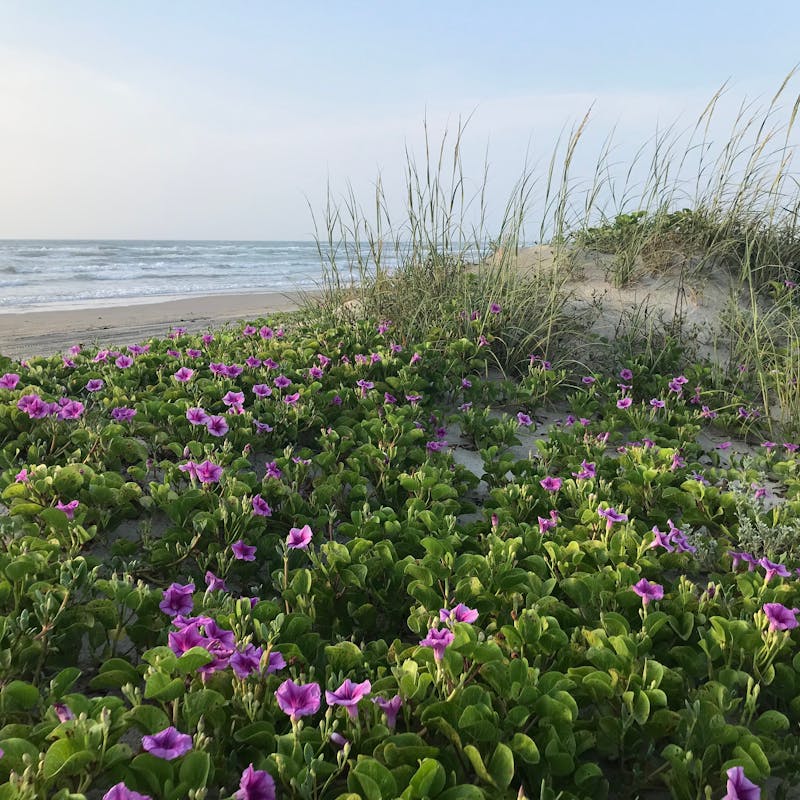 In Corpus Christi, the temperatures rarely drop below 45 degrees between December and February, so feel free to bask in the mild winter weather. And we think one of the most beautiful places to do this basking is at Padre Island National Seashore. The longest stretch of underdeveloped barrier island in the world, Padre Island National Seashore protects 70 miles of coastline, dunes, prairies, and tidal flats. Here you can find two established campgrounds and over 60 miles of open beach camping. Camping is offered year-round and on a first-come, first-serve basis. And while there are no RV hook-ups anywhere in the park, there is a dump station and a water filling station near the entrance. Four-wheel drive is recommended if you want to park on the sand, close to the seashore. Fishing poles and kayaks are also recommended.
6. Gamble Rogers Memorial State Recreation Area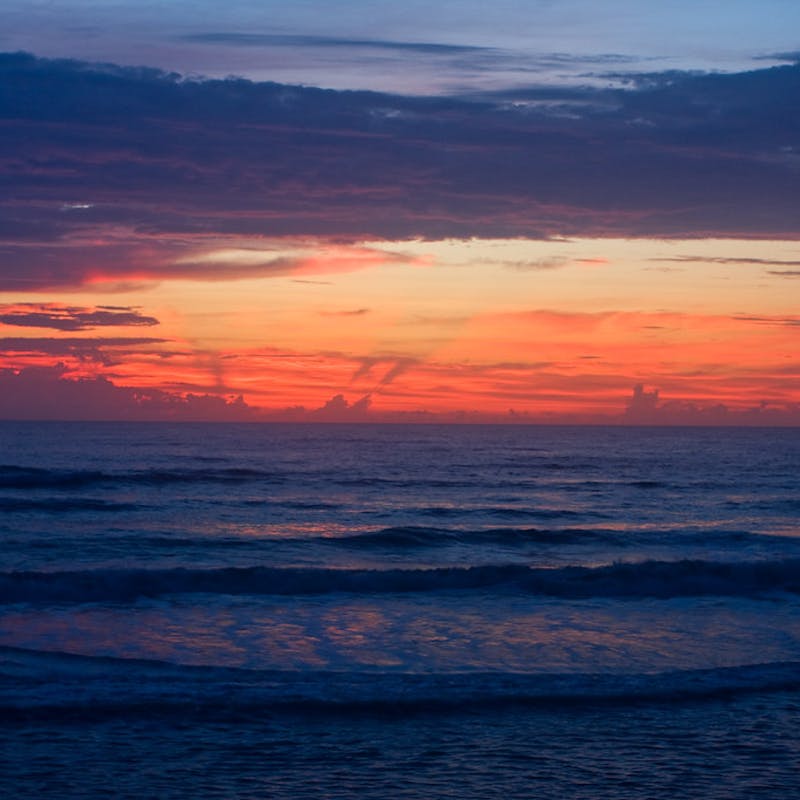 Our winter camping list wouldn't be complete without a spot in the Sunshine State. If you prefer to fully escape the cold and camp somewhere where the sun is always shining, then Gamble Rogers Memorial State Campground is the place for you. A small place tucked between the shores of the Atlantic Ocean and the Intercoastal Waterway, this charming campground sits on 145 acres of beautiful beachfront property. The park's 68 campsites feature water, electrical hookups, a picnic table, and a fire ring. Some of the sites on the Atlantic side provide ocean views and boardwalk access directly to the beach. Reservations can be made up to 11 months in advance—and winter is often a popular time—so plan accordingly.
7. Hunting Island State Park Campground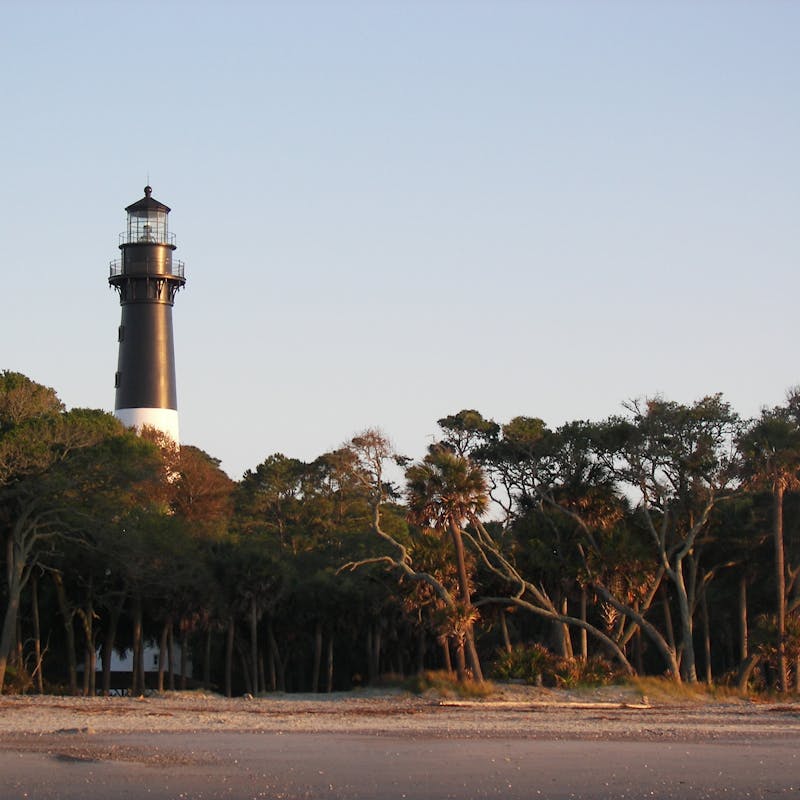 Just up the coast in South Carolina, you'll find Hunting Island State Park. This semi-tropical plot of land is completely surrounded by water and marshes (hence the island name) but is easily accessible by RV via the Sea Island Parkway. Camping is available at the northern end of the park near the ocean. Each site has water and electrical hookups, and can accommodate RVs up to 28 feet in length (a select few sites can accommodate 40 feet). In the winter, while temperatures can range from 40- to 70-degrees, the bugs are less prevalent, making for a much more enjoyable outdoor experience. Be sure to check out the historic Hunting Island lighthouse and climb your way to the top for the best sunset views.
8. Tahquamenon Falls State Park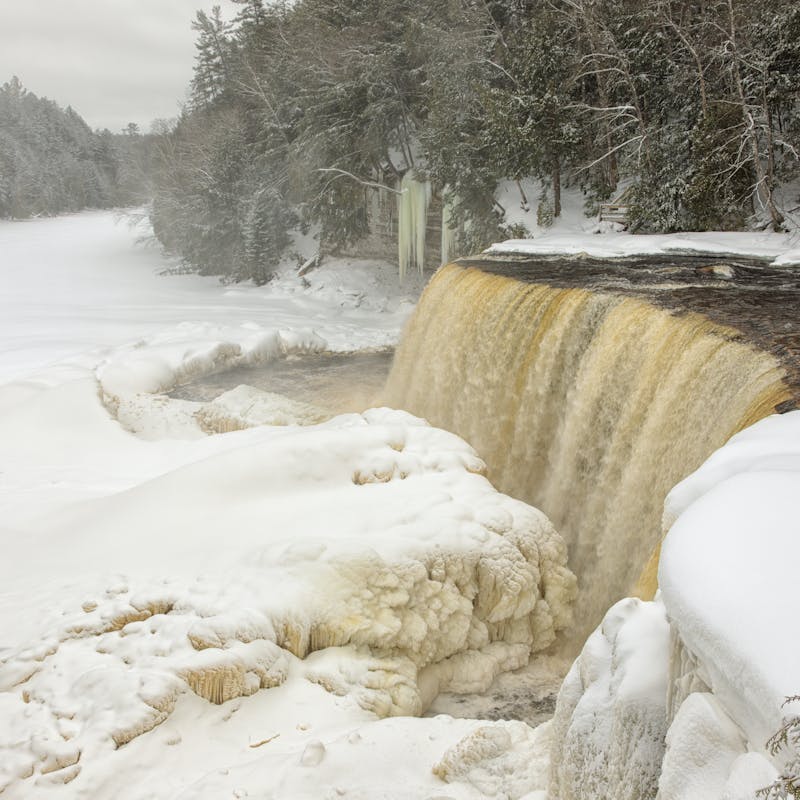 There aren't a lot of state parks in Michigan that stay open for winter camping but, lucky for you, Tahquamenon Falls is one of the few. The park is located in the northeast section of Michigan's Upper Peninsula, and offers plenty of winter activities such as snowshoeing, cross country skiing, snowmobiling, and, of course, camping. Of the three RV-friendly campgrounds in the park, only the Hemlock loop is open in the winter. Most of the campsites at Hemlock are back-in, but there are some pull-throughs. One thing to note is that there is one electrical hookup for every two campsites, so you'll have to share with your neighbor (although, in the winter, this likely won't be an issue). In addition to the lack of crowds, another added benefit of visiting Tahquamenon Falls State Park in the winter is being able to see the falls covered in snow. There's something special and serene about seeing a massively powerful waterfall nearly frozen solid.
Take this trip yourself
From snowy peaks to sand dunes to steaming pools, these eight spots may feature a wide variety of terrain types but they all have one thing in common: they make for some excellent winter camping. Curious how to get your RV ready for the cold weather? Be sure to consider things like tire quality, insulation, and generator power.
Photo Credit: Checubus / shutterstock; Steve Cyr / flickr; Timothy S. Allen / shutterstock; Great Sand Dunes National Park / wikimedia; Niwat panket / shutterstock; An RPM Anthology / shutterstock; jeffk42 / creative commons; Hunting Island State Park Campground / wikimedia; Craig Sterken / shutterstock.
Find Your Perfect RV
Whether you're new to the world of RVing or you're ready to narrow your search, we're here to help you sort through it all and find the RV that's right for you. Explore RVs based off of your lifestyle and the features important to you.
Find Your RV