Is A Travel Trailer Right For You?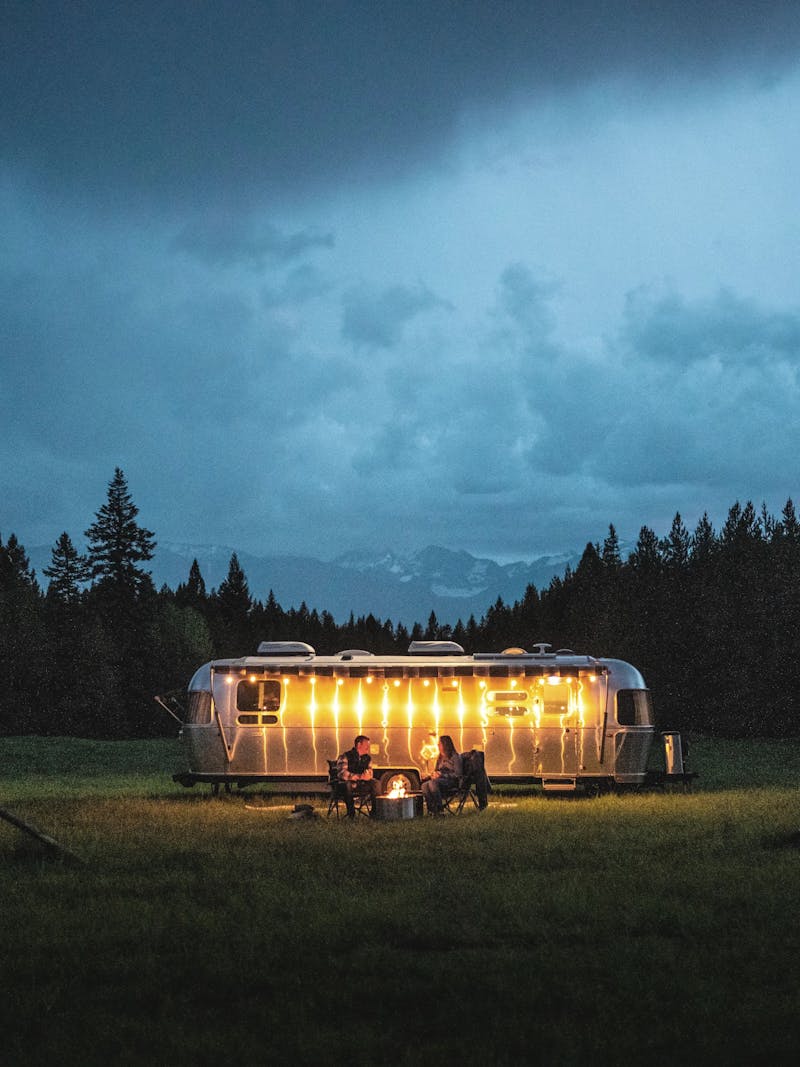 Travel trailers are the most popular type of non-motorized RV, and for good reason. There are a wide variety of models, layouts and price points. You can find long or short travel trailers, models that come with multiple bedrooms and slideouts, and plenty of interior and exterior storage space. Many people prefer travel trailers because they can unhitch their tow vehicle and still have a car to drive around. However, some buyers are concerned about getting a travel trailer due to towing and potential maintenance issues. And with so many different models on the market, how can you even begin to figure out which one is right for you?
To help address some of these concerns and highlight just how reliable and diverse travel trailers really are, we asked four different owners to share why they ultimately decided to buy a travel trailer and how the RV they chose fits their unique lifestyle. They address some common travel trailer complaints, including towing capabilities and tire maintenance, and share their advice for anyone interested in buying a travel trailer.
Giancarlo Damiani / Full-Time RVers / Keystone Outback
Why did you choose your specific travel trailer?
When we were first looking at purchasing an RV, we actually looked at fifth wheels instead of travel trailers. The long length and wide, open interiors of a fifth wheel were originally very appealing to us. However, we considered how and where we would travel, and a large part of that was wanting to visit national parks. If we could stay under 30 feet, then we could camp in almost double the number of parks. We also realized that we wanted to have more flexibility with our travels and plan some fast-moving itineraries., and navigating a large towable RV would limit that for us. Ultimately, we decided that we wanted the comforts of a large fifth wheel with the flexibility of a Class B camper van, and the Keystone Outback travel trailer felt like the perfect middle ground for our needs.
Did you have any concerns about buying a travel trailer? If so, what were they and how did you address them?
Despite our countless hours of research, we were still intimidated to tow an RV. Hitching and unhitching takes practice and some trial and error. But the good news is that you do eventually get the hang of it and it will start to feel like second nature. Dealing with sway was another concern, especially if you plan to take your RV across the country and through different climates. South Dakota, for example, has year-round winds that can exceed 60 mph. In our opinion, it's worth the extra money to invest in Equal-i-zer sway control bars. Sway bars can significantly aid in keeping your car and RV straight and controlled. After 2,500 miles of travel, we couldn't imagine towing without them. And if you're ever faced with winds like the ones in South Dakota, it's always a good idea to reduce your speed and take things extra slow.
What are some of your favorite hobbies and activities, and how does your travel trailer fit these?
Camping at and visiting national parks is huge for us. Being able to park less than a mile from Mammoth Cave National Park and staying at the entrance to Glacier National Park is ideal. We've been able to beat crowds, and get closer to the wildlife and activities that these parks have to offer. And having a smaller travel trailer has made this possible. Additionally, we also wanted to see and stay near our friends and family. Having a smaller, more maneuverable travel trailer makes it easy for us to see loved ones. We've been able to park in small spots and driveways without any hassle. And with a towable RV, we also have a vehicle that we separate and can use to run errands and take around the city.
How do you handle maintenance issues in your travel trailer?
Much like a car, owning an RV will require some work and repairs. One of the biggest maintenance issues we've had to deal with pertains to tires. Our best piece of advice is to get some high-quality tires put on your travel trailer, including the spare. The cost of repairing a blow-out is much greater than the cost of getting new tires. Plus, you will likely get better traction and stability on the road. Everyday necessities like propane and water are available at most campgrounds, so you shouldn't have a problem keeping these full. It also doesn't hurt to have some basic maintenance knowledge, as small issues will inevitably pop up on the road. Things like replacing fuses, fixing leaks and replacing seals will make your life much easier if you know how to do them yourself.
How did you address towing and finding the right tow vehicle for your travel trailer?
Another major factor in our decision to purchase a travel trailer was finding the appropriate tow vehicle. We were already planning on purchasing a Ford F-150, and our 30-foot, 7,500-pound Keystone Outback could be towed by this exact truck. We also knew we'd be using the truck as our primary vehicle, and we didn't want to drive something too big, especially in major cities. It's critical that you research your vehicle's tow capacity and stay under that number. And don't forget to allot some extra weight for all of your clothes, stored items, gas, and full tanks.
What advice would you give someone who is considering buying a travel trailer?
First, follow the hitching steps thoroughly and in the correct order. The first time we detached the RV, we were on a slight incline and the trailer started to roll backwards. Luckily, there wasn't any damage and we learned a very important lesson: don't detach your chains until everything is secured and level, your parking brake is on, and your wheels are chocked. Second, use hitch lubricant as needed. This helps keep your hitch ball from rusting and makes getting it in and out of the socket much easier. And finally, make sure to distribute the weight inside of your travel trailer, especially if you have a smaller rig. Even distribution will help with towing and put less strain on your tow vehicle.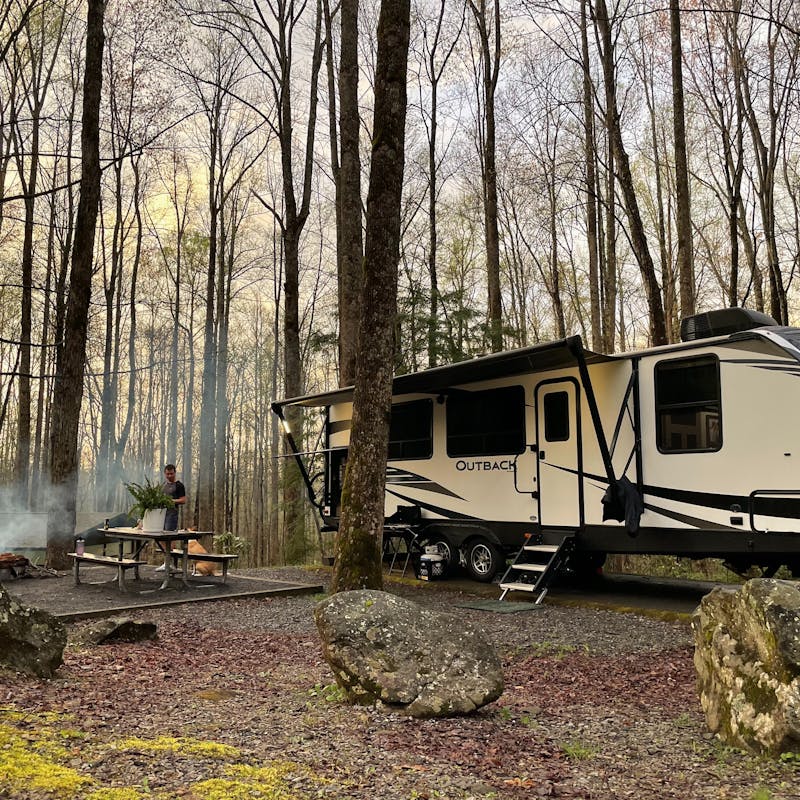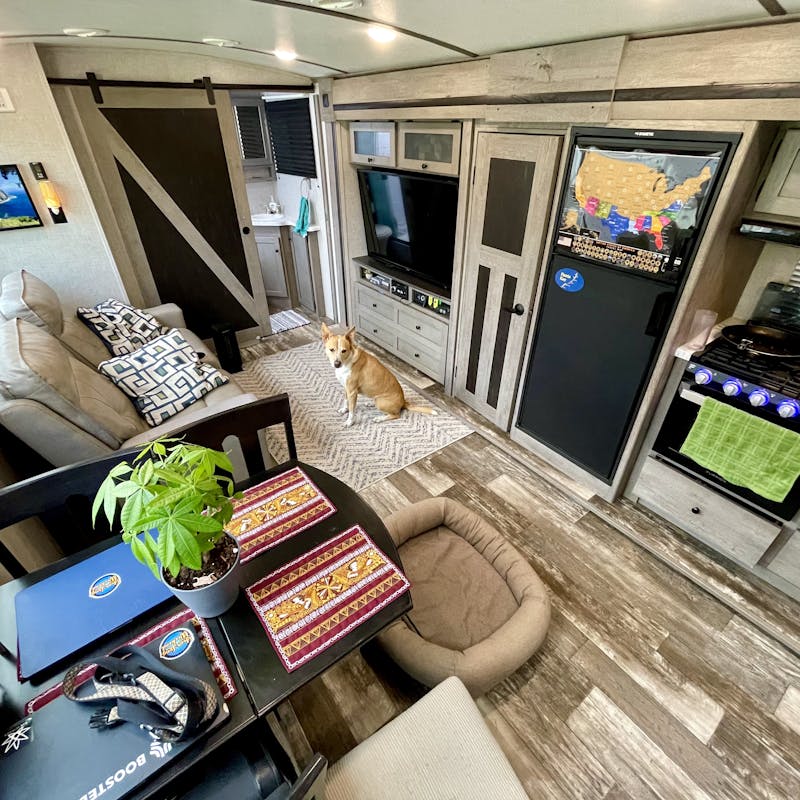 Stephanie Deininger / Weekend Warrior Family / Heartland North Trail
Why did you choose your specific travel trailer?
This is actually our second travel trailer (we previously had a Keystone Outback Ultra Lite) and we chose the North Trail because it was slightly larger and could still fit into most national and state parks. For this phase in our life, we were looking for a travel trailer that was wide enough to have ample floor space for our toddler to play and for our dogs to move around. We like to take longer camping trips (sometimes two weeks at a time), and we do spend a lot of time inside the RV, so an open, comfortable space was really important. We also wanted something that could easily attach and detach to our truck, and still offer us a vehicle to drive around.
Did you have any concerns about buying a travel trailer? If so, what were they and how did you address them?
Our three biggest concerns were driving and towing (especially on new and unfamiliar roads), feeling comfortable unhitching and leaving the RV by itself while we were gone, and dealing with towable RV maintenance. Fortunately, all of these concerns were alleviated through trial and error and by joining online support groups where fellow travel trailer owners shared their experiences and advice. Driving and towing got much easier the more we did it; it just takes slow and careful practice. We also realized that putting away all of our valuables, and ensuring that all doors and windows were closed and locked kept our RV safe. And lastly, there are so many helpful resources and videos available online for basic maintenance. Chances are, if you're dealing with an issue, someone else has also dealt with the same thing and can help you through it.
What are some of your favorite hobbies and activities, and how does your travel trailer fit these?
Even before we purchased an RV, our family has always loved taking road trips. Getting a travel trailer was a no-brainer once we learned we could bring everything with us on our trips. Our Heartland North Trail isn't massively long, so bringing it along feels easy. We also love exploring national and state parks, and owning a smaller travel trailer allows us to stay in these remote places and avoid renting a cabin or booking a hotel (which can often be expensive near national parks). And finally, we like to do a mix of both weekend and extended trips, and having a travel trailer allows us to pick up and go. We can bring everything we need with us and not have to worry about renting gear or packing and unpacking. Plus, we each have our own dedicated sleeping spaces—my husband and I have the front bedroom and our toddler has the back bunk room, which can also double as a playroom.
How do you handle maintenance issues in your travel trailer?
We have a checklist that we review before every trip, even the quick, weekend trips. We try not to make it complicated, and have learned that checking things before we go saves us time and potential headaches later. We also do thorough seasonal maintenance, like winterizing, checking all seals, and inspecting the electrical and tanks. We try to look at maintenance as part of the experience as opposed to making it a shore. We always travel with tools and a few extra parts, including electrical fuses and a spare tire. It's important to have items on hand that may be hard to find at a local hardware store and that keep your RV in basic, working order.
How did you address towing and finding the right tow vehicle for your travel trailer?
When we purchased our Heartland North Trail, we ended up also purchasing a heavy-duty truck. We made a point to buy a truck that had a towing capacity much greater than we needed because we figured we might want to upgrade to an even larger towable RV in the future. We also wanted a truck that had the ability to connect to a back-up camera, which is really nice to have if you're new to towing and plan to travel to new places.
What advice would you give someone who is considering buying a travel trailer?
If you're considering a travel trailer or recently purchased one, we highly recommend joining an online RV group or subscribing to an RV owner's support group. Being able to crowd-source questions with people that also have travel trailers (or, even better, your exact model) is extremely helpful. I would also recommend renting an RV before buying one. This will give you a feel for how they work and exactly the space you'll need. Go to an RV show or visit multiple RV dealers. Explore different models, lay down on the beds, stand in the shower, and really test it out to see if it's a good fit for you.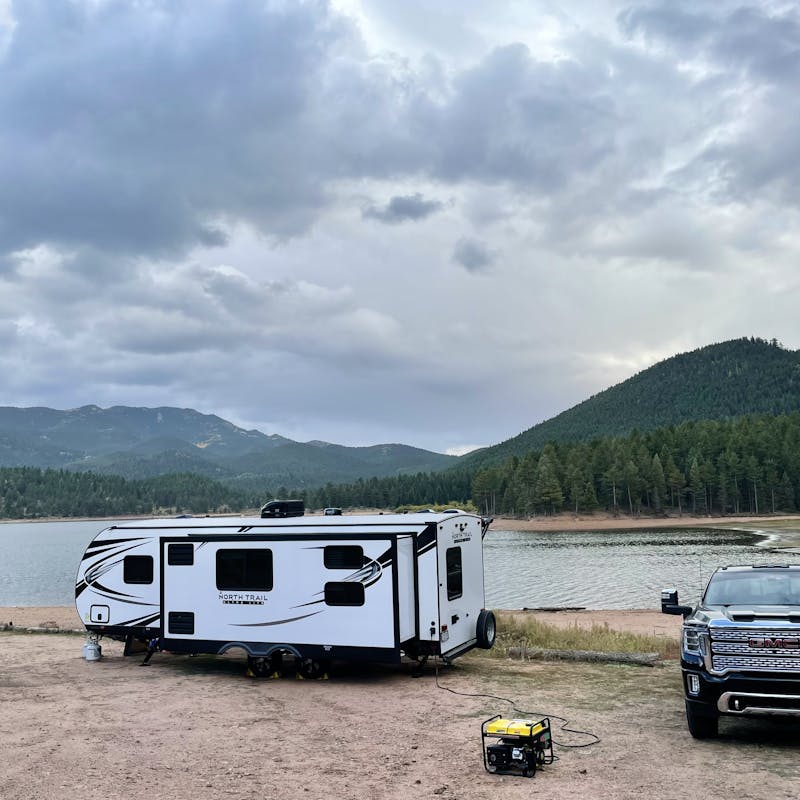 Kendal & Collin Strachan / Full-Time RVers / Airstream Classic
Why did you choose your specific travel trailer?
The primary reason we chose our specific travel trailer is because we felt that owning an Airstream represented an investment more than an expense. We live full-time in our Airstream, so having a home on wheels that is painstakingly crafted and extremely reliable was very important to us. We really enjoy our large refrigerator, nice stovetop, full bathroom, private bedroom, and optimal storage space. Additionally, we have been around a lot of different towable RVs, from gooseneck horse trailers to 40-foot fifth wheels, and nothing compares to towing an Airstream. The aerodynamic profile and center of gravity make it the best RV we've ever pulled.
Did you have any concerns about buying a travel trailer? If so, what were they and how did you address them?
Truthfully, we didn't really have any logistical concerns about buying a travel trailer. Given Collin's experience with RVs (his grandparents were full-timers and his family had RVs growing up), we felt like we were able to make the switch relatively easily. However, it was really important to us that our travel trailer hold its value, especially if we were going to invest significant time and money into it. We went to a few RV shows and toured some of the smaller, lighter units but we always seemed to go back to the timelessness of Airstream. We knew owning an Airstream Classic would be something we would continue to treasure for many, many years.
What are some of your favorite hobbies and activities, and how does your travel trailer fit these?
We have always lived an outdoors-focused lifestyle. For several years, we traveled the states visiting as many national parks and scenic sites as we possibly could. We now live full-time in Alaska, which our Airstream has been able to handle quite well! One of the reasons why we love having a travel trailer as opposed to a motorized RV is that we can use our Airstream as a home-base. We love to create a campsite, put out our chairs, string up lights, have a campfire, and feel as though we are completely at home wherever we're staying. The travel trailer is distinctly different from our vehicle, and when we come home after a long day of hiking or climbing, it feels amazing to have everything already set up and laid out for us.
How do you handle maintenance issues in your travel trailer?
Everything you own in life will need some love and care, and a travel trailer can be very reliable. We prefer boondocking, so we got a 60-gallon water bladder for the back of our truck. We also have a Clearsource Nomad, so we can either pump and filter water from a natural water source, or simply stop at a site that offers water and fill up. Most modern travel trailers have excellent engineering, so there's little need to worry about plumbing issues. If you'll be camping in cold weather, we recommend keeping the cabin of your travel trailer nice and warm, and clearing your lines of water before heading to bed at night.
Regarding power, we've outfitted our Airstream with a Battleborn lithium battery system and solar panels. So, apart from occasionally running our generator to charge the batteries, power is rarely something we have to worry about. Our 3,000 watt inverter can power all of our kitchen appliances, and the system even includes a 400 watt charger that can run off of our truck's alternator. Airstream now offers Battleborn as a factory option or an upgrade, so you really only need to know what you'd like to power and they can do the rest for you.
Propane, tires, periodic washes (find a carwash with a big outdoor bay), and lubrication of moving parts are all part of the process. Airstream offers a great app that lets you stay on top of maintenance intervals. Again, this is no different from owning a home or car—when you purchase a quality travel trailer, you really can trust it.
How did you address towing and finding the right tow vehicle for your travel trailer?
One of the most common questions we get whenever we pull into a gas station is: You can tow an Airstream with that truck? We drive a Ford F-150 with a Tow-Max package. Our truck is rated at about 13,000 pounds, and our travel trailer weighs about 8,000 pounds when dry. For us, it was more important to keep our travel trailer's weight down and have a smaller truck, since we knew we'd be using the truck on a day-to-day basis. That being said, we strongly recommend getting a weight-distributing hitch with an anti-sway function. In addition to the logistical factors that go into choosing a tow vehicle, there are some comfort concerns as well. If you've never owned a truck and feel intimidated or that they might be less comfortable compared to a modern sedan or SUV, go for a test drive! You'll be amazed at how comfortable and well-outfitted a truck can be.
What advice would you give someone who is considering buying a travel trailer?
First, we would say to go for it! The joy of traveling and having a place that feels like home makes all the difference in the world. One of the things we'd most recommend is finding a travel trailer that will facilitate your routines and favorite parts of the day. For example, Kendal really enjoys cooking and meals are a favorite part of our day, so having a larger fridge and lots of counter space was really important to us. Additionally, before you hit the road, it's critical that you feel confident with all of the different systems, how to hitch and unhitch, and how to safely tow. If you purchase a travel trailer but then find that you're unsure of yourself while towing, setting up power or draining tanks, then you're much less likely to use it. A great dealership will usually spend hours with you on these things, but some RV clubs like Escapees offer additional training that will help you to feel like a pro on the road. Do your research, purchase a travel trailer that you absolutely love and go crazy making it feel like home. You can't go wrong with your favorite blankets, pillows, plants, camp chairs, and dishes. And finally, we'd recommend keeping a tent and sleeping pad somewhere in your storage. It'll be necessary when you find that there's nowhere else to send your husband on those days that you need some quiet time.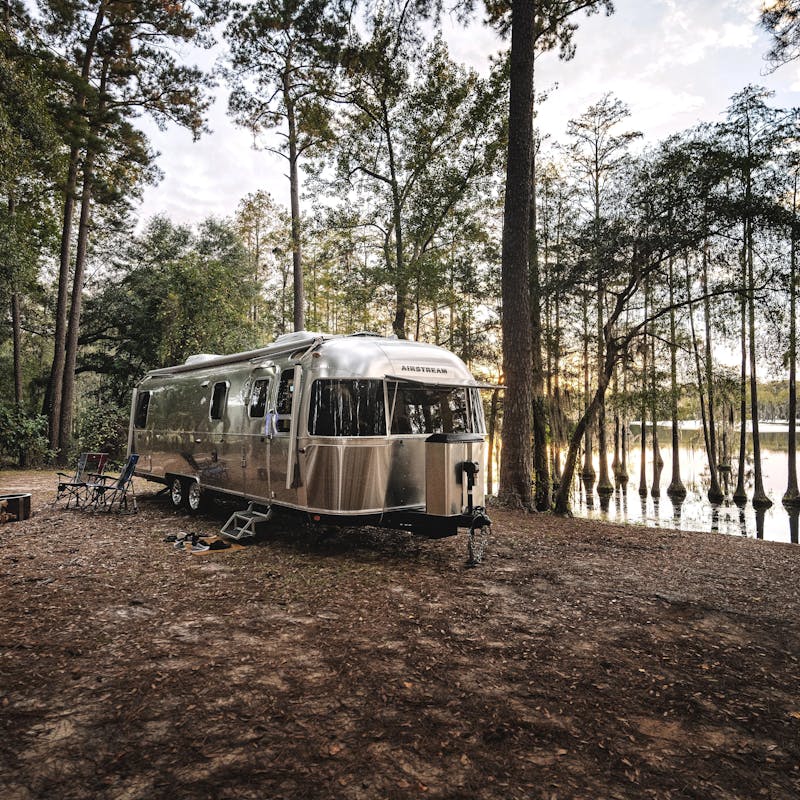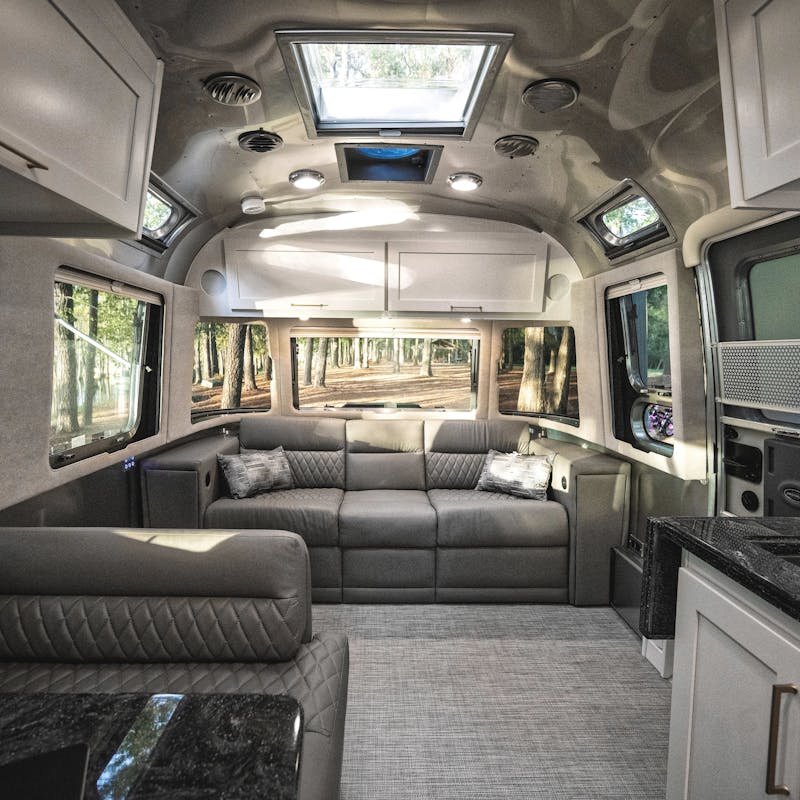 Jason Takacs / Part-Time RV Family / Jayco Jay Flight
Why did you choose your specific travel trailer?
After seeing thousands of Jayco travel trailers in campgrounds across America, we knew it would be our brand of choice once we transitioned from tent camping to RVing. In our opinion, Jayco has one of the best warranties in the industry and they stand behind their products, so it was an obvious choice for us. Since we like to travel light and want the ability to fit into campsites of all sizes, we knew we needed a travel trailer less than 25 feet. And since we were a family of four with two boys, having a bunk bed was also important. We did own a 20-foot Jayco Jay Flight for nearly seven years, and decided to upgrade to our current Jay Flight for a little extra room. We simply needed a little more living room space, and the slide out plus an extra foot and a half made part-time RVing much more comfortable for our family.
Did you have any concerns about buying a travel trailer? If so, what were they and how did you address them?
When we first purchased our Jayco, we were worried it would be difficult to tow and maneuver. Since we had never actually towed anything before, and we had only owned a truck for a few months before purchasing the travel trailer, the first time we took it out was a bit nerve-wracking. Both Alison and I had only driven small sedans, so this truck set-up seemed pretty intimidating. But practice really does make perfect. We made a point to go camping a lot those first few months, and this really helped towing and setting up feel like second nature. In fact, we do it so much, we feel comfortable doing it in the dark. Another concern of ours was the overall cost to purchase a new travel trailer. But once we actually did the math, we realized that owning an RV, and being able to travel comfortably and see as much as we like, actually saves us money in the long run. Over time, staying in hotels and eating at restaurants can be pretty expensive compared to staying in an RV.
What are some of your favorite hobbies and activities, and how does your travel trailer fit these?
As avid hikers and astrophotographers, RVing fits our travel lifestyle perfectly. Let me walk you through a typical day of RVing so you can understand a bit better. Usually, our family will wake up before sunrise and get out onto a trail to catch the beautiful morning light at an amazing alpine lake, remote slot canyon or any number of other stunning natural landforms. Once we return from the hike, we wake up our dog, who is safely sleeping in our Jayco, and we take him for a walk. The rest of the day is a mix of cooking multiple meals on our stove inside or over a campfire, bike riding, canoeing, playing board games, exploring the campground, and enjoying cornhole, horseshoes or ladder toss. Sometimes, we'll even take a nap in our comfortably air conditioned RV. When the sun goes down, we become the ultimate night owls. Our boys stay up for a while and stargaze with us. And when it gets late and we send the kids to bed, Alison and I enjoy photographing the night sky well after midnight.
How do you handle maintenance issues in your travel trailer?
Like the saying goes, an ounce of prevention is worth a pound of cure. As with any vehicle or home, an RV requires maintenance. Every couple of trips, we clean the air conditioner filter, walk around the travel trailer and look at the caulking and seals, inspect the tires, and make sure the fire detectors are in proper working condition. These little tasks take minimal time to perform but are really beneficial to the health of our travel trailer. To prevent any potential electrical issues when using shore power, we like to use a surge protector whenever plugged into a campground pedestal. For tire maintenance, we use a tire pressure monitoring system (TPMS) to guard against any potential damage caused by a tire blowout. We also lubricate our tire bearings every year before any big camping trips.
How did you address towing and finding the right tow vehicle for your travel trailer?
Since we knew from the beginning we would be purchasing a small travel trailer, there was no reason to have a large tow vehicle. As former tent campers and backpackers, our goal was always to travel as lightly as possible. After doing plenty of research and testing out multiple brands, we decided on a Ford F-150. We opted for one that had a super crew cab so our boys could travel comfortably as they grew bigger over the years. It was also important for the truck to have a tow package since a travel trailer was in our future. We also liked that the Ford had a twin turbo V6 engine, so it would save on gas and also be able to handle high alpine roads and steep mountain inclines.
What advice would you give someone who is considering buying a travel trailer?
If you are considering a travel trailer, first decide how much space you will need. Everyone feels differently on the amount of space, so we recommend going to an RV dealer and spending time inside each of the units until you find the one that will fit your family and travel style. Try to visualize your day, week or month in that space. The travel trailer you get will be different based on whether you are a full-time or part-time RVer. If you intend to use your travel trailer for weekend or week-long trips, the model you consider might be very different from someone who plans to use it for full-time roadschooling and year-round living. Also be sure and consider what gear and toys you will be taking with you on the road. If you have hobbies that include using ATVs or kayaks, your space requirements will be much different than someone with a more passive form of RVing. Another option is to rent a travel trailer to test it out. There are numerous websites that offer RV rentals, and even customize quizzes, so you can see which is the best option for you.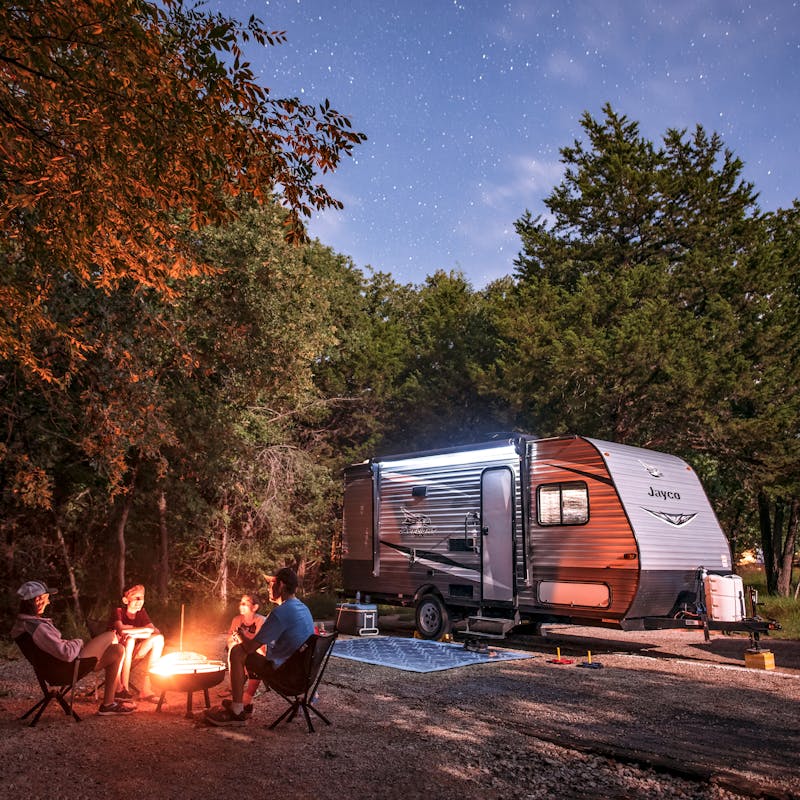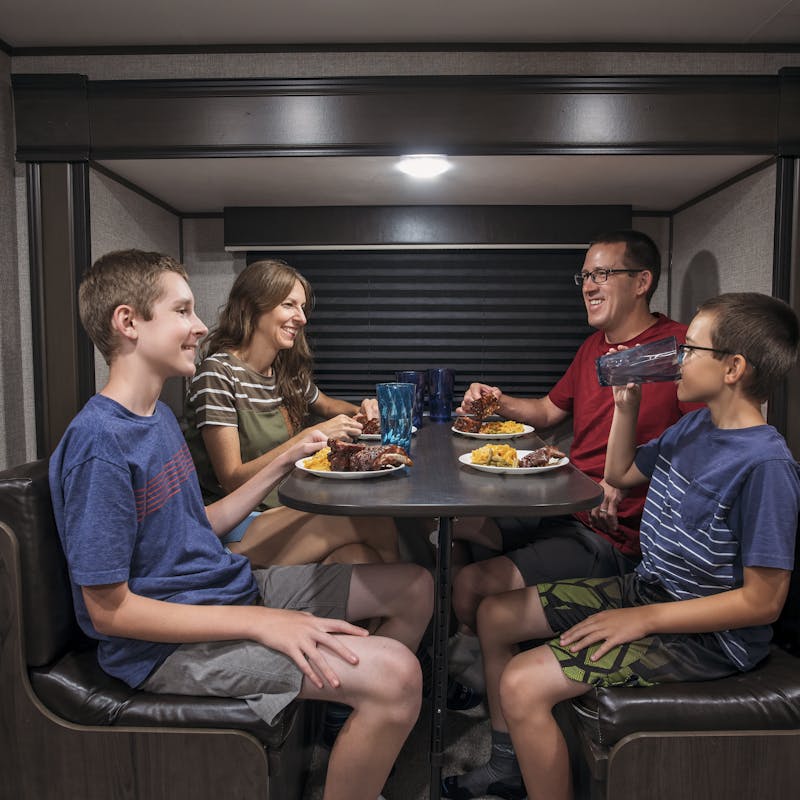 Find Your Perfect RV
Whether you're new to the world of RVing or you're ready to narrow your search, we're here to help you sort through it all and find the RV that's right for you. Explore RVs based off of your lifestyle and the features important to you.
Find Your RV