How To Spend Thanksgiving In An RV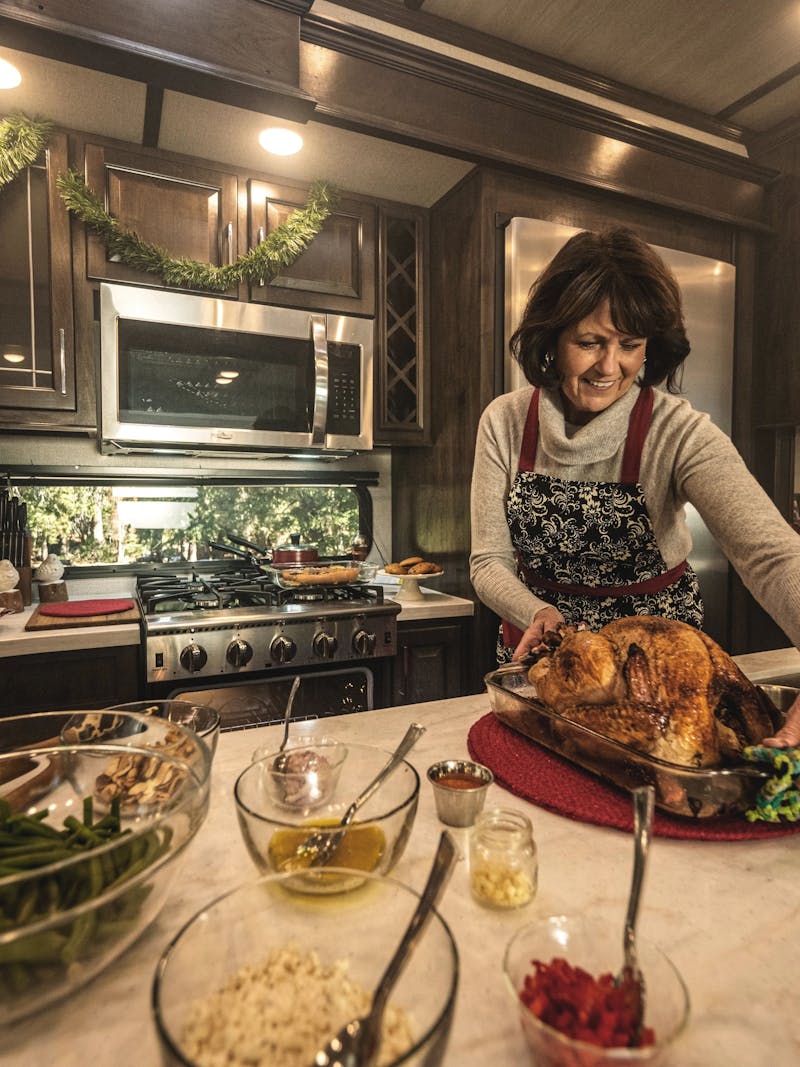 Many people are already planning and booking their holiday trips. And with the rising cost of airfare, some might be looking at alternative ways of traveling home for the holidays this year. One cost-effective solution could be to spend Thanksgiving in an RV. This might mean hosting Thanksgiving inside your RV, or driving to a family member's house and parking on their property.
If you're wondering how this could even be possible, we asked five RV owners to share their personal Thanksgiving experiences, including tips for how to enjoy the holiday inside an RV, recipe ideas for Thanksgiving dinner (including those with dietary restrictions) and advice for anyone looking to try something a little different this holiday season.
Thanksgiving in an RV for anyone who wants to be surrounded by loved ones…
Lindsey Maxey / Keystone Bullet Travel Trailer
We have had two memorable Thanksgivings in our RV. For the first one, we were at a campground away from all of our family and friends. Luckily, there were a ton of other RV families staying at the same campground so we decided to organize a giant potluck dinner. We pulled all of the picnic tables from our campsites and lined them up into long rows. Everyone brought their favorite Thanksgiving dish, and we all shared. It was a true feast and we felt so thankful to spend Thanksgiving with the RV community. For the second Thanksgiving, we were halfway across the country away from our family, and decided at the last minute to surprise them. The day before Thanksgiving, we hitched up our RV and drove for hours to make it in time. It was a lot of driving but that's the beauty of RVing—you can leave at a moment's notice! Plus, the looks on everyone's faces when we showed up made it all worth it.
My advice for someone looking to spend Thanksgiving in an RV is to cook smaller than you think. Remember that RV ovens, stoves and microwaves are almost always smaller than what you're used to. Cherish the time you spend inside of your RV, even if things don't go as planned or it looks different than a traditional "house Thanksgiving." Plus, if you're at a campground, you can always host a potluck-style Friendsgiving with your neighbors. It's a super fun way to celebrate the holiday and enjoy your favorite dishes, without having to cook a huge meal by yourself.
Thanksgiving in an RV for anyone with dietary restrictions…
Josh & Cassie Bailey / Highland Ridge Open Range Fifth Wheel
We are a celiac family, which means everything has to be gluten-free, and this can make cooking around the holidays a bit challenging. However, we're still able to make it work inside our RV. We made an entire, modified Thanksgiving dinner from scratch utilizing our RV's convection oven and stove top. I also used some extra electric frying pans to help with the large amounts of food. We found ways to have our favorite dishes and desserts, including pies, stuffing and bread, by substituting ingredients to make them gluten-free. You can use things like almond flour or rice flour and you barely notice the difference! We also love to keep our favorite traditions, which include making handprint turkeys out of construction paper and watching the Macy's Thanksgiving Day Parade. It took a little extra planning and preparation to host Thanksgiving in our tiny home for our family of six, but it turned out to be our favorite Thanksgiving yet!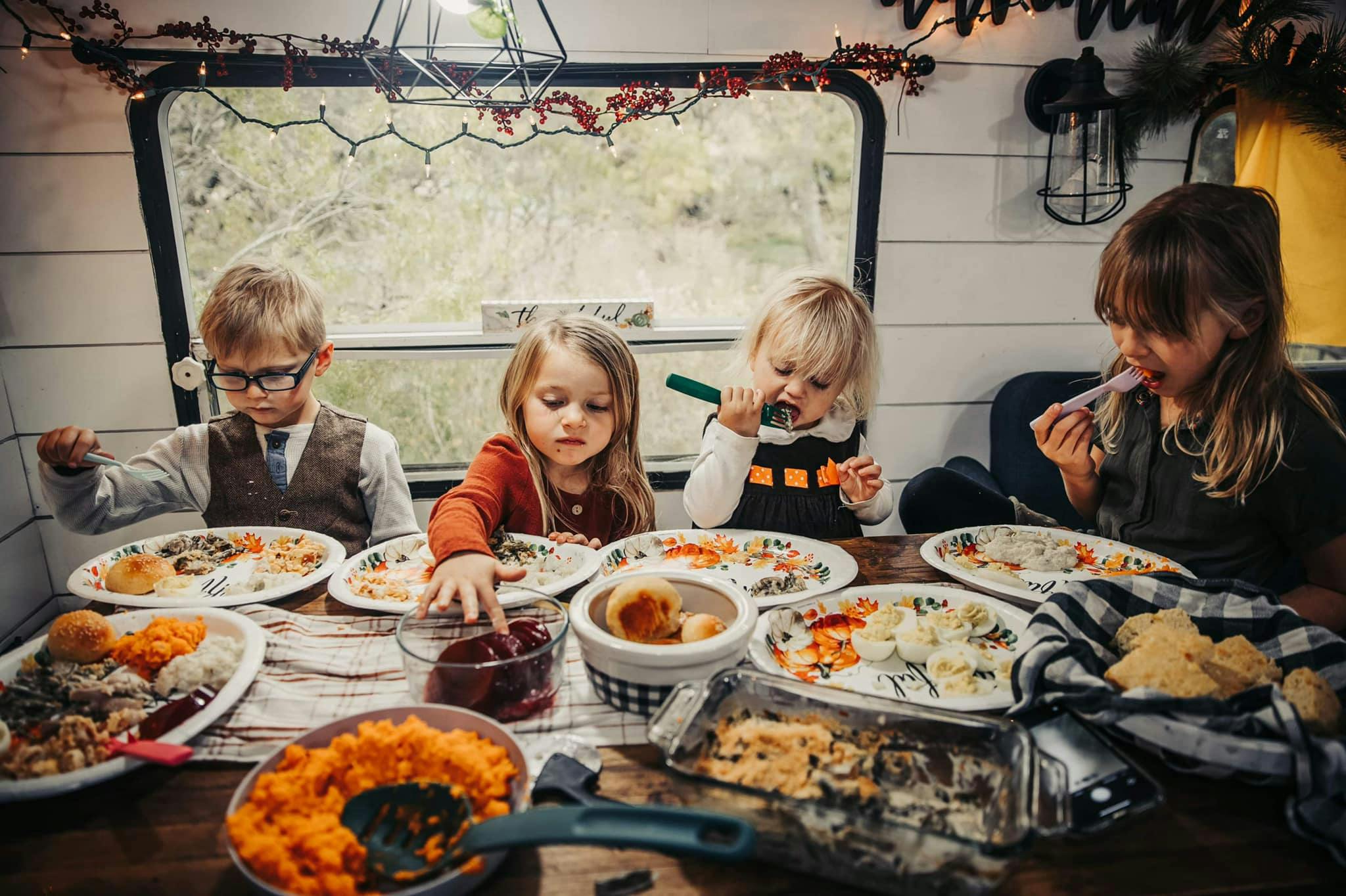 If you're concerned about cooking a large turkey in your RV oven, then I suggest preparing something smaller. Instead of cooking one turkey, I opted to cook two, small Cornish game hens in my crock pot. The kids loved calling them "mini turkeys" and they turned out so delicious, without the stress of trying to manage a turkey in the oven for hours and hours. I also did some meal prep a few days prior, and froze a few dishes so they only needed to be heated on Thanksgiving Day. Lastly, try to remember that the best Thanksgiving is one where you're making memories and spending time together. For us, holidays always feel closer and more meaningful in our RV and for that, we are truly thankful.
Thanksgiving in an RV for anyone who wants to be close to family…
Ben & Sarah Hubbart / Thor Motor Coach Chateau Class C
Every year, Ben and I leave Montana and drive our RV to my parent's house in California to spend Thanksgiving with them. Not only do we get to be close to them for the holidays, but we also have our home on wheels to provide some extra space and we avoid the hassle of booking a hotel. Our RV acts as a double kitchen, so we can help prepare certain dishes. In fact, one year, Ben even won a Thanksgiving chili cookoff with chili that we made in our RV's kitchen! Driving to my parents house also works great since we can leave the RV on their property for the winter, and then pick it back up in the spring. This way, we don't have to worry about winterizing it during the cold Montana winters.
If there are any young kids in your family, you can turn your RV into a fun, festive play place for them. Put up some fall decorations or twinkly lights, have a few holiday treats on hand, grab a few board games, and queue up some of your favorite movies. Kids will love seeing your home on wheels, and it will give them a designated place to play and hangout until dinner is ready. And if you have a tradition of watching the Macy's Thanksgiving Day Parade or The National Dog Show, make sure you figure out how to stream it ahead of time to avoid any last minute delays or technical issues!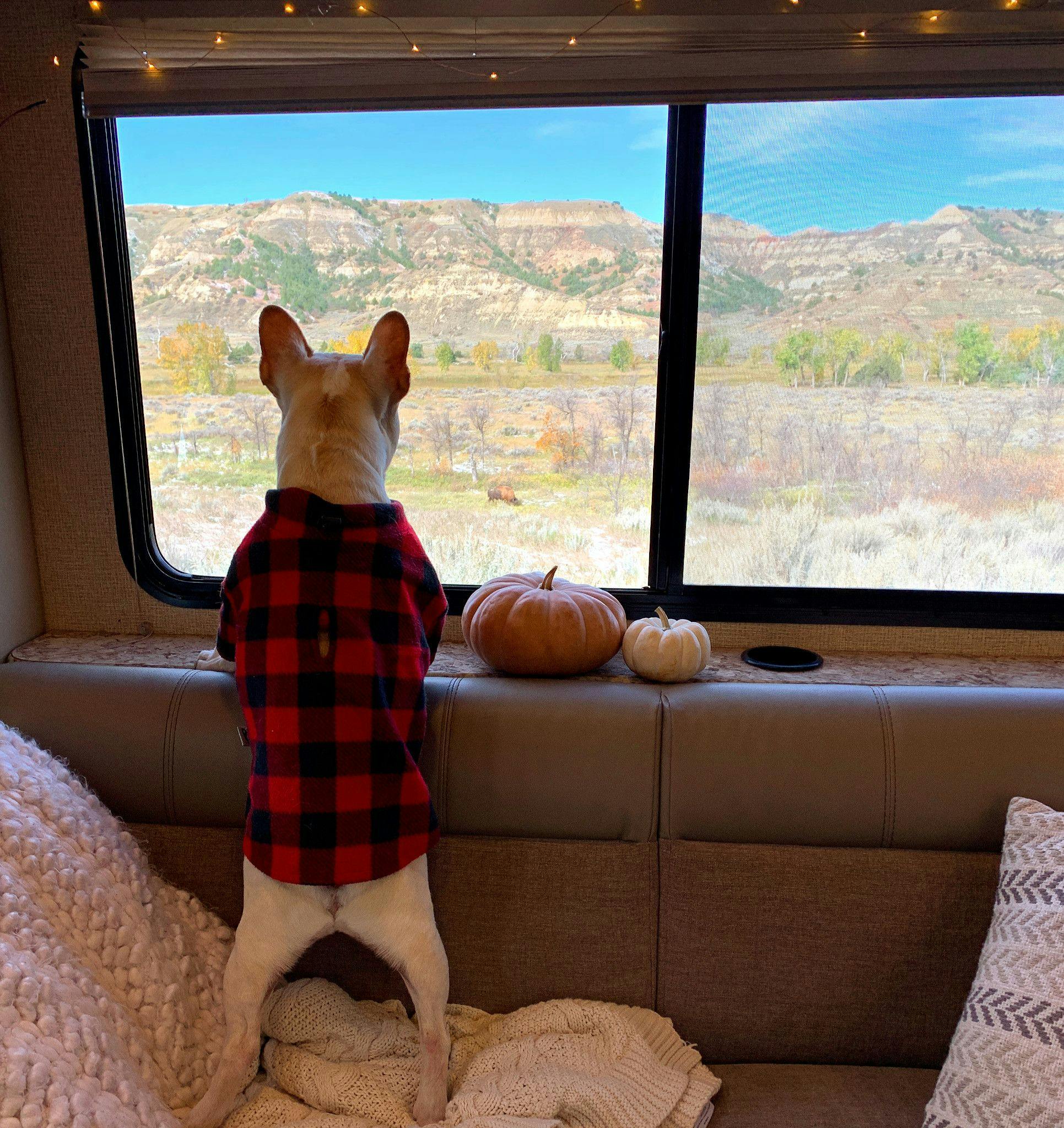 Thanksgiving in an RV for anyone who wants to honor traditions…
Karen Blue / Airstream Flying Cloud Travel Trailer
The very first day we headed out on our full-time RV journey in 2018 also happened to be Thanksgiving Day. And while I may have set off the smoke alarm that first Thanksgiving trying to cook dinner, we were still able to celebrate together and enjoy some good food. I've improved my Airstream cooking since then, and now, every year, we not only celebrate Thanksgiving but we also celebrate our "nomad-iversary." We get to spend quality time together, enjoy a meal and share some of our favorite RV memories from the year prior—it's become a fun, new tradition for us.
When it comes to cooking Thanksgiving food in an RV, it's best to prep as much as you can. Make and mix all of your dishes ahead of time, and have them ready to be cooked, baked or reheated in the oven or on the stove. Don't forget to use your campfire as an extra cooking source, too! We like to cook our holiday ham outside over hot coals, which frees up a lot of kitchen space. It might be easier to do a Thanksgiving breakfast or lunch. Our Thanksgiving schedule changes each year. Sometimes we opt for Thanksgiving brunch with Eggs Benedict, followed by a hike or an activity where we spend time reflecting on how grateful we are to share time as a family in nature. Customize the day to your schedule and your liking.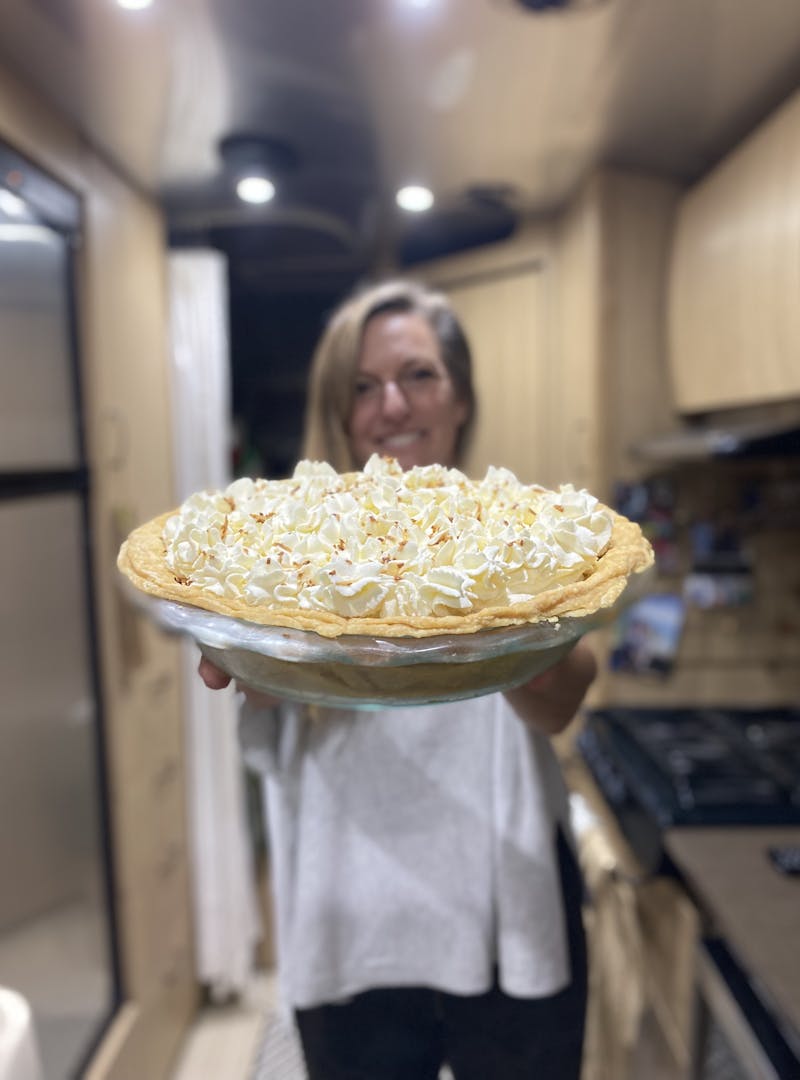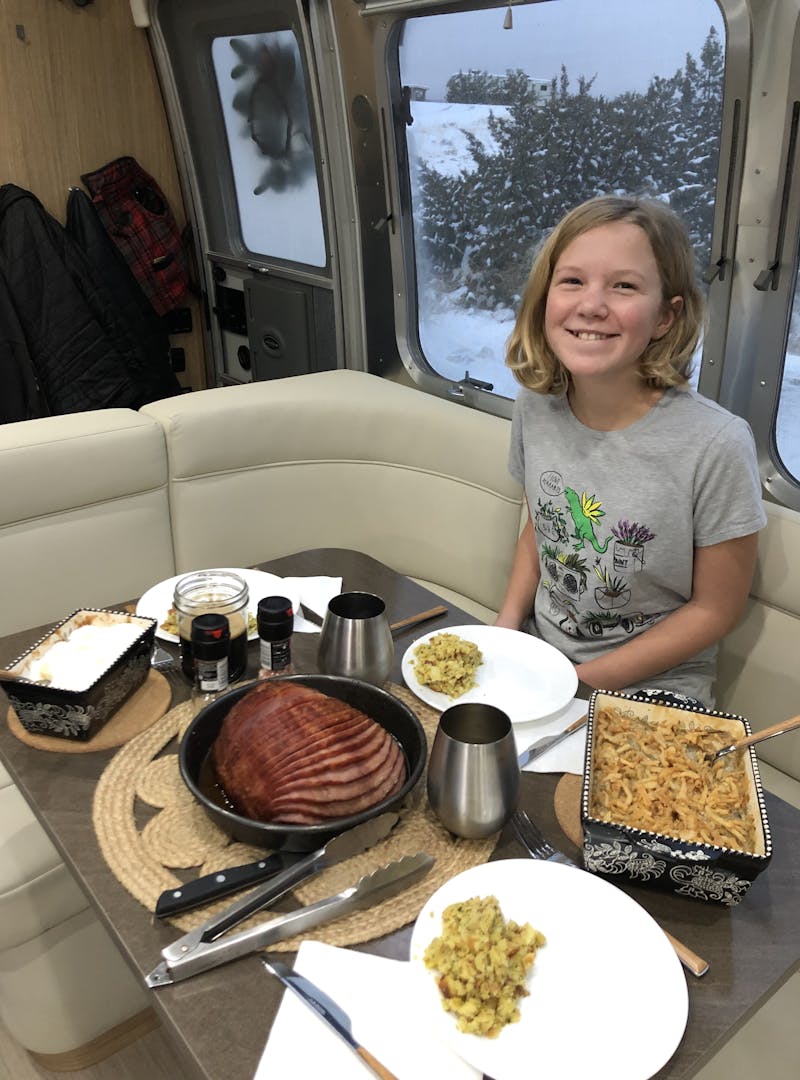 Thanksgiving in an RV for anyone that loves to travel…
Anne & Brian Klumpp / Entegra Coach Aspire Class A Motorhome
We have spent three Thanksgivings in our motorhome and they have all been wonderful. The first year, we were at an RV park in California and the park hosted a big potluck for all guests. Attendees brought a side dish, and the park provided the turkey, gravy, bread, and dessert. Since I didn't need to be in the kitchen all day, we were able to spend the morning visiting Joshua Tree National Park and there were barely any people. The second year, we were visiting family in Virginia and got to celebrate Thanksgiving at my brother's house. We helped supply a few dishes, so it was easy to prepare. But the best part was being able to return to our RV at the end of the evening and sleep in our own beds. And last year, we got to enjoy Thanksgiving with some friends we had met on the road. We decided to meet up near the Grand Canyon, and on the morning of Thanksgiving, we hiked the South Rim and then went back to the RV to finish preparing a full turkey dinner with all of the fixings. Being able to spend Thanksgiving in so many different locations has been a wonderful experience.
My best advice for a successful Thanksgiving celebration in your RV is to have a plan. The plan should include what you will make and when you will make it, considering your space and equipment limitations. Be realistic about what you can do. Thanksgiving is an opportunity to give thanks for what we have every day. Enjoy who you spend it with; the rest will be perfect no matter what!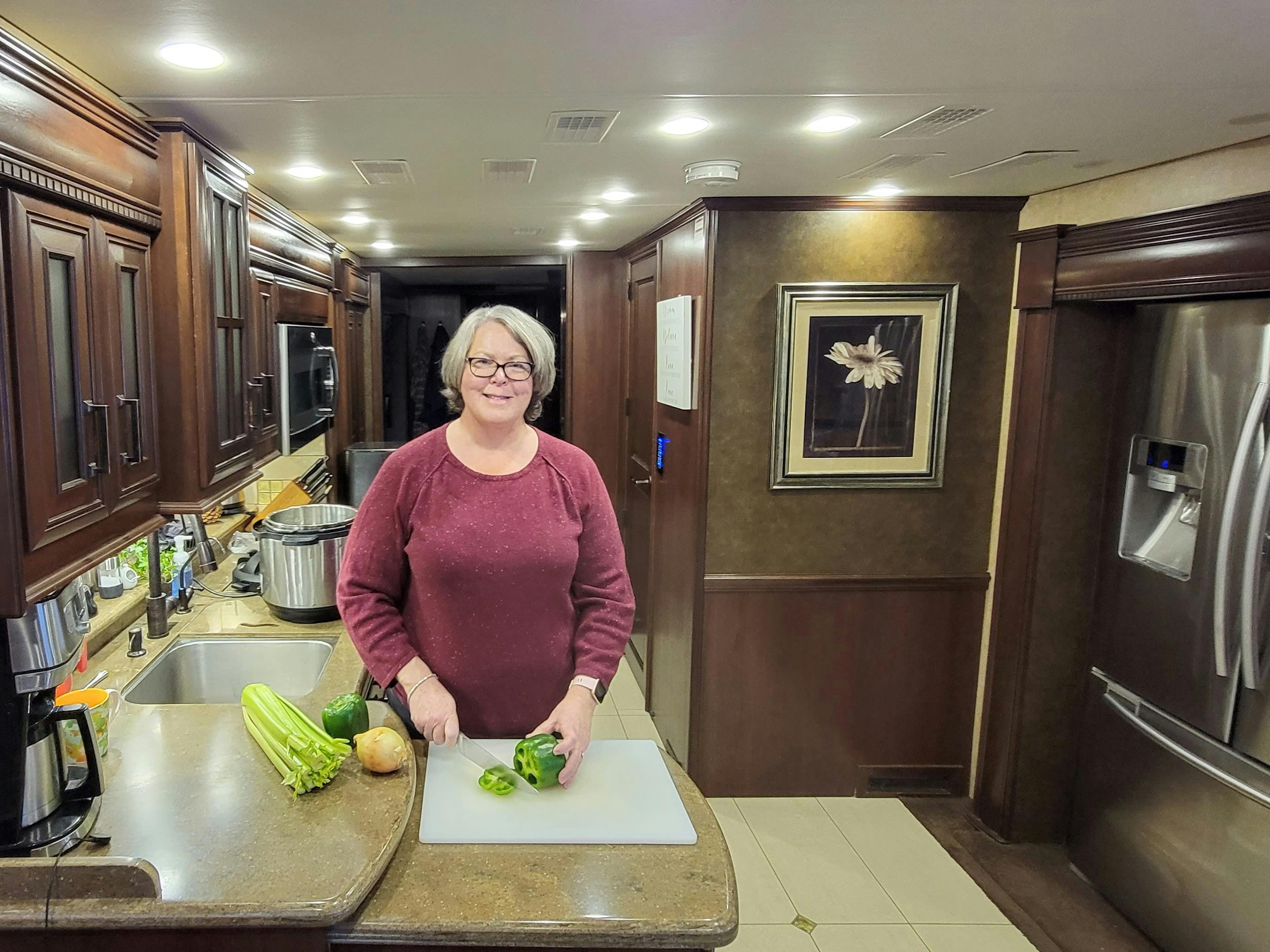 Find Your Perfect RV
Whether you're new to the world of RVing or you're ready to narrow your search, we're here to help you sort through it all and find the RV that's right for you. Explore RVs based off of your lifestyle and the features important to you.
Find Your RV