Features To Look For In A Fifth Wheel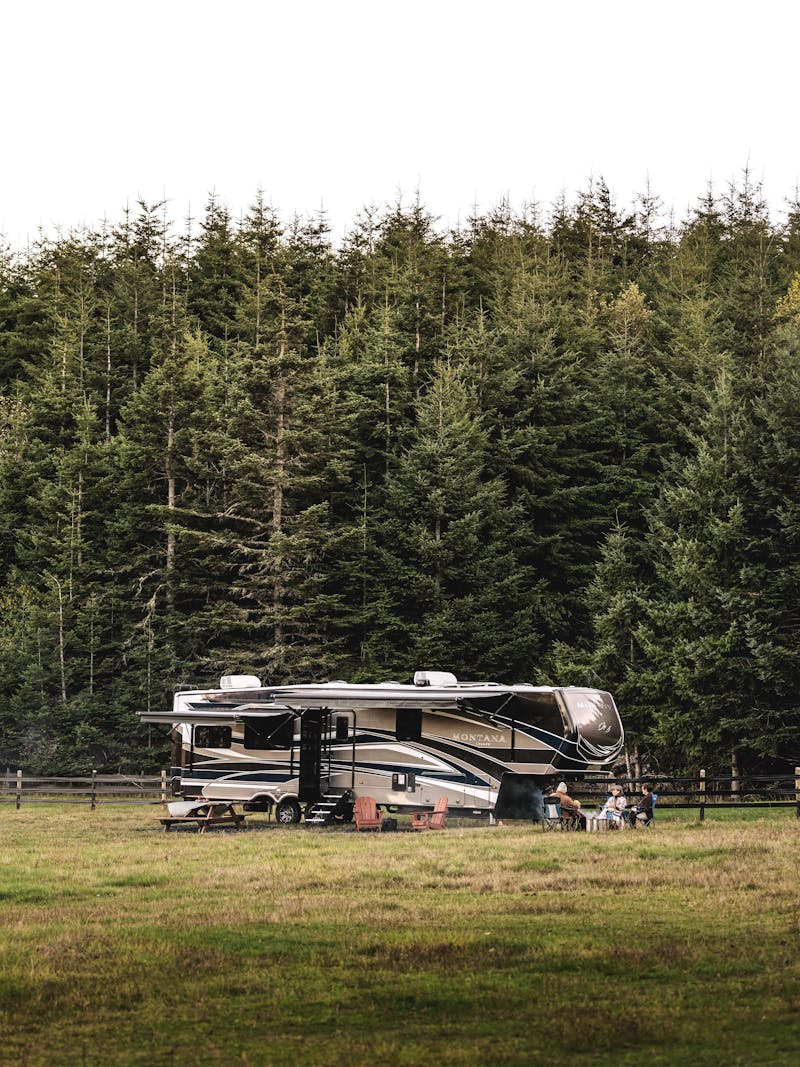 Fifth wheels are known for their high quality, large amounts of space (both living and storage) and towing stability, making them an ideal choice for families, couples or anyone considering full-time or seasonal RVing. Compared to a travel trailer or lightweight camper, fifth wheels are typically larger and require a heavy truck for towing. However, you can find smaller fifth wheels—referred to as half-ton fifth wheels—that are lower in weight and can be towed by half-ton trucks. Across all fifth wheels, many owners claim that the unique hitch configuration allows for easier, smoother towing and a better turning radius.
Regardless of what RV type you're considering, it's important to evaluate the different features and why these features might be valuable to you. So, if you're thinking about buying a fifth wheel RV, here are some features to consider.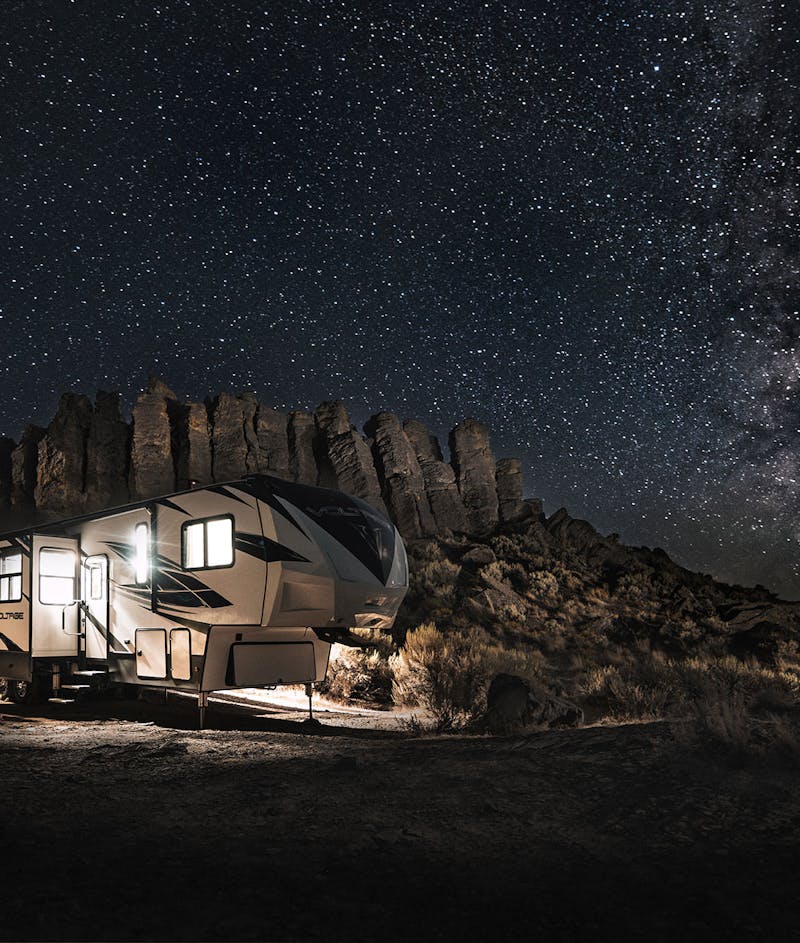 3 Images
General Features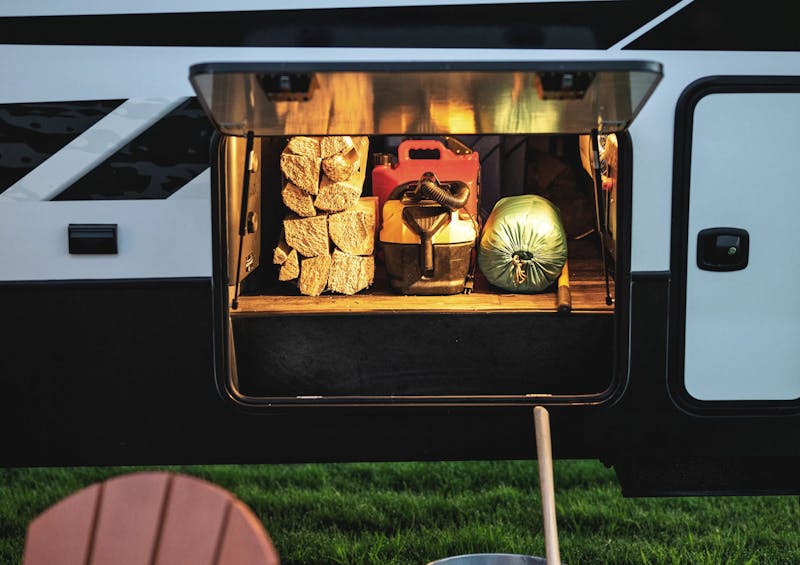 01
1 of 3
Storage capacity
Look at both the interior (cabinets, under-bed storage and multi-use spaces) and exterior storage (pass-through storage and accessibility). It is important to consider the types of activities your family enjoys, ensuring you have enough storage to accommodate any and all equipment.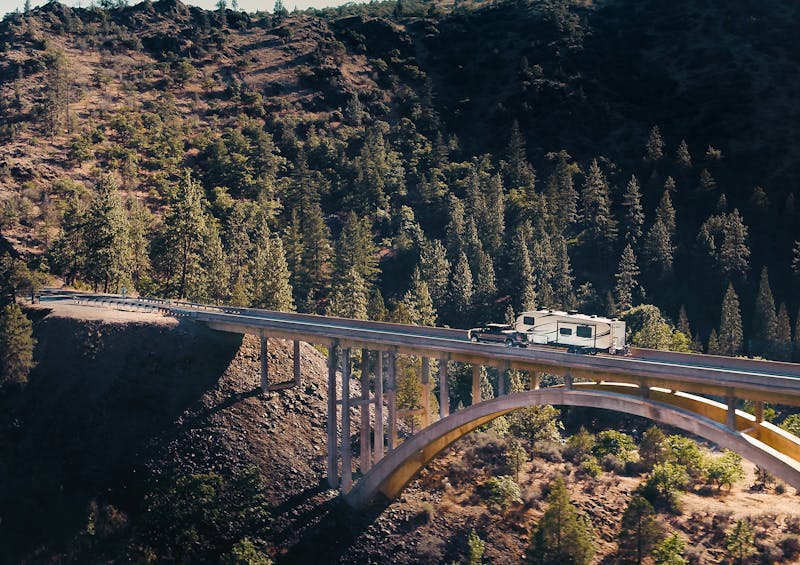 02
2 of 3
Ease of towing
Evaluate various towing packages to see what will work best with your tow vehicle. Look at what comes standard and any other options that would improve your experience, like back-up cameras, brake systems and suspension upgrades.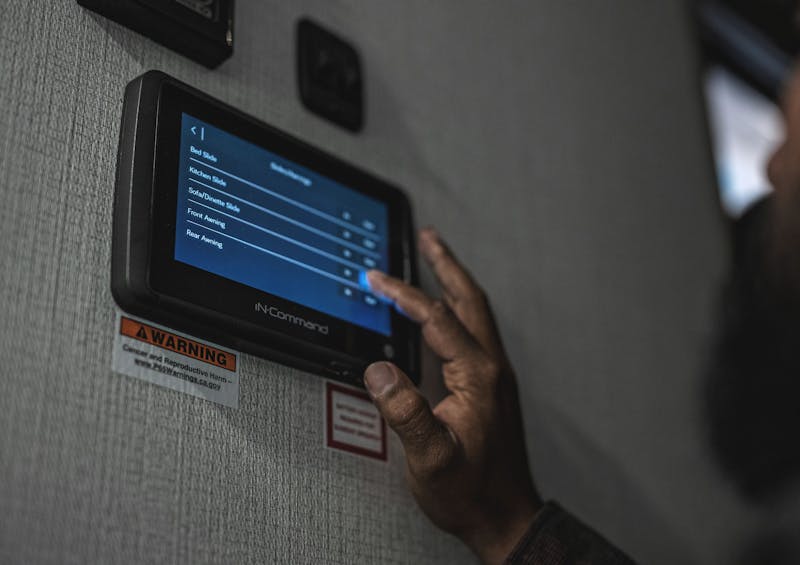 03
3 of 3
Ease of set-up
 Look for features like automatic leveling systems, power stabilizers and power awnings.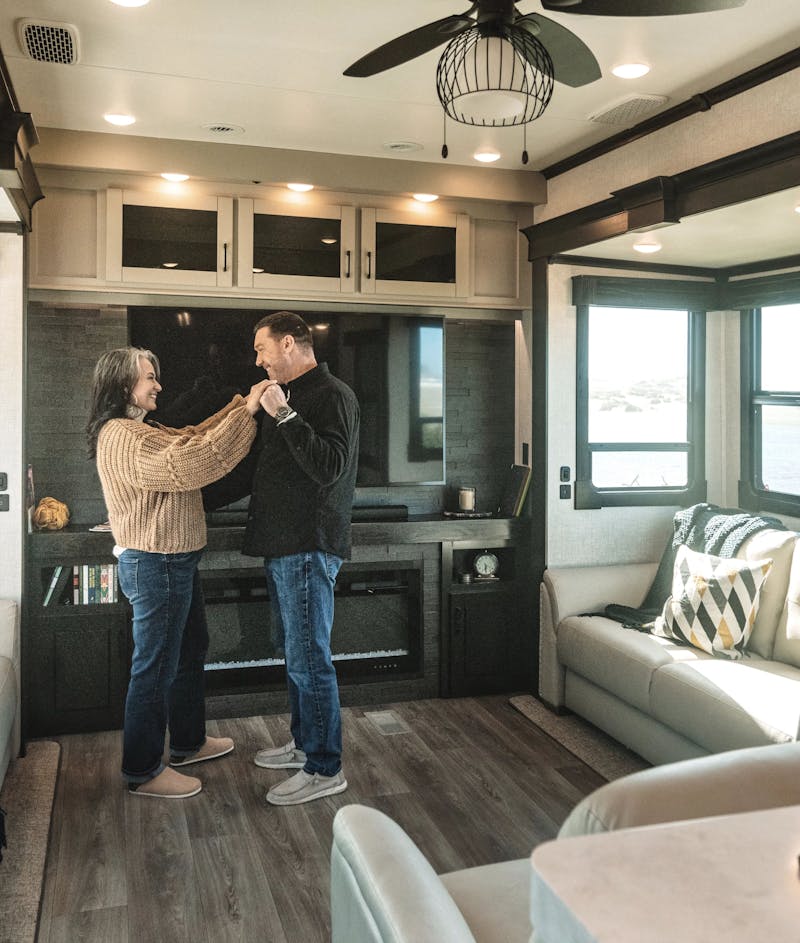 5 Images
Interior Features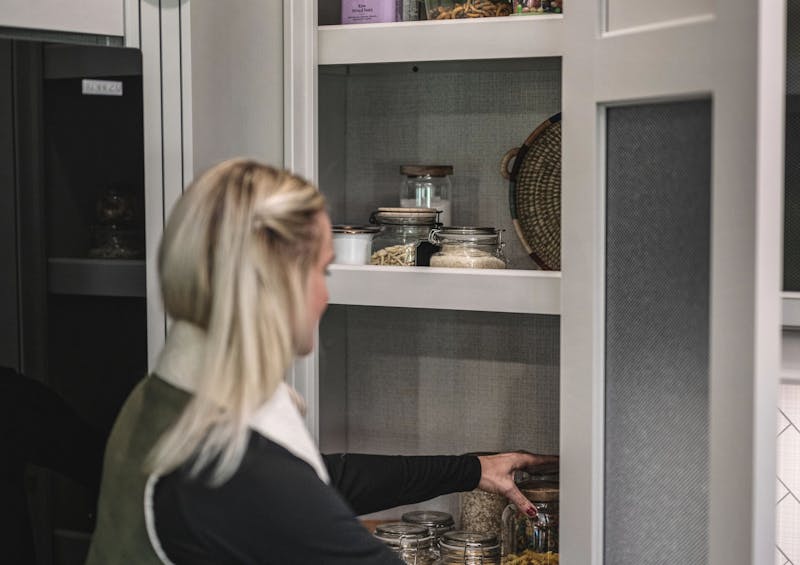 01
1 of 5
Interior storage space
Pay attention to the size and placement of cabinets and closets, especially in the kitchen and main living areas. Understanding the type of travel that you will be doing can help you assess how much storage space you need inside of your RV.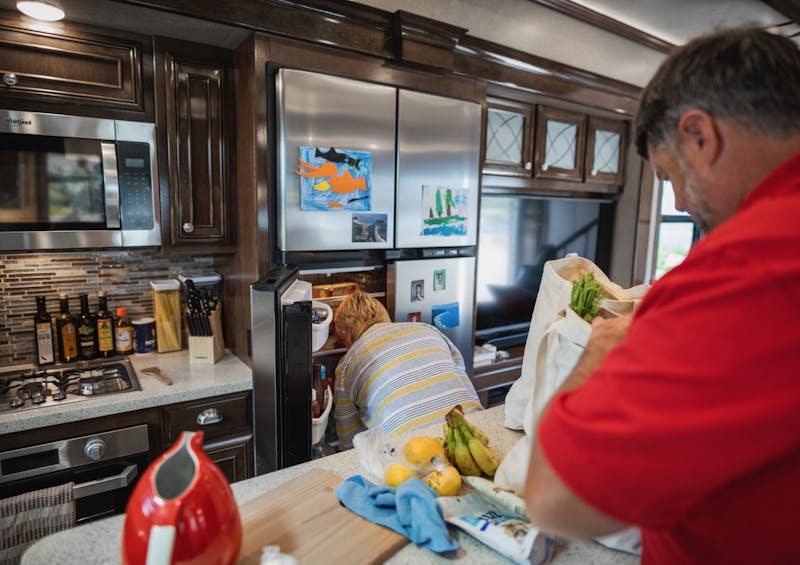 02
2 of 5
Appliances
If you have a large family or plan to take extended trips, having things like a full-size refrigerator is great for storing more food and reducing grocery trips.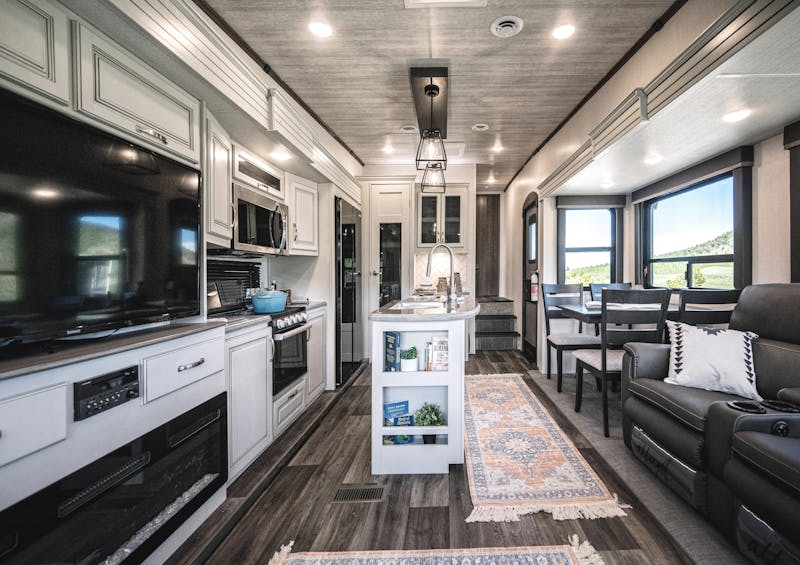 03
3 of 5
Slideouts
Consider where you want extra, wider space (typically in the main living area and primary bedroom) and look for slideout options there. Remember that there are models that offer more than one slideout.
04
4 of 5
Quality furniture
Look for things like cabinetry made with quality materials (solid hardwood), granite countertops and beds with premium mattresses—all of which will last longer but do add excess weight of the RV. Think about the areas and spaces that you will spend the most amount of time and make sure those areas are comfortable.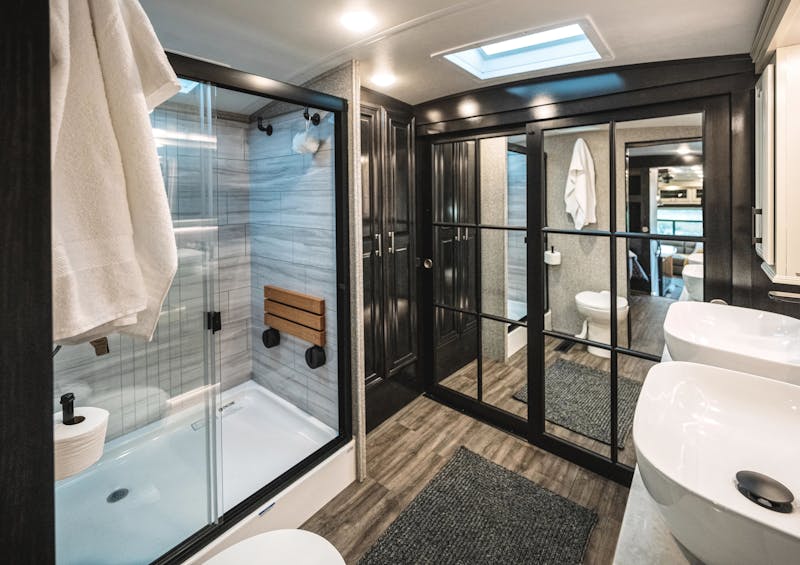 05
5 of 5
Upgraded Showers
Fifth wheels are known for taller ceilings, which can provide more headspace in the bathroom and showers. Fifth wheels offer a variety of shower and bathroom options, ranging from walk-in showers to more traditional bathtubs.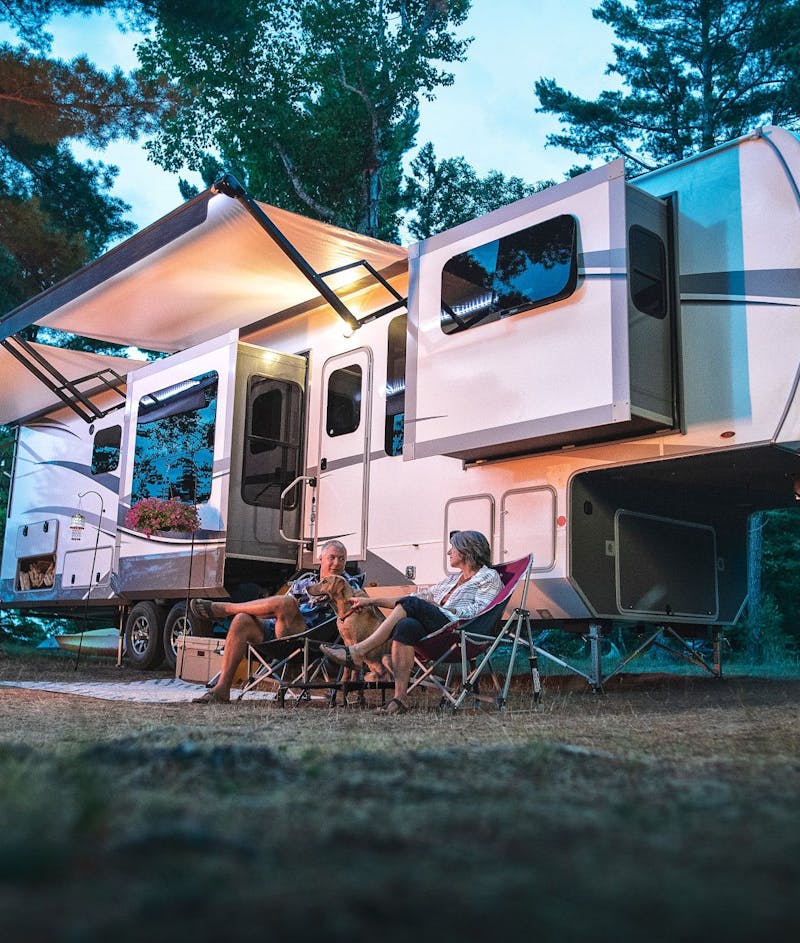 3 Images
Exterior Features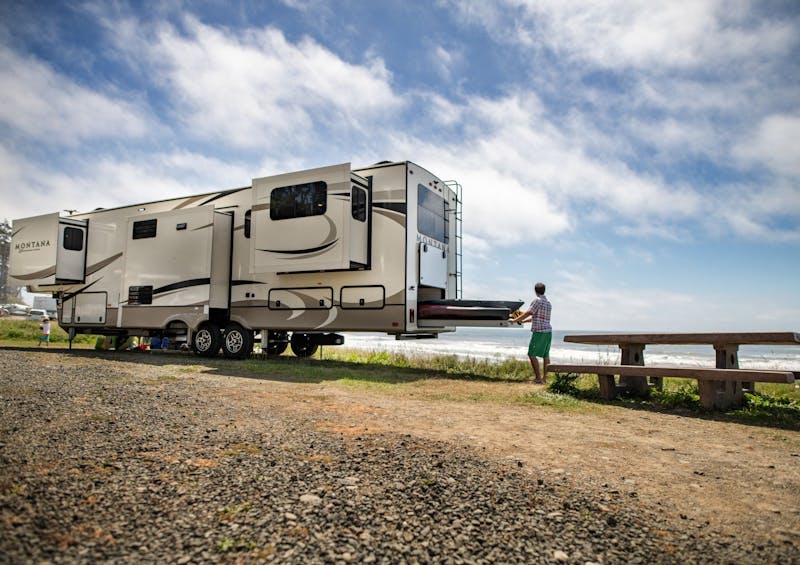 01
1 of 3
Large underbelly storage
Great for storing larger, bulkier items or outdoor gear, see if your preferred fifth wheel has any pass-through underbelly storage.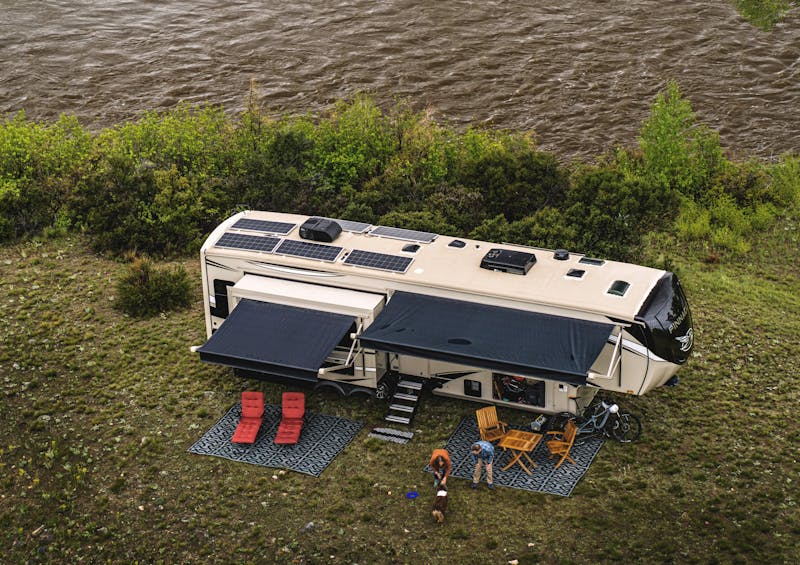 02
2 of 3
Power awning
While most RVs come standard with electric or power awnings, double check the size and placement of your awning. You will want to make sure that your awning is able to cover the areas just outside of your RV where you will be spending most of your time.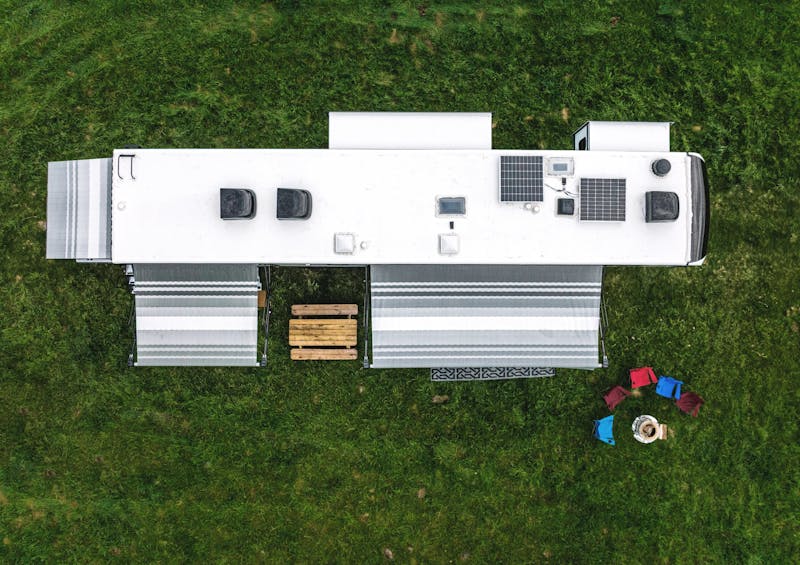 03
3 of 3
Solar power
Some fifth wheels come solar enabled, which means that the connections are pre-installed so you can easily add your own solar panels. Others are built with solar panels already installed. Solar capabilities are becoming increasingly more popular and important with the growth in dry camping.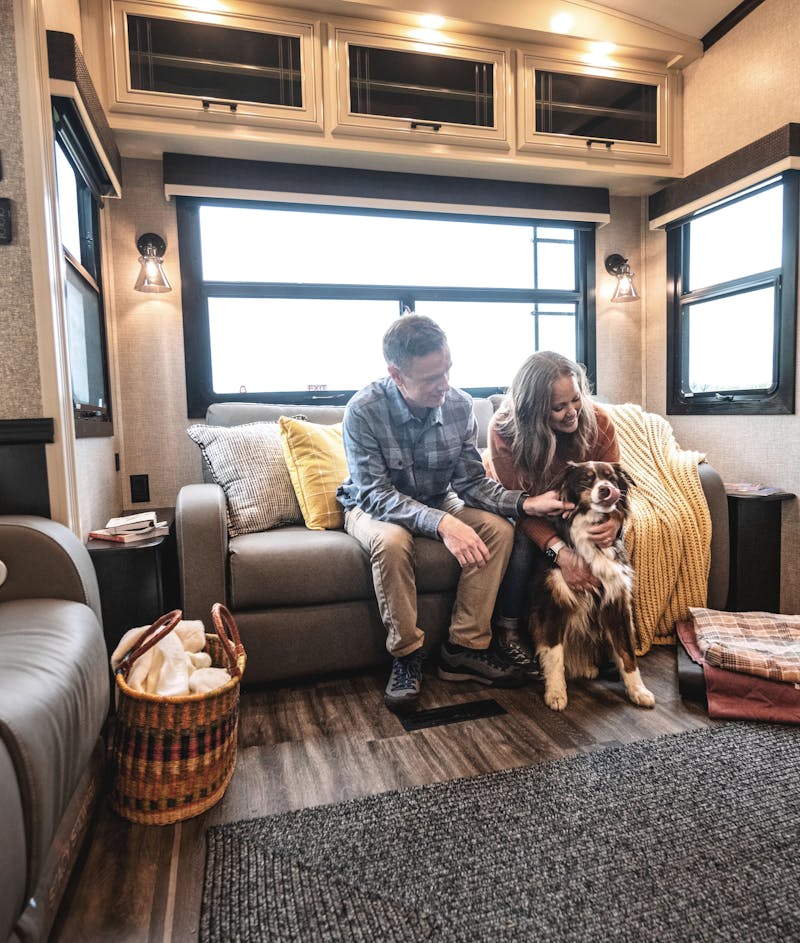 4 Images
Premium Features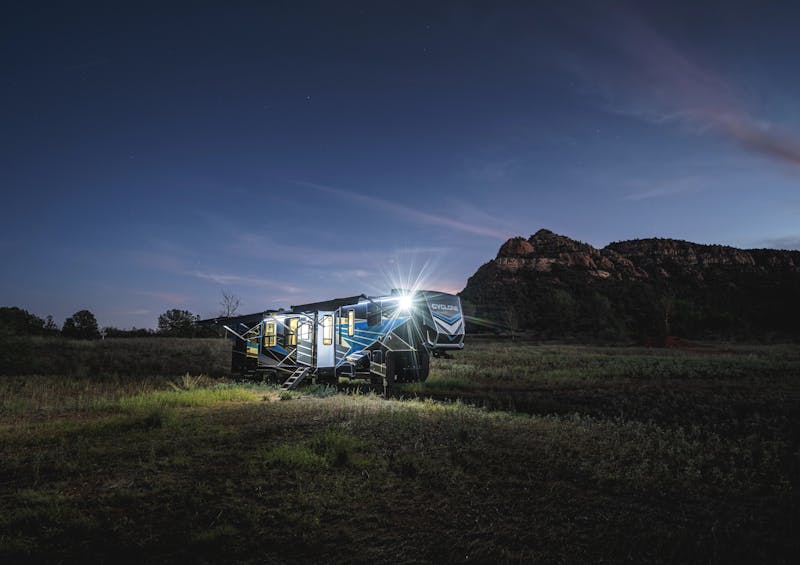 01
1 of 4
Built-in safety system
This can include driving systems, like blind spot sensors and tire pressure monitors, as well as security systems, like alarms and motion-sensing exterior lights.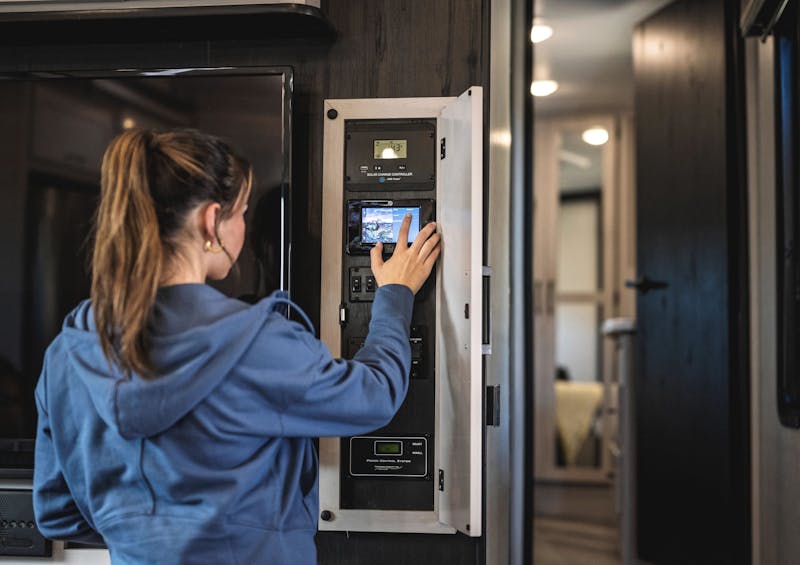 02
2 of 4
Onboard generator
While some fifth wheels come with a standard onboard generator, others do not. You should ask what your options are for installing a generator pre or post purchase. It is important to know what you can run off the generator as opposed to when you are plugged into shore power.
03
3 of 4
Dual-wide axle
Compared to a single axle, dual-wide offers improved weight distribution and stability when towing.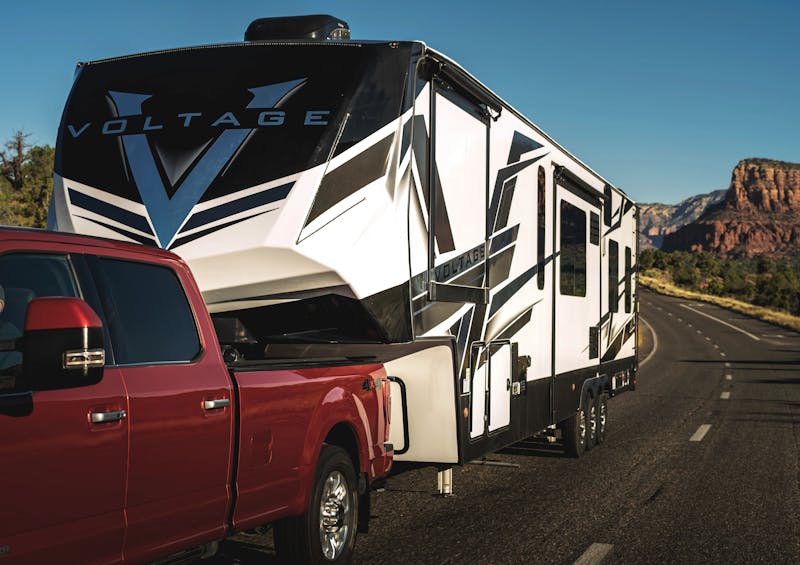 04
4 of 4
Power tongue and stabilizing jacks
Makes setting up your fifth wheel easier and faster, and doesn't require additional tools or manual levers to get your RV level and stable.
Featured Fifth Wheel from the THOR Family of Companies
Find Your Perfect RV
Whether you're new to the world of RVing or you're ready to narrow your search, we're here to help you sort through it all and find the RV that's right for you. Explore RVs based off of your lifestyle and the features important to you.
Find Your RV