Is A Fifth Wheel RV Right For You?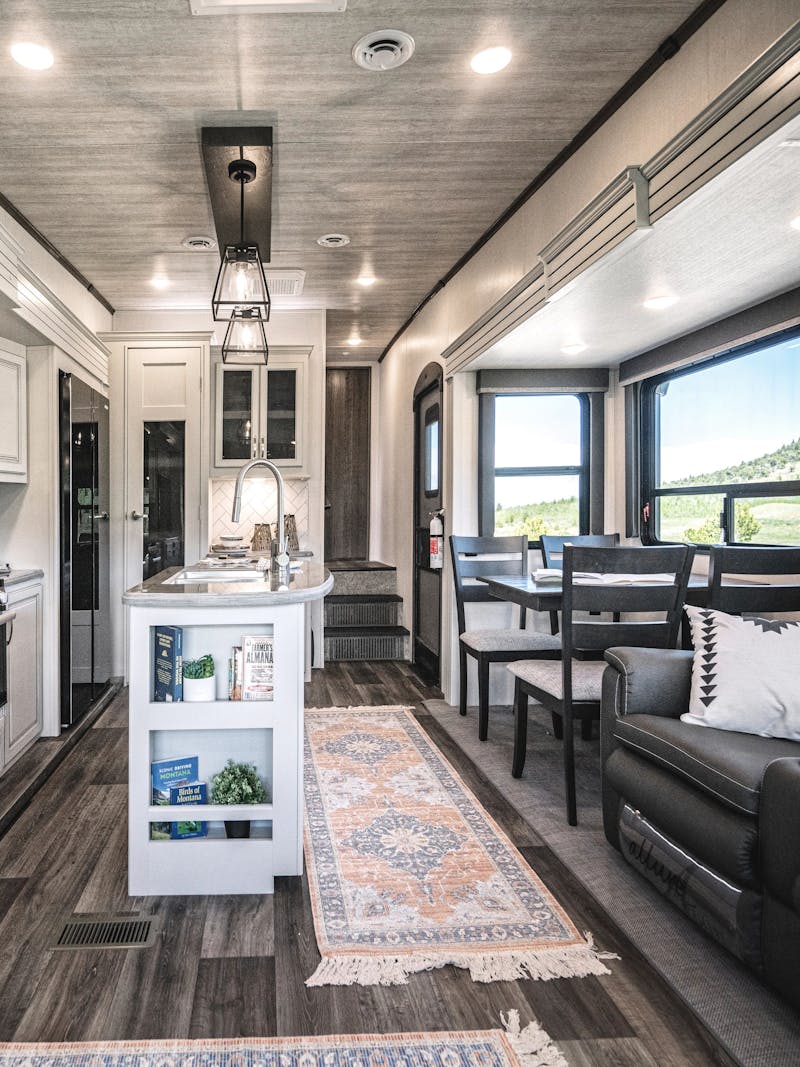 Fifth wheel RVs feel like a true home on wheels. Their heigh ceilings, open floor plans and smooth towing configuration make them a common choice for many full-time and extended-use RVers. However, some buyers are concerned about getting a fifth wheel due to their large size and the need to have a truck for towing. And with so many different models and towable RVs on the market, how can you even begin to figure out which one is right for you?
To help address some of these concerns and highlight just how spacious and reliable fifth wheels really are, we asked four different owners to share why they ultimately decided to buy a fifth wheel and how the RV they chose fits their unique lifestyle. They address some common fifth wheel complaints, including towing with a truck and the variety of layouts offered, and share their advice for anyone interested in buying a fifth wheel RV.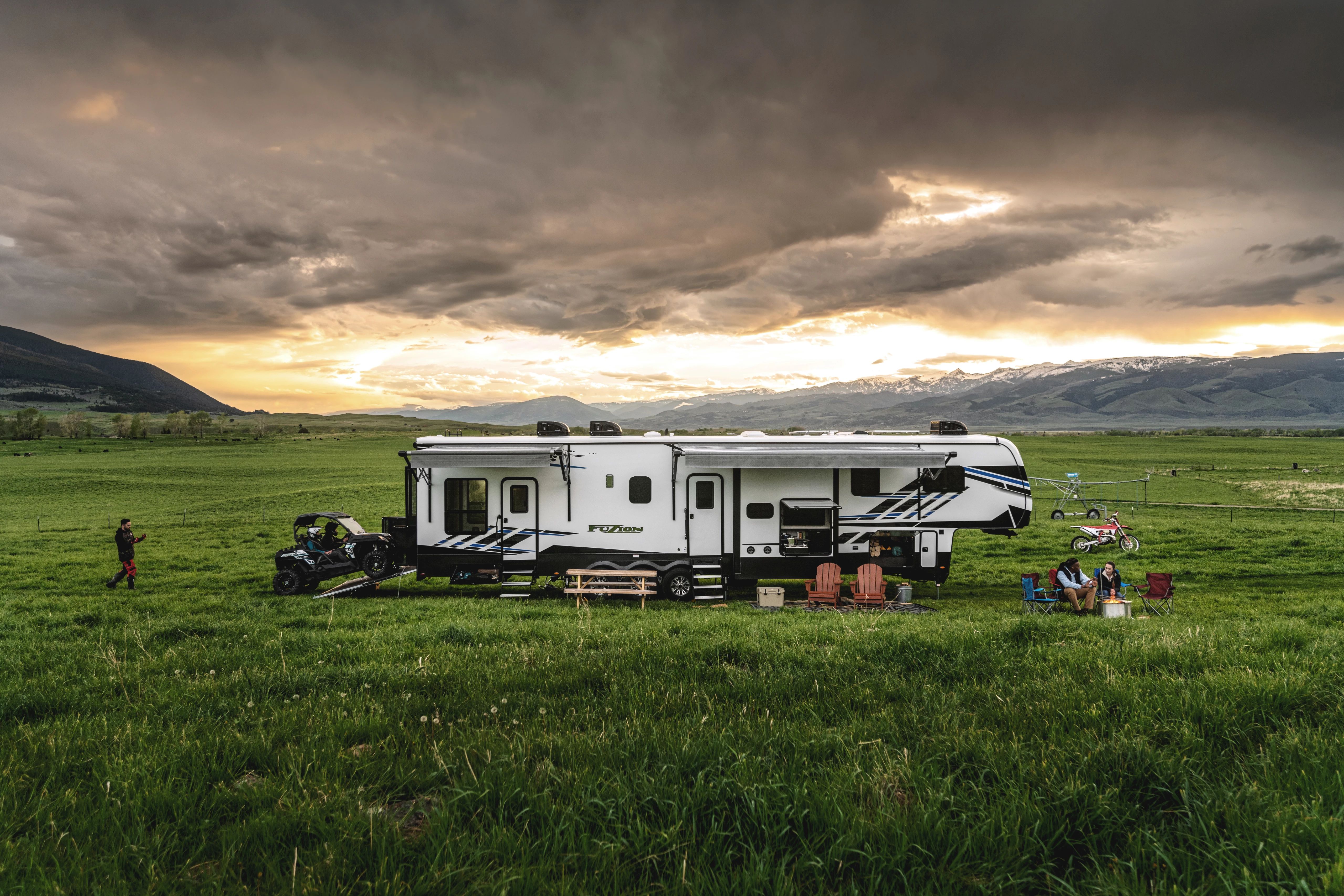 Bibi Barringer / Full-Time Family / KZ Durango Gold
Why did you choose your specific fifth wheel?
We have a pretty big family—two adults and four children—so we knew we'd need a bigger RV to comfortably house everyone. I had seen a lot of full-time RV families go with a toy hauler fifth wheel so they could convert the rear garage into a kid's bunk room. I also really loved the idea of having both a rear patio and a side patio to extend our space. Most of the fifth wheels that we looked at also had a lofted bunk area, which was something we thought would be great for our oldest child. We ultimately decided to go with a 2018 KZ Durango Gold. Our family likes to spend a lot of time together, and the mid-bunk layout on our KZ was perfect for keeping our family close, while also providing a large living space. Our fifth wheel also comes with a ton of storage, and was a big factor in deciding between this model and other towable RVs. And lastly, it has the perfect rear patio space.
Did you have any concerns about buying a fifth wheel? If so, what were they and how did you address them?
For our family size, there were specific requirements that I knew we would need for full-time living. Having a washer and dryer hookup was a must since I find myself doing a lot of laundry. I also knew we would need a lot of storage to house all of our clothes (including clothing for all four seasons), equipment for our favorite outdoor hobbies and enough pantry space for all of our food. I had some initial concerns about the amount of storage for our family, but we ended up having more than enough space. Additionally, we were looking for something that could handle different climates and seasons, and wanted a fifth wheel that was properly insulated. And lastly, we decided to go with a fifth wheel that only has one bathroom. I was worried that this might make things difficult for six people, but a second bathroom or half bath would've taken up some of our living space and we really value having that space to be together.
What are some of your favorite hobbies and activities, and how does your fifth wheel fit these?
We love hiking and finding local water spots for our kids to play in, especially during the summer. Our fifth wheel has excellent underbelly storage that we use to store all of our hiking poles, backpacks and floaties. We also keep things like bikes and helmets, a recurve bow for archery, and various musical instruments in the exterior storage. I'm a big plant lover, and our living room has plenty of space and natural light to keep our many plants alive and well. And during cold or rainy days, our living room is spacious enough to comfortably house all of us, so we can read, play games or do some baking around the kitchen island.
How and why does your fifth wheel's layout work well for you?
Our KZ Durango is a mid-bunk with a loft on top, which is perfect for our kids. The bunk room is a dedicated space for our three boys and the loft is reserved for our daughter. This layout also frees up more living space in the back of the RV, where we can hang out on the rear patio or use the space as a playroom. The nose of our fifth wheel is actually a large closet space, and can easily house most of our family's clothes. The washer and dryer hookups are also located in the main bedroom, so it's really easy and convenient for me to take clothes from the closet and place them right into the wash.
How did you handle finding the right tow vehicle for your fifth wheel?
A big factor for us when looking at different tow vehicles was finding a truck that could seat six people. And since we knew we'd be towing a large fifth wheel, we wanted the stability of a dual rear-wheel truck (aka a dually). From there, we narrowed down our choices to three reputable brands, and then we reached out to the RV community to see what they thought. My husband is also a mechanic, so we were looking for a tow vehicle that he could easily work on and maintain. All of these factors ultimately lead us to our current tow vehicle, a heavy duty Ram truck with a Cummins® Turbo Diesel engine.
What advice would you give someone who is considering buying a fifth wheel?
Our biggest piece of advice is to talk to other owners and ask them what they love about their fifth wheels. Be sure to tour a few different models and take the time to stand in them and look around. Try to imagine what it would be like to stay in it and how your family would use it. Depending on your family size, ask yourself if the layout will fit everyone, if the storage will hold everything, and if the kitchen and dining space will be big enough. And be sure to look at different models with the slides both extended and pulled in. You'll want to think about how you plan to pack and travel with your fifth wheel, and you can only move it when the slides are in!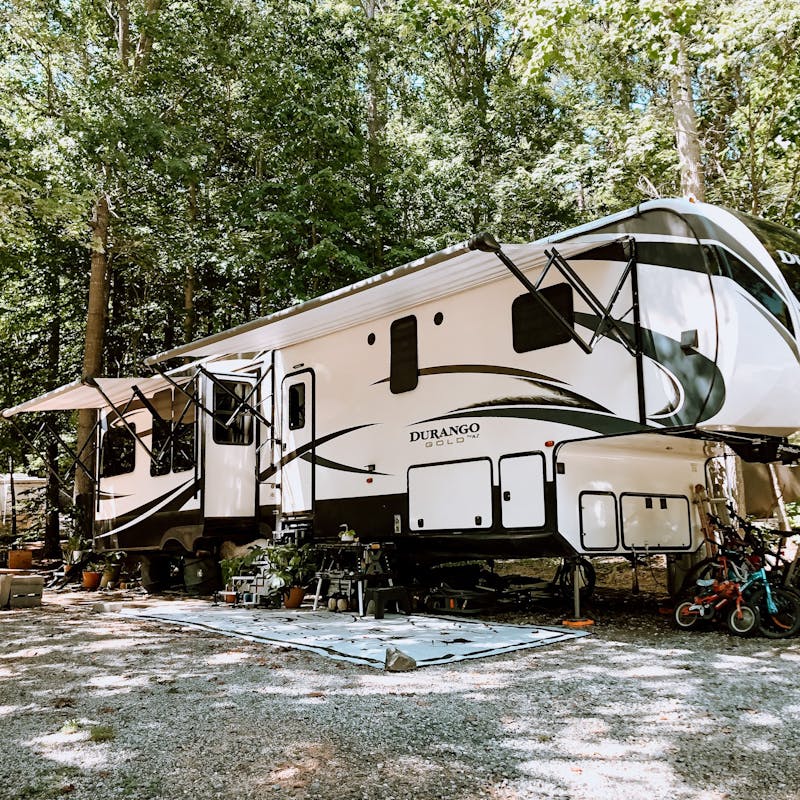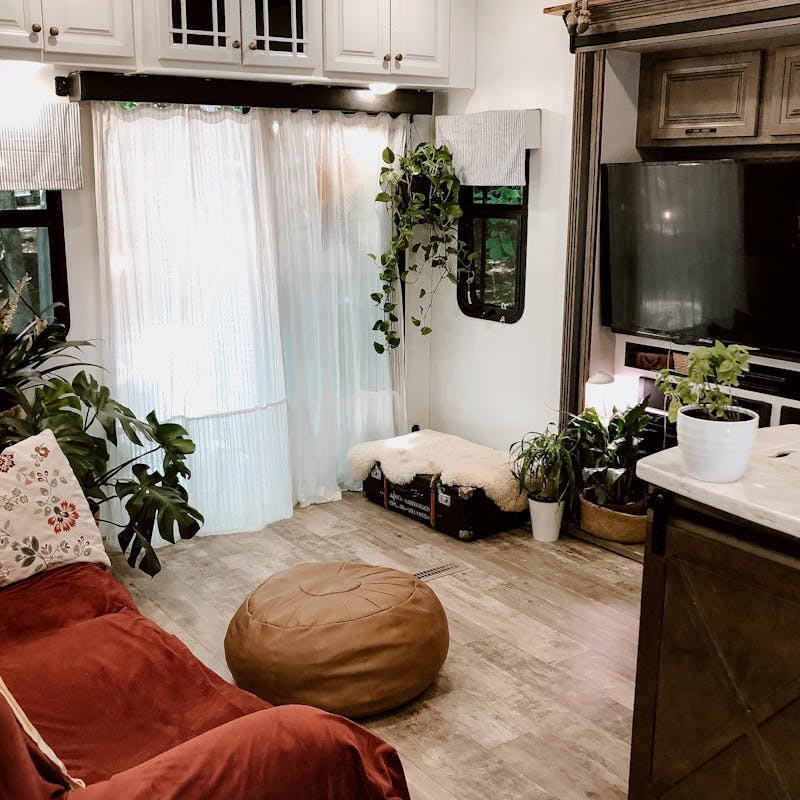 Max Perron and Marie-Michelle Roy / Weekend Warrior Family / Keystone Montana
Why did you choose your specific fifth wheel?
Our current fifth wheel is a 2022 Keystone Montana High Country. This is actually our fourth RV and our second fifth wheel. We had previously owned travel trailers, but decided to upgrade to a fifth wheel for a few reasons. In our experience, fifth wheels are much more spacious, offer better amenities, have greater stability and sway control while towing, and are easier to hitch and set-up. We travel with two children and debated between getting a rear-bunk or mid-bunk model. We ultimately decided to go with the rear-bunk because it's just under 40 feet and offered a large, central living space with two sofas. The bathroom is also extremely spacious and has space for a washer and dryer, which is ideal when traveling with little ones. We knew we would be taking a lot of extended trips, so finding an RV with lots of storage was really important. Our Montana has a huge storage space in the back, a big pass-through storage compartment in the front and a dedicated spot for a generator. It also came standard with the SolarFlex™ 200 package, which allows us to be more self-sufficient and is ideal for off-grid camping and boondocking.
Did you have any concerns about buying a fifth wheel? If so, what were they and how did you address them?
One of our biggest concerns about buying a fifth wheel was the overall weight and length. We wanted to have the largest fifth wheel possible, without restricting where we could visit and the campgrounds we could stay in. We determined that the ideal length for us would be under 40 feet. This way, we could enter most state and national parks, and still have enough comfort and space on the inside. For the weight, we didn't want a fifth wheel that weighed too much and put a big strain on our tow vehicle. Luckily, there are ranges you can choose from based on the amenities offered, and we were able to find one that fit our tow vehicle and still felt fun to drive.
What are some of your favorite hobbies and activities, and how does your fifth wheel fit these?
We are a very active family—we enjoy biking, hiking, kayaking, and paddle boarding. The large storage bay in the back of our fifth wheel allows us to carry all of our bulky gear, including our kayaks and inflatable paddle boards, our daughter's bike seat, and all of our hiking equipment. Our fifth wheel also has a hitch in the back so we can take our bikes everywhere we go. On fall evenings, we like to come back to the RV after a day of hiking and warm up by the fireplace. And we have plenty of space in the living room for the whole family to be comfortable on cold, rainy days.
How and why does your fifth wheel's layout work well for you?
There are a lot of things about our Keystone Montana's layout that work well for us. To start, we love the rear bunkhouse, which consists of two queen size bunk beds. Having these slightly larger beds offers our two kids plenty of room, and will continue to give them space as they grow. The main bedroom sits in the overhanging portion at the front of the fifth wheel, and has a large en suite bathroom and a space for a washer and dryer. This offers us some privacy and keeps things quiet. Our Montana is also a full-profile model, which means it has high ceilings (over six feet) along the length of the RV and plenty of extra headroom in the bedrooms. In the living room, we have two recliners and a sofa bed, so there is plenty of space for everyone. We also have a flat screen TV and a fireplace to make the room feel extra cozy. The kitchen has an island with a double sink, a large pantry and lots of storage. We chose the option of having a table and chairs instead of a dinette booth, which gives the RV a more residential feel.
How did you handle finding the right tow vehicle for your fifth wheel?
Our safety and security on the road has always been a top priority, so it was really important that we find the proper tow vehicle for our Keystone. While looking at various trucks for towing, we considered two things: The gross weight of the fifth wheel (commonly called GVWR) and the truck's tow capacity. Your truck's tow capacity should be slightly higher than your fifth wheel's GVWR to give you some wiggle room when towing. We also checked the hitch weight, which should never exceed your truck's payload. Depending on the GVWR of your fifth wheel, a single rear-wheel or dual rear-wheel truck could work. We opted for a single rear-wheel truck and added an air suspension system to help make driving and towing smoother. We also went with a diesel truck because it allows us to travel longer distances without having to stop for fuel.
What advice would you give someone who is considering buying a fifth wheel?
There are a lot of different models and layouts on the market, and the variety can sometimes feel overwhelming. So, we always advise people to assess their individual needs first, including how many people will travel in the RV, will there be any children and how old, what types of places do you primarily want to visit, how long do you plan to use your RV, and where will you store it. Knowing all of these things in advance will help you refine what you're looking for and a layout to match. And while we recognize that fifth wheels can be expensive, the large rooms, extra storage space, amenities, and overall towing experience are totally worth it.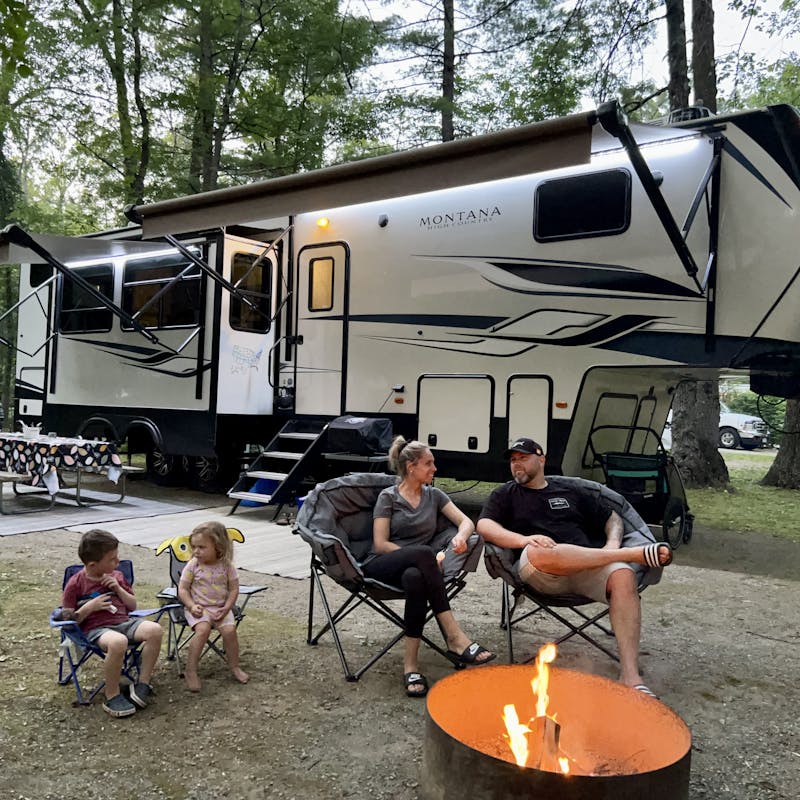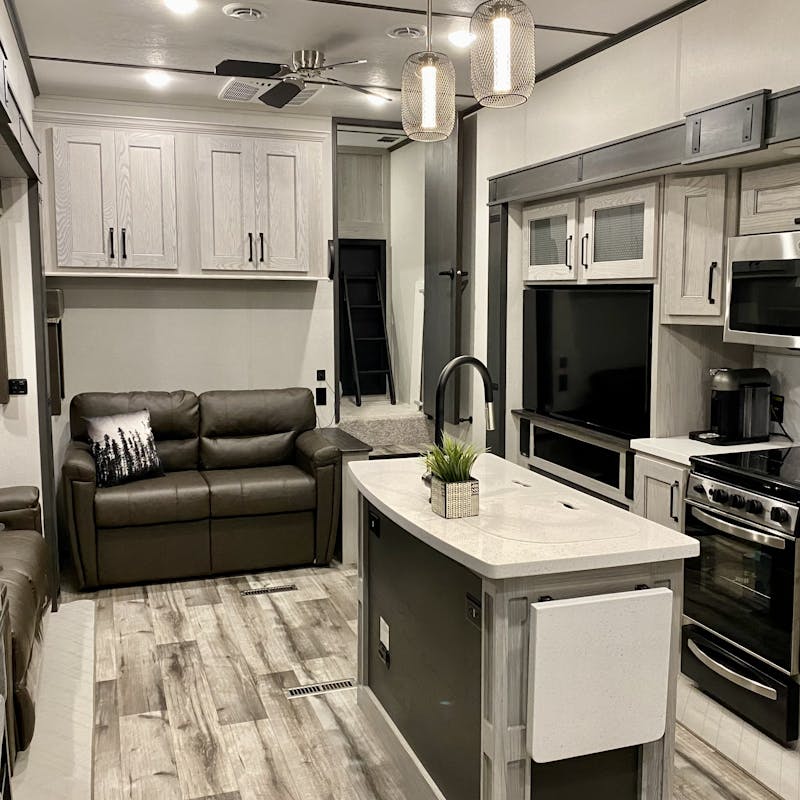 Amanda Bone / Full-Time Family / Heartland Bighorn
Why did you choose your specific fifth wheel?
We are a family of five (plus pets) and after looking at many different towable RVs, we quickly realized we wanted a fifth wheel. Fifth wheels have higher ceilings, more basement storage and a wider variety of floor plans. After researching and walking through numerous fifth wheels, we learned that the mid-bunk layout was our favorite. The Heartland Bighorn met all of our needs—it has a spacious rear living area that allows us to have plenty of guests, ample kitchen storage and a large pantry. Our two boys share the mid-bunk room, which has enough space for their clothes and toys, and our daughter claimed the loft, which gives her privacy and a place of her own. Our family does share one bathroom, but the overall size and large, two-person shower gives us plenty of space and doesn't ever feel cramped.
Did you have any concerns about buying a fifth wheel? If so, what were they and how did you address them?
When we decided to live in an RV full-time, we initially thought we wanted a travel trailer or a smaller bumper pull because of the lighter weight and more compact size. We didn't have much experience with towing, so the thought of pulling a large fifth wheel was pretty intimidating. Ultimately, we didn't let our fears win and we purchased an RV that we knew our family would be the most comfortable in. Towing and driving takes time and, like anything else, we learned how to do it with practice. It was more important that we found a tiny home we would be happy living in for a long time.
What are some of your favorite hobbies and activities, and how does your fifth wheel fit these?
Our family has a wide variety of hobbies and favorite activities. We've always loved hosting friends and family for big dinners and game nights, and that was something we weren't willing to give up when moving into an RV. Our fifth wheel has an open floor plan that allows us to comfortably host a lot of guests and prepare big meals. We also love to boondock, and our fifth wheel allows us to get to these more remote locations, while also giving us all the comforts of home. Family movie nights are also a regular occurrence, and the queen size sofa bed in the living room is the perfect place to all pile up and watch a movie together.
How and why does your fifth wheel's layout work well for you?
Our Heartland home on wheels has everything we need. The rear living area with opposing slide outs and 13-foot ceilings makes the whole space feel really open. Our kitchen island is great for meal prepping, and we have a residential-size refrigerator that can easily hold two weeks worth of groceries for our family. The pantry consists of six cabinets and ample shelving that provides space for lots of non-perishables. Next to the kitchen is our two boys' bunk room. They each have their own bunk bed and plenty of cabinets for their clothes and toys. Above the boys room is a loft that has a queen size mattress for our preteen daughter. Making sure that she had her own private space, especially at her age, was really important to us. The front of our RV contains the main bedroom, complete with a king size bed, massive closet, six-drawer dresser, and separate closet with washer and dryer hookups. 
How did you handle finding the right tow vehicle for your fifth wheel?
Our fifth wheel has a dry weight of 13,000 pounds, but we added an additional 3,000 pounds with all of our belongings and full tanks, bringing the total weight to 16,000 pounds. At the time, our current truck had a tow capacity of 21,000 pounds, so we were well within the weight limit. However, we noticed that our truck struggled any time we towed the fifth wheel up a mountain road or had a steep incline. We didn't want to limit our travels or the places we could visit, so after nine months, we upgraded to a large, dually truck. This new truck has a tow capacity of 33,000 pounds and can easily handle any road. Our biggest recommendation for finding a proper tow vehicle is to get one with a much larger tow capacity than you think, especially if you plan to travel full-time.
What advice would you give someone who is considering buying a fifth wheel?
For anyone considering a towable RV, we highly recommend fifth wheels. The storage, interior space and high ceilings are unmatched. When we were deciding between two different fifth wheels, we had our dealer set each one up, including all the power and hookups, and we spent about an hour in each one. Being able to go through the motions of day-to-day life really gave us a feel for what it would be like to live in it, and it helped us make our final decision. Ask your dealer to do the same, and spend significant time in each RV that you're considering. We promise it'll be worth it!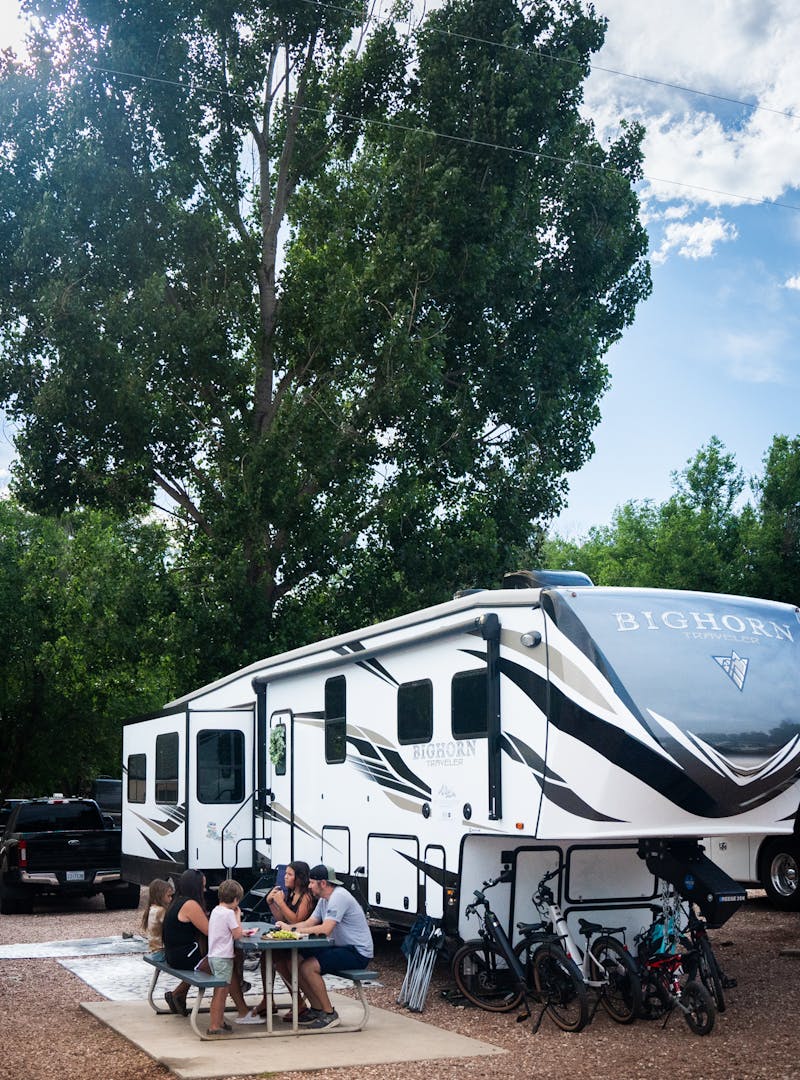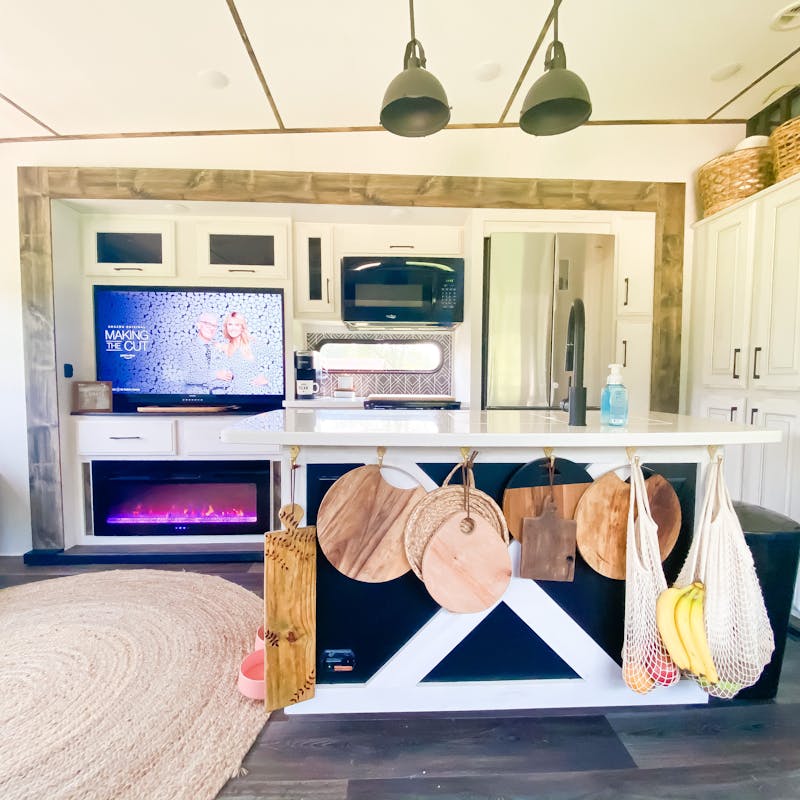 Andy & Kris Murphy / Full-Time Family / Keystone Fuzion
Why did you choose your specific fifth wheel?
We had previously owned a Class C RV, but with two kids and a dog, it was starting to feel small for our growing family. We knew we wanted to upgrade to a fifth wheel because they provide more living and sleeping options with various bunk rooms. Additionally, we knew we wanted a bigger RV with more space, and were hoping to reduce maintenance costs by switching from a motorized RV to a towable RV with a truck. We spent a year looking at different layouts and floor plans, and were slowly able to narrow in on exactly what we wanted.
Did you have any concerns about buying a fifth wheel? If so, what were they and how did you address them?
We definitely had some initial concerns about buying a fifth wheel, and most of them had to deal with size. First, this RV was much larger than what we were used to—at 45 feet long, we were worried we wouldn't be able to fit into campgrounds or parks. And second, we had always driven small cars, so having to find a large truck was also a big concern. We had always towed a small car behind our motorized RV, so understanding the different tow capacities and payload capacities felt intimidating. But despite these concerns, having a fifth wheel has been totally worth it. We knew when we bought our Fuzion that there would be some limitations for campgrounds, but the tradeoff is that we have a ton of extra living space. And while we can't stay inside certain state and national parks, we've never had an issue finding places nearby that can accommodate our size. We also didn't want to constantly worry about tow capacity or weight, so we opted to get the largest truck we could find. It was a significant added expense, but we have complete peace of mind knowing that our truck can safely pull our RV in a variety of different conditions and situations.
What are some of your favorite hobbies and activities, and how does your fifth wheel fit these?
Our priority is always to travel and explore every location as much as we can, so everything in our RV is geared towards that. However, each member of the family has different interests, and our Keystone easily accommodates everyone. I love to take photographs and film, and the cabinets and shelves in the rear garage space are perfect for storing all of my gear. Kris leads all of the roadschooling and lesson plans for our kids. We have a nice table and counter space to do school work, and plenty of interior storage for lesson plans, books, paper, pens, and crafts. Our oldest son Kieghan is really into music, especially the guitar and piano. His instruments can either be hung on the wall or stored near his bunk bed—both of which keep them off the ground and out of the way. Our second son Kinsler loves sports and video games. All of his sporting equipment fits in the exterior storage bay (aka the toy closet) and our large TV with an HDMI connection is perfect for his gaming. And our youngest son Killian is only three months old but he requires a lot of stuff. Luckily, our rear garage space has given us a lot of flexibility and can be converted into whatever we need. And right now, it's being used as a quiet, secluded nursery.
How and why does your fifth wheel's layout work well for you?
The Keystone Fuzion layout was a key reason why we chose this RV for our family. We really liked the toy hauler garage space with the lofted bed, and wanted to use this as mine and Kris' main bedroom and a multi-purpose space that we could convert into a playroom, office or nursery. We could then use the bedroom in the front as a separate space for the boys. We were also very drawn to the side porch model. With our Fuzion, the porch is actually the main entrance to the RV. Most other models have two entrance doors and a porch, which can limit interior storage space because the walls are being taken up by doors. So, we not only have a ton of extra interior storage and cabinet space but we also have a nice, wide entrance. The other big selling point was the color scheme and modern interior. It was one of the few RVs we toured that felt like a true home and wouldn't need any repainting or modifications.
How did you handle finding the right tow vehicle for your fifth wheel?
Finding the right tow vehicle for your fifth wheel can be challenging. Plus, large trucks that are well cared for hold their value and can sell quickly, making them tough to find and purchase. However, we found it much easier to buy our RV first and then look for a truck that could tow it. If you buy a truck first, that can really limit what RV you can purchase and you might have to sacrifice some amenities. After buying our Fuzion, our goal was to find a truck with the right gear ratio on the transmission, had enough payload capacity, and had an adequate gross combined weight rating (GCWR)—which is the maximum allowable weight of both the loaded truck and the loaded RV that the truck can handle safely. Our Fuzion has nine different tanks, so it was critical that we found a truck that could pull all that weight. We know figuring out these details can be tricky, so we created a YouTube video that talks all about how we got our truck and how we figured out exactly how much to tow.
What advice would you give someone who is considering buying a fifth wheel?
Our first piece of advice is to buy the RV that you want first, and then buy your tow vehicle. As I mentioned, buying a truck first can really limit your RV options and we feel it's more important to get an RV that you truly love and meets all of your needs. And our second piece of advice is to take your time when deciding what fifth wheel is right for you. There are so many different options and it takes time to explore and evaluate them. If you can, try renting a few so you get some first-hand experience. This is a great way to learn what you like and realize what you truly need.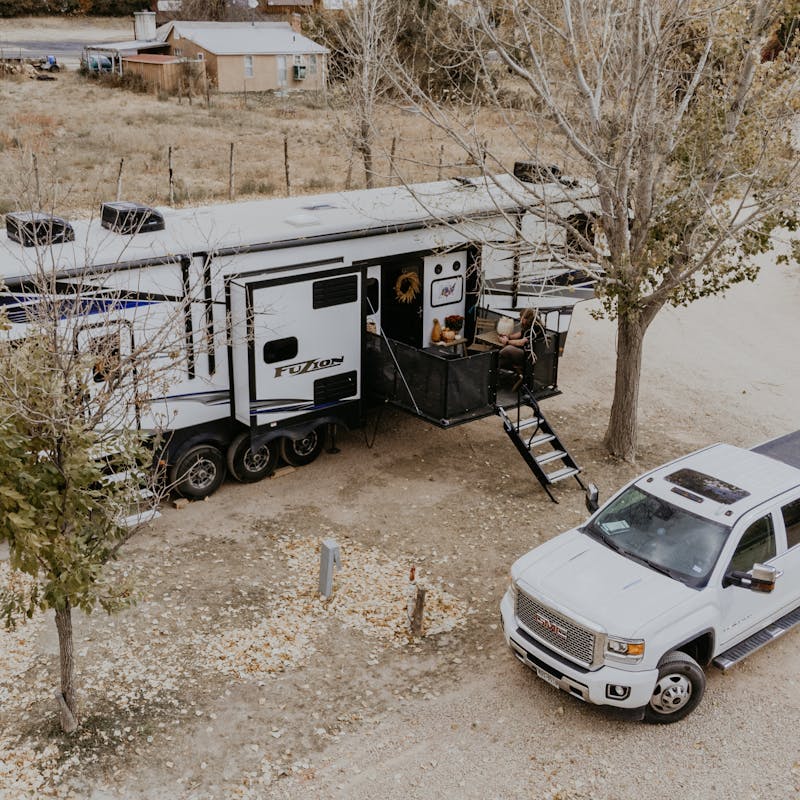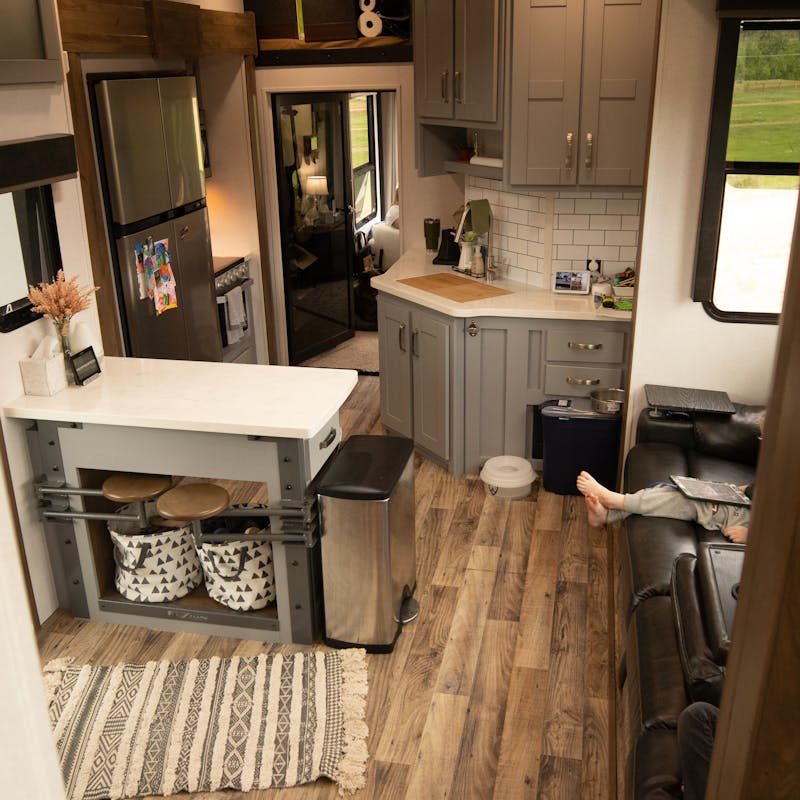 Find Your Perfect RV
Whether you're new to the world of RVing or you're ready to narrow your search, we're here to help you sort through it all and find the RV that's right for you. Explore RVs based off of your lifestyle and the features important to you.
Find Your RV