Is A Class B Camper Van Right For You?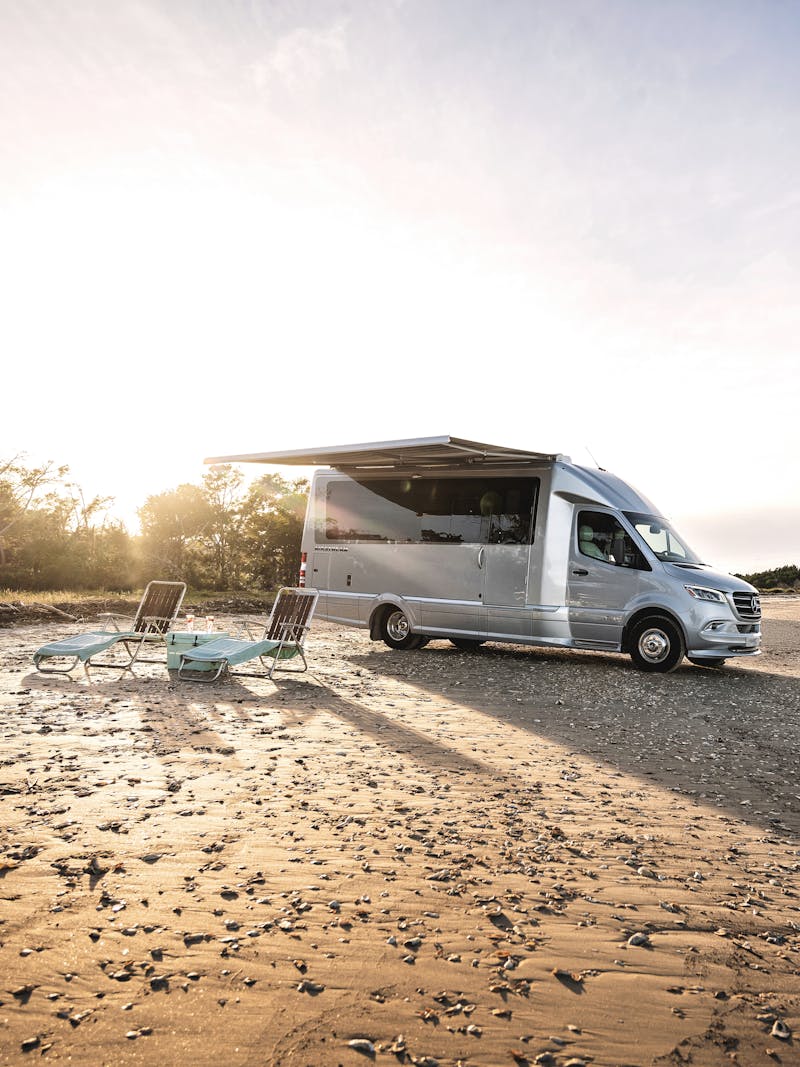 Class B camper vans are quickly becoming some of the most popular motorized RVs. Their small, streamlined design and ability to double as an everyday vehicle make them a highly desirable option for many RVers. However, some buyers are concerned about getting a Class B RV due to their small size and limited storage space. And with so many different models available, how can you even begin to figure out which one is right for you?
To help address some of these concerns and highlight just how versatile Class B camper vans really are, we asked four different owners to share why they ultimately decided to buy a Class B and how the RV they chose fits their unique lifestyle. They address some common Class B complaints, including the size of the shower and having to deal with a convertible bed, and share their advice for anyone interested in buying a van.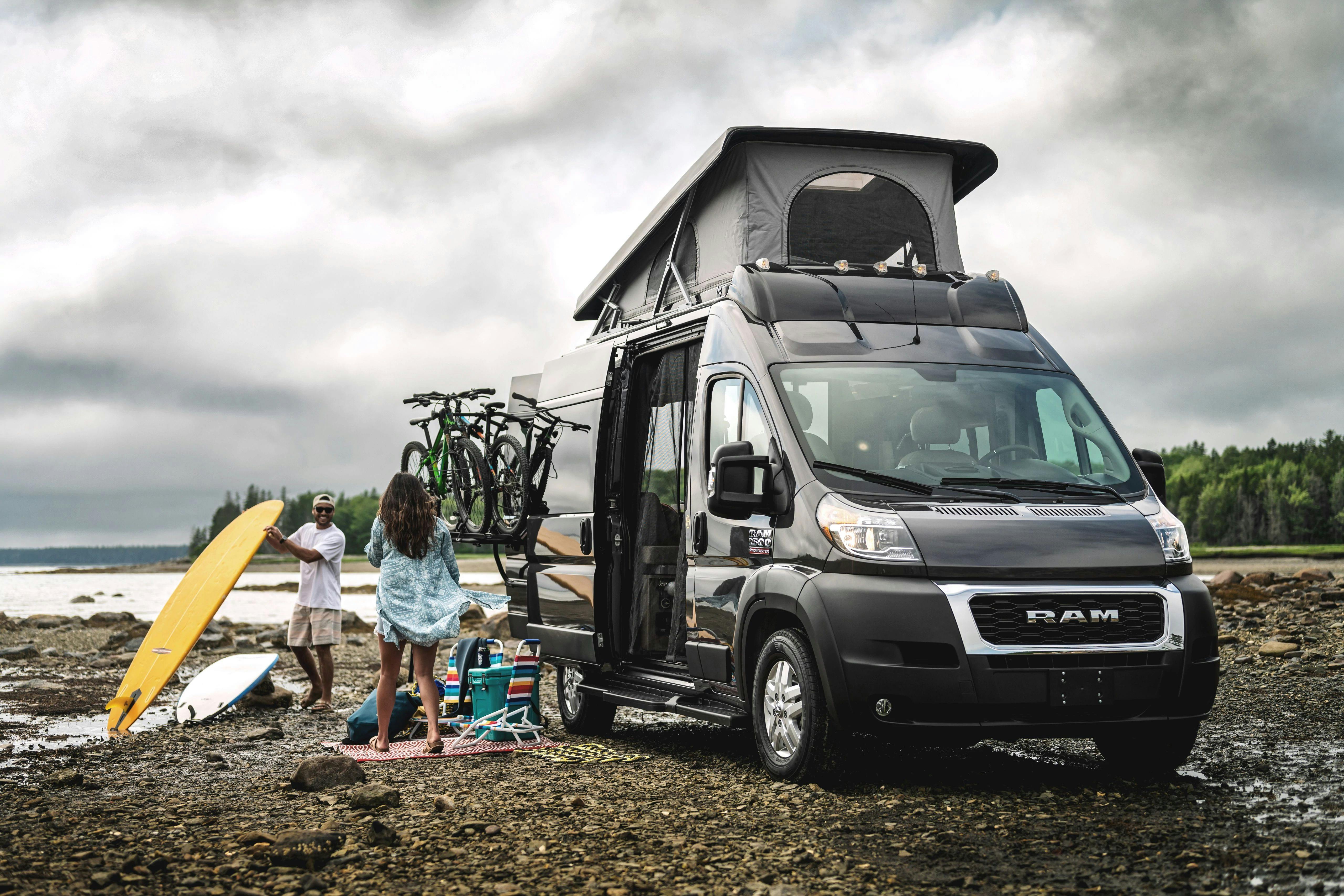 Paul and Susan Herbert / Traveling Retired Couple / Airstream Interstate
Why did you choose your specific Class B?
After extensive research, we were able to narrow down our preferred Class B to just three models. When we saw the Airstream Interstate in person, we really liked that the rear twin beds could be converted into one king sized bed. We saw multiple ways to utilize this sleeping space and preferred this over the traditional fold-down seat arrangement. We can use the twin beds as daybeds, and they're great for relaxing, watching TV or working from our laptops. Our Airstream Interstate also has more interior storage than some of the other fold-down seat models, and all of the materials and finishes are high-quality and beautifully designed.
Did you have any concerns about buying a Class B? If so, what were they and how did you address them?
Truthfully, we didn't really have any concerns about purchasing a Class B camper van. Because we had done so much research looking at various companies, blogs and reviews, we knew the advantages and potential shortcomings with owning a Class B. We knew the inside would be smaller than other RV types but were extremely impressed with how the small space was maximized and organized. A common complaint with Class B RVs is that the shower or wet bath area isn't very big. However, our wet bath is over six feet tall and gives us plenty of room. Some other big advantages for a Class B include not needing to be towed and ease of parking.
What are some of your favorite hobbies and activities, and how does your Class B fit these?
We absolutely love to travel and our Airstream Interstate makes that incredibly easy. Our Class B has become our primary vehicle—we can easily use it for running errands, weekend trips or long distance adventures. We also like to boondock whenever possible, and the Interstate has everything we need to spend multiple days off the grid. It's self-contained, comfortable and offers us great travel flexibility.
How do you maximize storage in your Class B?
Our Airstream Interstate has great interior storage, but we've found some additional ways to maximize the space. In the bathroom, we've installed wall-mounted nets that allow us to store toiletries and other supplies. We also purchased a set of high-quality, nesting cookware that not only saves on kitchen space but has lasted us for years. Additionally, we have two hanging organizers in the rear that we use at night to hold our drinks, phones, reading glasses, and TV remotes. Overall, the amount of space in the Airstream Interstate was one of its top selling features but, as with any Class B RV, your space is limited so you need to plan accordingly.
How do you maximize sleeping space in your Class B?
In our Airstream Class B, we do have the option of converting the two twin beds into one king sized bed. Having a king bed does offer some extra sleeping space for an additional small child or pet, but most Class B RVs are built to comfortably sleep two adults. It should also be noted that we've found the mattresses in the Airstream to be very comfortable and we personally don't feel that they need to be altered or swapped out.
What advice would you give someone who is considering buying a Class B?
Do a lot of research, read a lot of RV blogs and watch a lot of videos on YouTube. There is no shortage of online resources that can help you learn about the various features and functions in a Class B. Another piece of advice is to talk to real Class B owners. If you're on the road and see a Class B camper van that you like, ask the owner what they like or don't like about it and what they may have done differently. We are always more than happy to talk to people about our Airstream van, and have found that others are also very welcoming and accommodating when approached about their vans.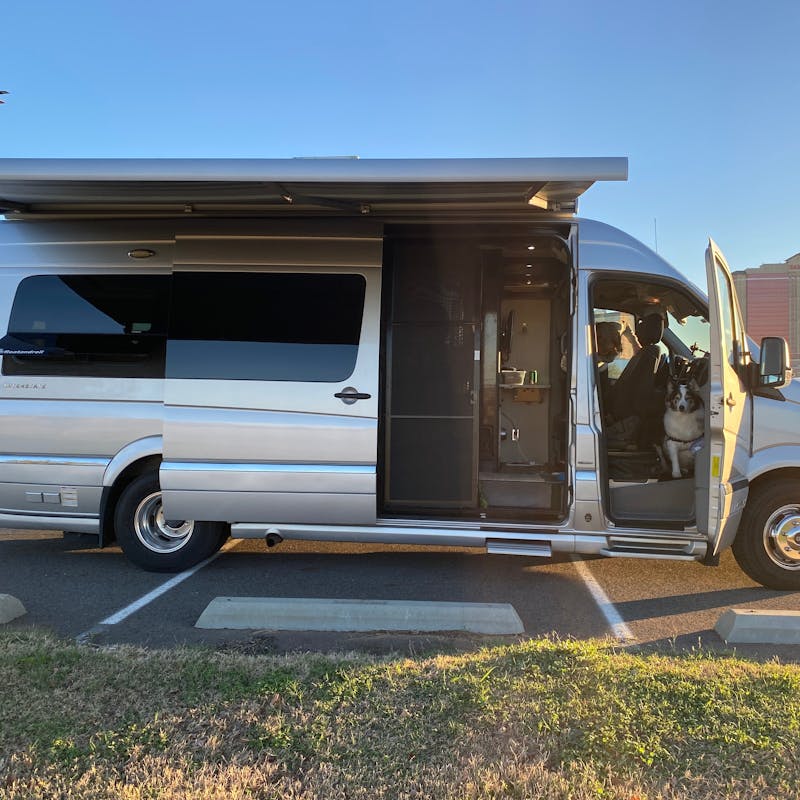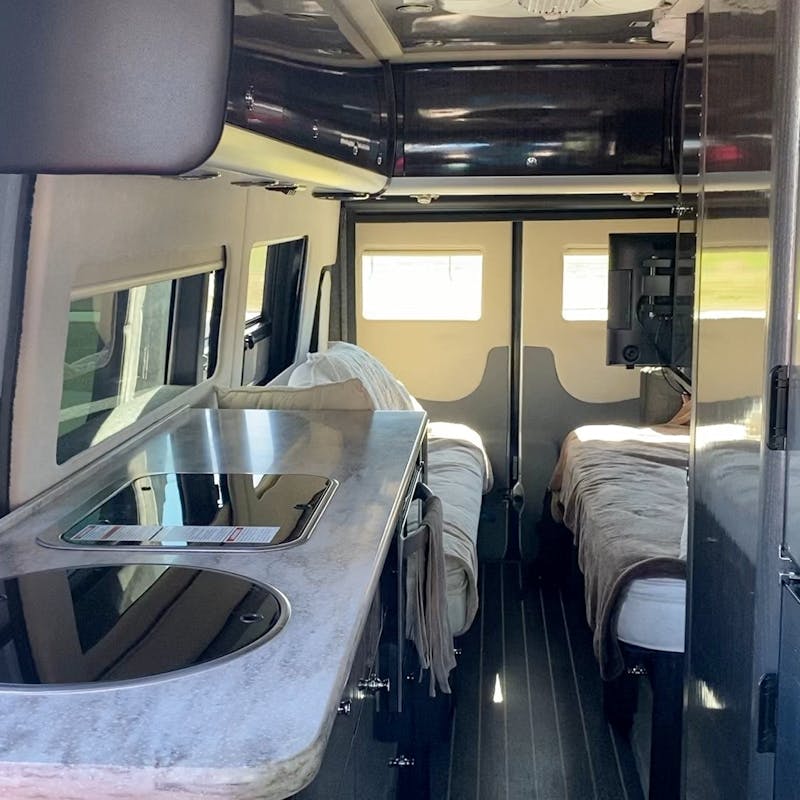 Jessica Lawson / Solo Outdoor Adventurer / Thor Motor Coach Tellaro
Why did you choose your specific Class B?
I chose the Thor Motor Coach Tellaro because it perfectly fits my lifestyle. I knew I needed something small and flexible, but also reliable. I was planning to live in my Class B full-time and do a lot of boondocking, so it needed to have features to support that. The battery system and large tanks are perfect for my full-time travels. Another important feature was the interior color scheme—crisp white cabinets, a light gray convertible sofa bed, white leather driver and passenger seats, a removable light gray table, and white countertops. The layout is very open and airy, and there is so much storage space. I also have a full kitchen galley with a large refrigerator. One of the very best features of my camper van is that the floor plan allows me to walk straight from the front cab all the way to the back of the van. Having this particular layout makes my Class B feel really big and spacious.
Did you have any concerns about buying a Class B? If so, what were they and how did you address them?
One of my biggest, initial concerns was affordability—many Class B camper vans can cost hundreds of thousands of dollars. However, I was able to negotiate a good deal and use my old RV as a trade-in. I was also able to sell my car and use my Class B as my primary vehicle. Another concern was being able to manage and operate the van entirely on my own. I knew I was going to be traveling solo, so I had to be sure and know everything inside and out. I ended up filming my initial after-purchase orientation and walk-through with one of the RV technicians. This was extremely helpful because if I forgot something, I had a specific video to refer back to. I also joined a few Facebook groups, including some specifically for Tellaro owners. In some groups, members can share their knowledge and post about their experiences and a Thor Motor Coach representative will monitor the page so you can trust the information being shared.
What are some of your favorite hobbies and activities, and how does your Class B fit these?
Some of my favorite hobbies and activities include hiking, snowboarding, biking, paddle boarding, backpacking, and camping—and my Class B allows me to easily do all of them. I have enough room inside to bring my camping gear, snowboard, inflatable paddle board, and extra safety equipment. Plus, I have an external rack on the rear door to hold my bike. Sometimes my outdoor activities take me far into the wilderness, and I can easily be off-grid for several days thanks to my large holding tanks and lithium battery system.
How do you maximize storage in your Class B?
One big consideration was having enough storage space for my clothes. I was pleasantly surprised with the amount of storage space, but I also found a few hacks to make my space go even further. First, I like to roll my clothes and place them in cloth baskets—rolling helps them not wrinkle and allows me to fit more items into each basket. Secondly, I use small drawer organizers and plastic bins to separate and organize various things, like regular socks from hiking socks and jewelry. And lastly, adding mesh baskets and stick-on hooks to the walls helps free up counter space and keeps everyday items—things like paper towels, dish towels or salt and pepper—easily accessible.
How do you maximize sleeping space in your Class B?
Since I travel solo, I'm fortunate to have plenty of sleeping space. However, if friends or family visit, I do have the option of making my pull-out sofa bed larger by adding extra pillow cushions. There are also aftermarket products that can convert the front driver and passenger seats into one, continuous sleeping space.
What advice would you give someone who is considering buying a Class B?
I think a Class B camper van is perfect for a solo traveler or a couple that wants maximum flexibility and mobility. I recommend making a list of your must-haves before you start researching all the different options and layouts. This way you won't be influenced by anything extra and can make a decision based on exactly what you need. I also highly, highly recommend test driving a van before you buy it. And don't be afraid to ask as many questions as possible.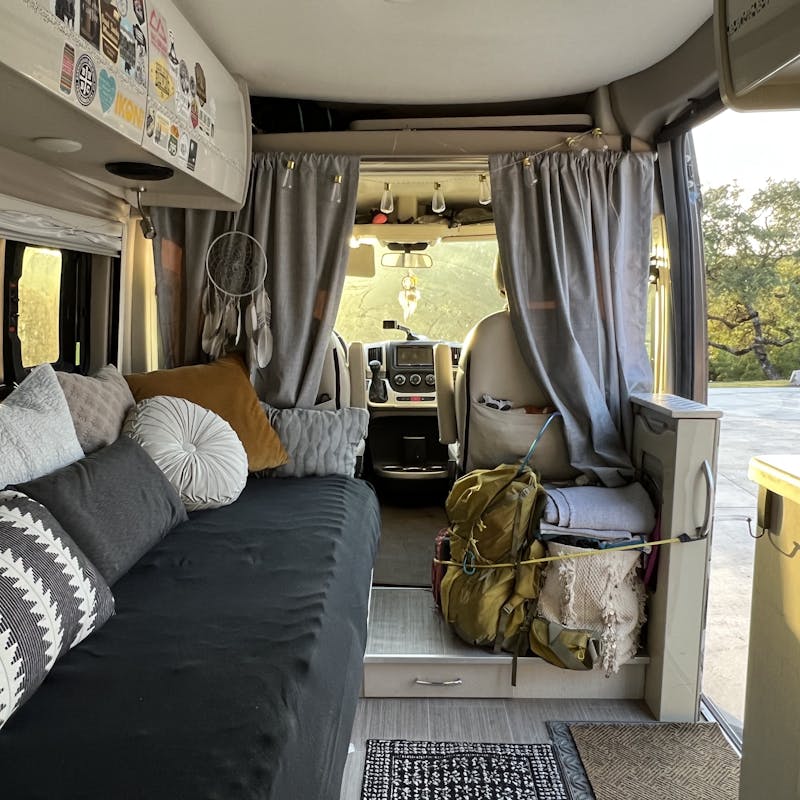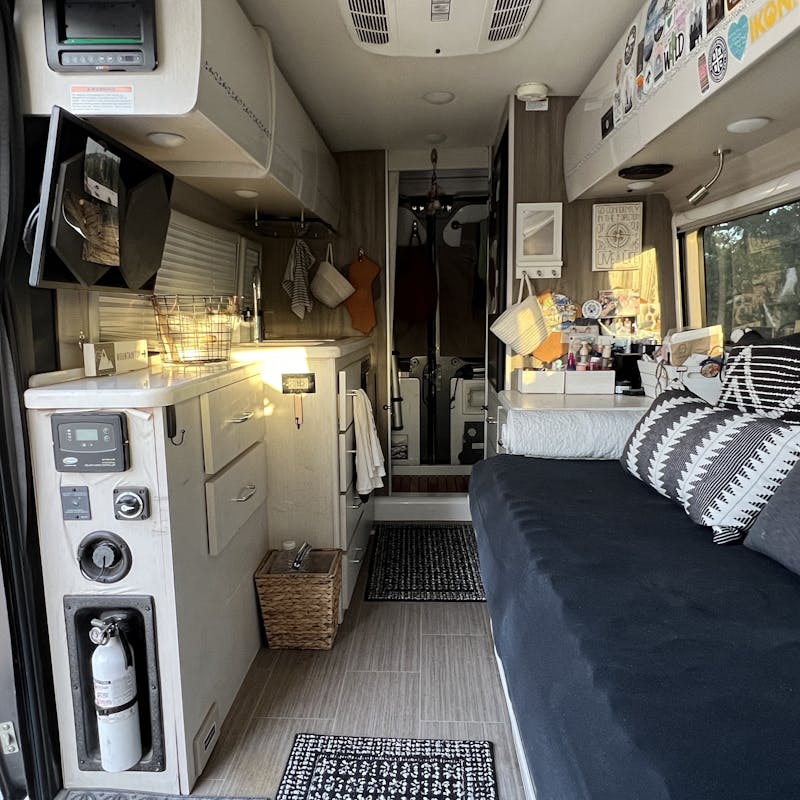 Mike, Last Line of Defense / Weekend Warrior Family / Jayco Terrain
Why did you choose your specific Class B?
I chose the Jayco Terrain because it has multiple driving capabilities (including off road driving), it's a perfect size for my family and I can use it everyday. I knew I wanted a camper van that I could take on long camping trips and support being off-grid, but I also wanted something that I could take to the park or the lake for the day. The Terrain also has a very robust electrical system, which is great for power and can even charge my e-bike.
Did you have any concerns about buying a Class B? If so, what were they and how did you address them?
One of my biggest concerns had to deal with general upkeep and maintenance. I had planned to use my Class B seasonally and on the weekends, so I was worried about it sitting stationary for weeks at a time. However, I quickly learned that if I disconnect the power, empty the fridge, drain the tanks, and do a quick engine inspection, the van is totally fine to sit in storage for extended periods of time. I was also concerned about emptying the gray and black tanks, but the Terrain has a cassette toilet so I don't need to find a dump station every time. And lastly, I had heard some Class B owners complain about having to set-up or convert their bed every night. Luckily, the Terrain comes with a power lift bed that can easily be raised and lowered so setting up our bed is a breeze.
What are some of your favorite hobbies and activities, and how does your Class B fit these?
One of my favorite activities is simply heading up into the mountains to disconnect and relax. The Jayco Terrain comes equipped with a special JRIDE package that allows you to adjust the shocks and offers a heavy-duty rear stabilizer bar—both of which are ideal for off roading and tough mountain roads. I also really like to mountain bike, and our camper van acts as a great basecamp. I can change in and out of my gear, have a cold drink or a snack, and wash up after a long ride.
How do you maximize storage in your Class B?
Despite some common concerns about storage inside Class B RVs, there is a surprising amount of space inside our camper van. My wife and I have taken many week-long trips and never run into any issues. The only storage limitation for a long trip is the refrigerator, but it is easy to restock along the way. Because I do a lot of outdoor activities, I do bring a lot of bulky gear with me. To help, we've added a rear bike carrier, a roof storage box and some other exterior mounting solutions.
How do you maximize sleeping space in your Class B?
The layout in the Jayco Terrain is perfect for sleeping two adults and a few dogs. The rear power lift bed is slightly bigger than a full and slightly smaller than a queen, so my wife and I can comfortably sleep there and our dogs can lay directly beneath us. We do have an 11 year old daughter that likes to travel with us, so we added a removable front bunk that spans the two front seats. This is perfect for her and we even installed a privacy curtain to help separate her space from the rest of the van.
What advice would you give someone who is considering buying a Class B?
First, consider how many people will be traveling with you. Class B RVs are great for two people, and they can easily accommodate a third person, but anything more than that will require you to get creative. Class B camper vans are relatively easy to drive and park, and they allow you to travel to places that a lot of other RVs can't. But with these bonuses comes the smaller size, so be realistic about how much living space you'll actually need. All in all, if you're looking for something that will allow you to take longer trips and can act as an adventure vehicle for day trips, Class B RVs are hard to beat.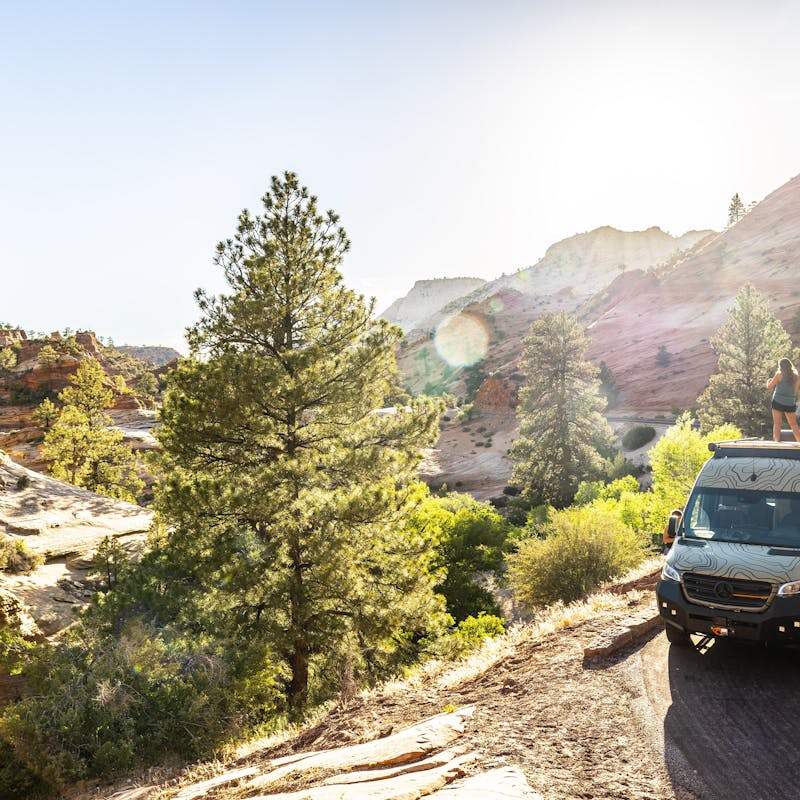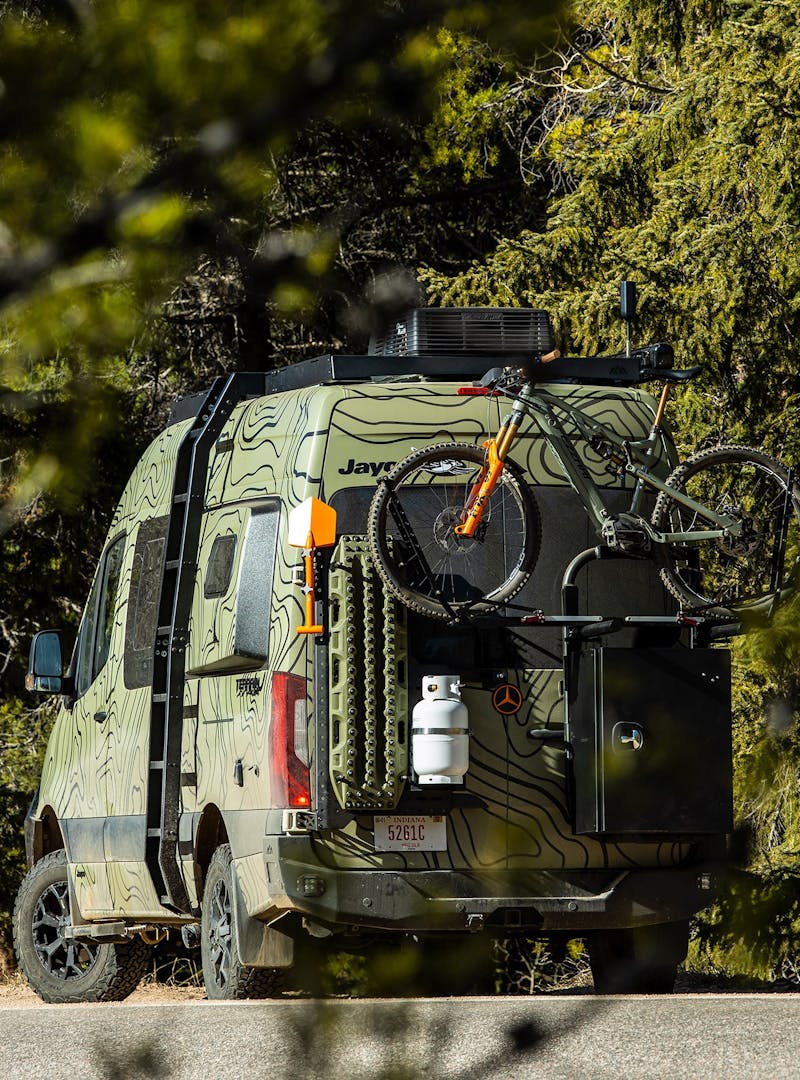 Gabe and Rocio Rivero / Remote Working Couple / Thor Motor Coach Sequence
Why did you choose your specific Class B?
We originally bought our Class B as a way to take weekend trips. We had a much larger fifth wheel that we were living in and figured a Class B would be a great way to get away and take short trips. However, we quickly realized that the Class B offered all of the same comforts as our fifth wheel but with much greater mobility. So, we decided to sell our fifth wheel and move into our camper van full-time. We specifically chose the Thor Motor Coach Sequence because it has an open, spacious floor plan and a bathroom in the rear that offers more space than a bathroom off the side.
Did you have any concerns about buying a Class B? If so, what were they and how did you address them?
Our biggest concern was the price—buying a new camper van is a significant investment. We did a lot of research and learned that many Class B RVs hold their value over time. Our Sequence also came with a complete warranty, which helped us feel more comfortable. Another concern that we had heard from other Class B owners is not being able to drop your RV and leave it. This can be an issue if you find a remote boondocking spot and want to keep it, even if you leave for a few hours. This has never been an issue for us since we like to bring a small tent or shade to help mark our spot and it can double as additional outdoor storage. We also bring our bikes with us and can use those if we ever need to head into town or go someplace nearby and don't want to bring the van.
What are some of your favorite hobbies and activities, and how does your Class B fit these?
We absolutely love and live for the outdoors. Some of our favorite outdoor activities include hiking, biking, kayaking, and paddle boarding. And while we loved our fifth wheel, we quickly realized just how comfortable traveling in a Class B really is. We have all the comforts of home, and we have it in an incredibly nimble and convenient package. Add to the fact that we can get to so many more places, and the Class B is perfect for our adventurous lifestyle. 
How do you maximize storage in your Class B?
First, we recommend visiting a local dealership and doing a walk-through of any Class B RVs that you might be interested in. This is a great way to actually see the storage space and figure out if it can work for your unique needs. Once you do visit, we think you'll be surprised to see just how much storage these compact, little RVs can hold. To help maximize storage, we added a storage box to our roof. You can also add a bumper hitch storage box if needed. Our Sequence came with a heavy-duty, swinging bike rack on the rear door, which allowed us to bring two electric bikes and didn't hinder our access to the back of the van.
How do you maximize sleeping space in your Class B?
Layouts can vary across Class B RVs, but most can easily accommodate two adults. Some camper vans even have a pop-top roof space that can sleep two additional people. Our Sequence has two opposing couches that can act as individual beds or be pulled down and converted into one large bed that can fit three people. In the past, we've traveled with a nice, outdoor tent and an air mattress, and our friends are more than happy to sleep in the tent at our campsite.
What advice would you give someone who is considering buying a Class B?
Our first piece of advice is to watch YouTube videos of people who live and travel in Class B RVs. These videos will help you get a feel for the different layouts and the types of activities you can do with a van. Our second piece of advice is to visit a dealership and walk through as many models and layouts as possible. Lay down on the beds, open the cabinets, stand in the shower, and sit in the driver's seat—fully allow yourself to imagine traveling in it. Our third piece of advice is to rent a Class B and take it on a weekend trip. You don't have to travel far but actually taking one out will give you a first-hand look at what it's really like to own one. And lastly, if you ultimately decide to buy a camper van, talk to a dealer or bank representative to see what your financing and payments options are.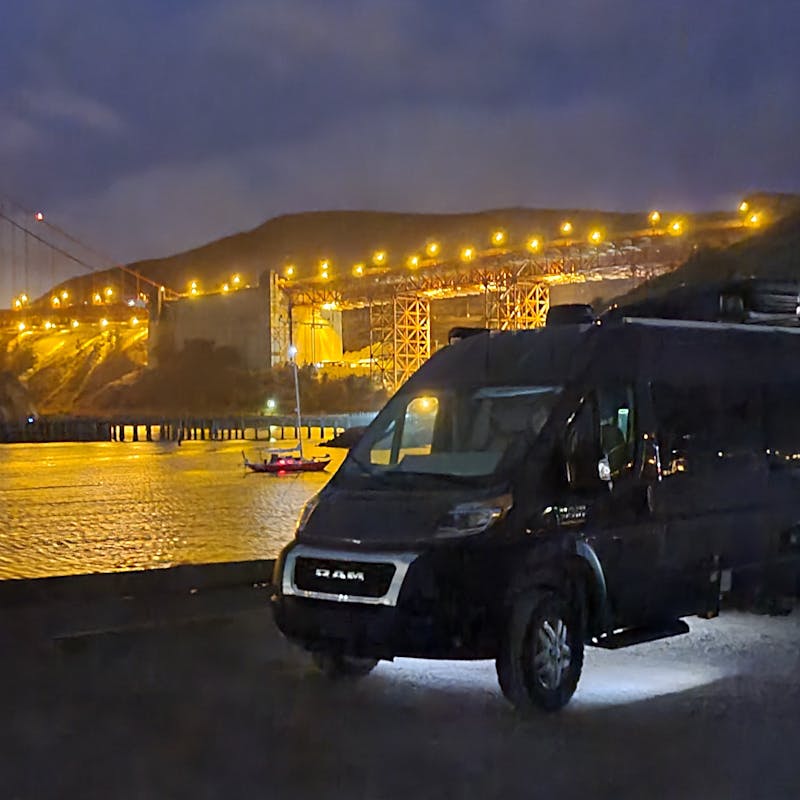 Find Your Perfect RV
Whether you're new to the world of RVing or you're ready to narrow your search, we're here to help you sort through it all and find the RV that's right for you. Explore RVs based off of your lifestyle and the features important to you.
Find Your RV