Behind the scenes at Cascade Mountain
A young skier from Wisconsin demystifies the life of a ski lift manager and shares what it's really like to work alongside his family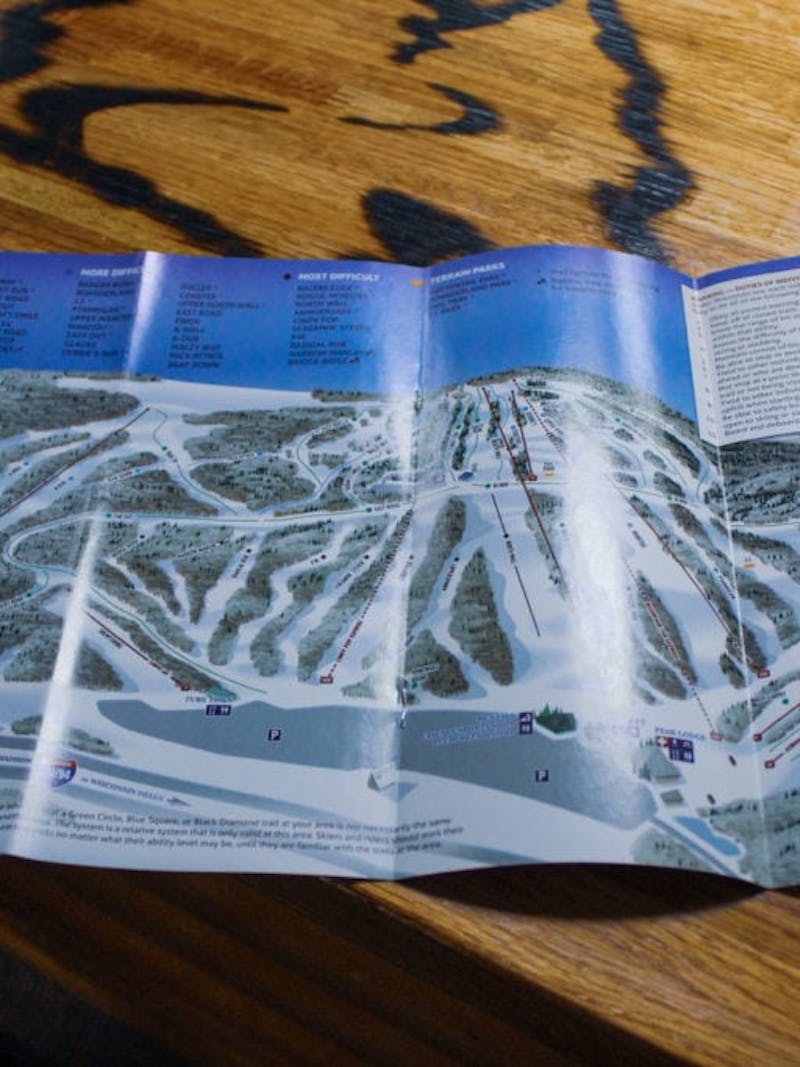 This story first appeared on Roadtrippers in December 2019.
When I first meet Adam Walz, I'm sitting in a warm cafe at the base of Cascade Mountain, gazing out the frosted window and trying to flex the cold from my fingers.
As he removes his worn, yellow gloves and shakes my hand, I can't help but notice the ease and fluidity of his movements. He seems comfortable here, which makes sense considering Walz has worked at the Cascade Mountain Ski Resort for 12 years. But even more remarkable is that Walz is only 25 years old. As of this year, he's the youngest lift manager on the mountain. And while the new manager role might be a bit of a change for Walz, this young ski bum was practically born for the job.
"I've been skiing since I was two years old," says Walz. "But it's completely different when you're the one overseeing the actual operation of a lift and not just riding it."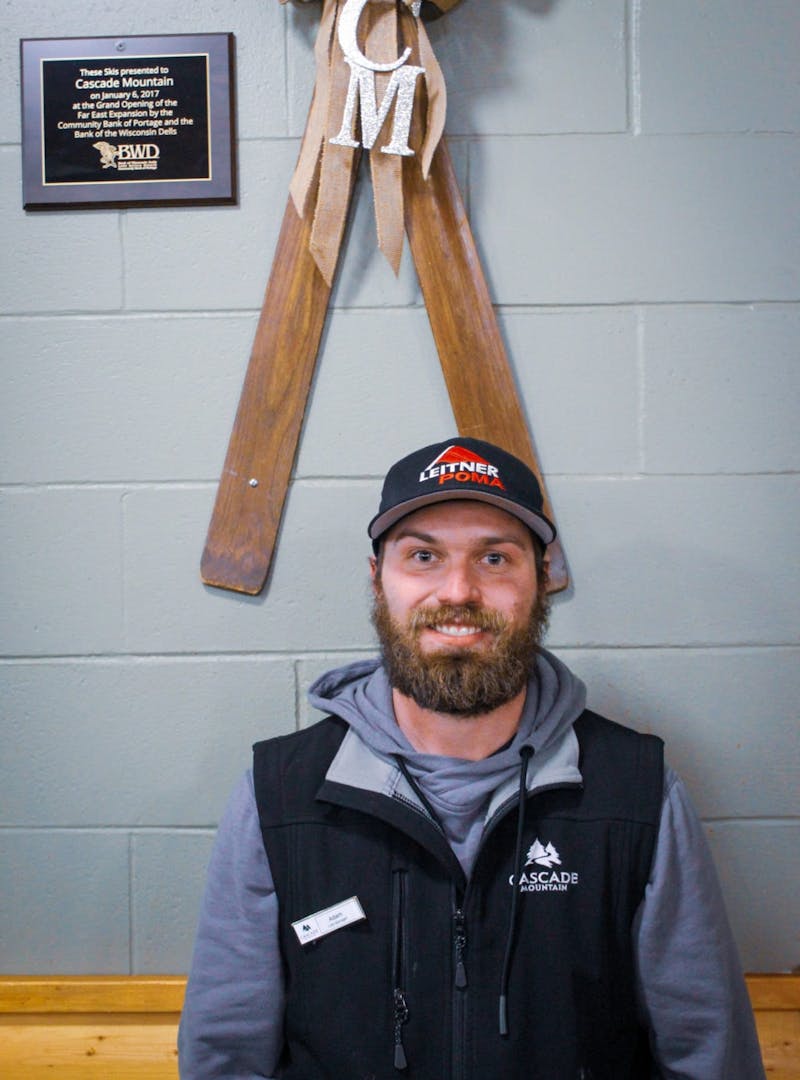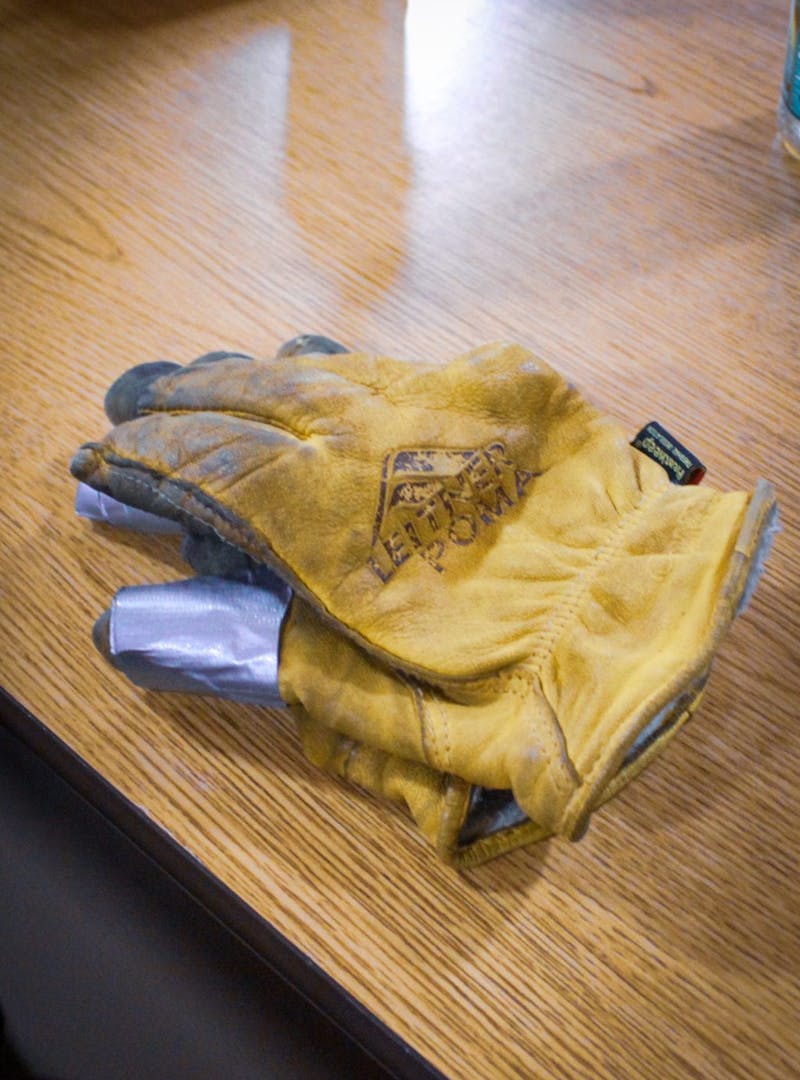 This is family business
Cascade Mountain first opened in Portage, Wisconsin in 1962. Phil and Adele—Walz's grandparents—purchased the resort from its original owners in 1977. At the time, there was only one lodge and a few chair lifts. But after Walz's parents, Rob and Vicki, took over in 2006, the family made a commitment to grow and upgrade the resort. And in 2016, they did just that—a $9 million expansion advanced the resort's snow-making abilities and added eight new ski trails, two additional chair lifts, a multi-building lodge, and a dining complex at the base.
"Cascade has always been a part of my family and my history, but I didn't officially start working here until I was 14 years old," Walz tells me. "I started out as a cashier in the food service area, and then moved to rentals for eight seasons."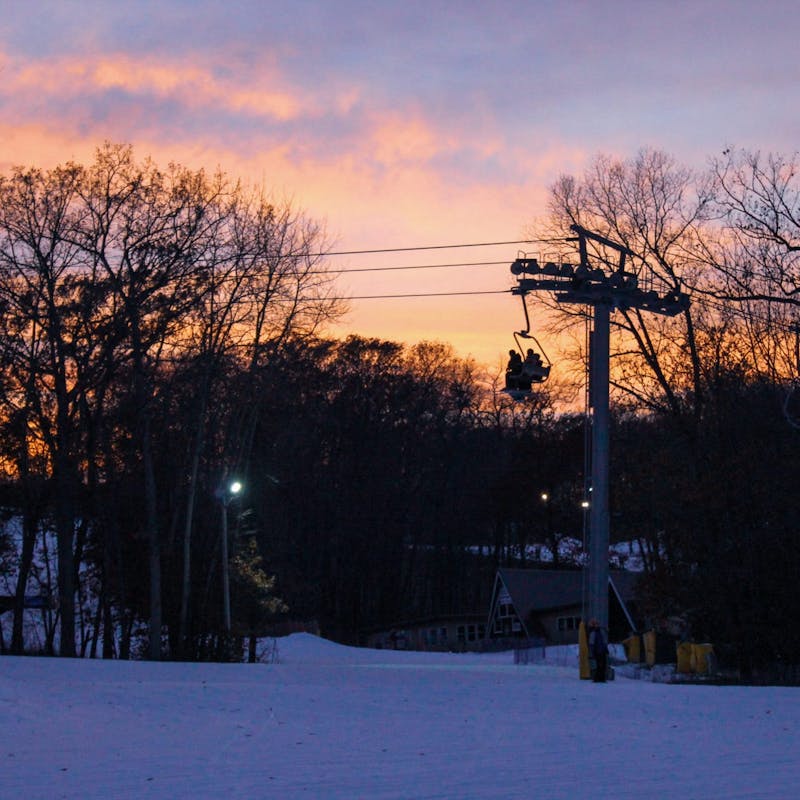 Working his way through the various departments at the resort has given Walz a thorough understanding of all the inner workings and nuances that go into running a ski hill—knowledge that is extremely valuable considering he may take over one day.
"My brother [Evan] and I are third-generation Cascaders, and it's always been our game plan to go into business together," says Walz. "We did have other ideas for jobs while we were growing up. But the more we thought about it, the more we realized how much we love Portage, and skiing, and being outside. It just made sense for us."
Evan, who is two years younger than Walz, works in Cascade's marketing department and just recently took over guest services. Between the two of them, the brothers seem to have the resort well covered—Evan handles the business and consumer-facing work, while Adam oversees much of the technical and operational elements of the mountain.
"Working at a family business is awesome," says Walz with a grin. "But it's a lot of work. Personally, I don't want to do this without Evan. And I hope he feels the same."
Before the skiers arrive
Being a lift manager is an extremely important role, and one that Walz does not take lightly. In short, the lift manager ensures the safe and efficient operation of all ski lifts on the mountain. But there is a lot more to it than that.
"If you think about it, the lifts are the business," says Walz. "If the lifts aren't running, then the resort isn't running because how can anyone actually get up the mountain to ski?"
Walz arrives at Cascade Mountain two hours before opening. This time, referred to as the pre-op phase, is the most pivotal—this is when all the lifts are first inspected. Every morning, each of the 11 lifts at Cascade Mountain are turned on and checked to make sure things are running as smoothly and safely as possible. Any kinks in the lift line, potential blockages, or problems with the chairs are addressed and fixed during this phase. Pre-op tasks can vary from simple, like cleaning snow off chairlifts, to more complex, like testing each lift's back-up power source.
"Every lift has a back-up motor," Walz tells me. "In case the power goes out or something stops working, this motor is what safely gets people down off the lift."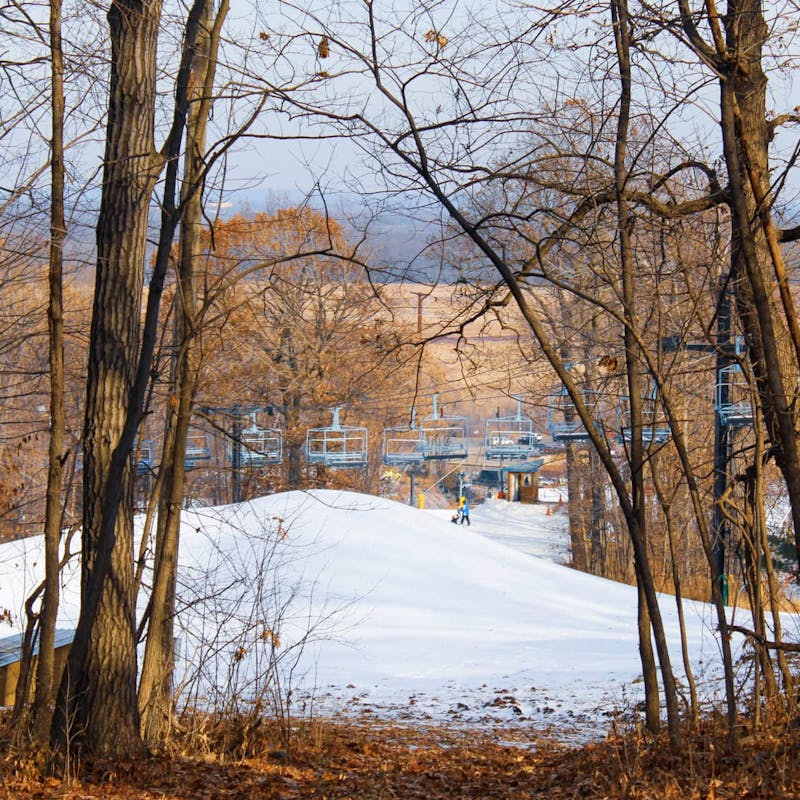 Once the pre-op phase is complete and the mountain is open for business, Walz's work is far from done. Throughout the day, he must regularly check in on the lift operators and ticket checkers, communicate variations in the lift operating schedule, address any lift issues that arise, assist ski patrol with lift evacuations, and schedule breaks for lift operators and maintenance members.
While it may not seem like it, this last task is actually one of the most important. During the peak winter season, Cascade Mountain will have close to 450 employees. And because the resort stays open until 9 p.m. on weekdays and 10 p.m. on weekends, it's not uncommon for staffers to work long hours. So it's vital that everyone take breaks and have adequate coverage throughout the day.
"It takes a lot of people to make this place work," says Walz. "And I'll admit, I work 14-hour days sometimes. But they usually have to force me to go home. It's hard for me to leave this place."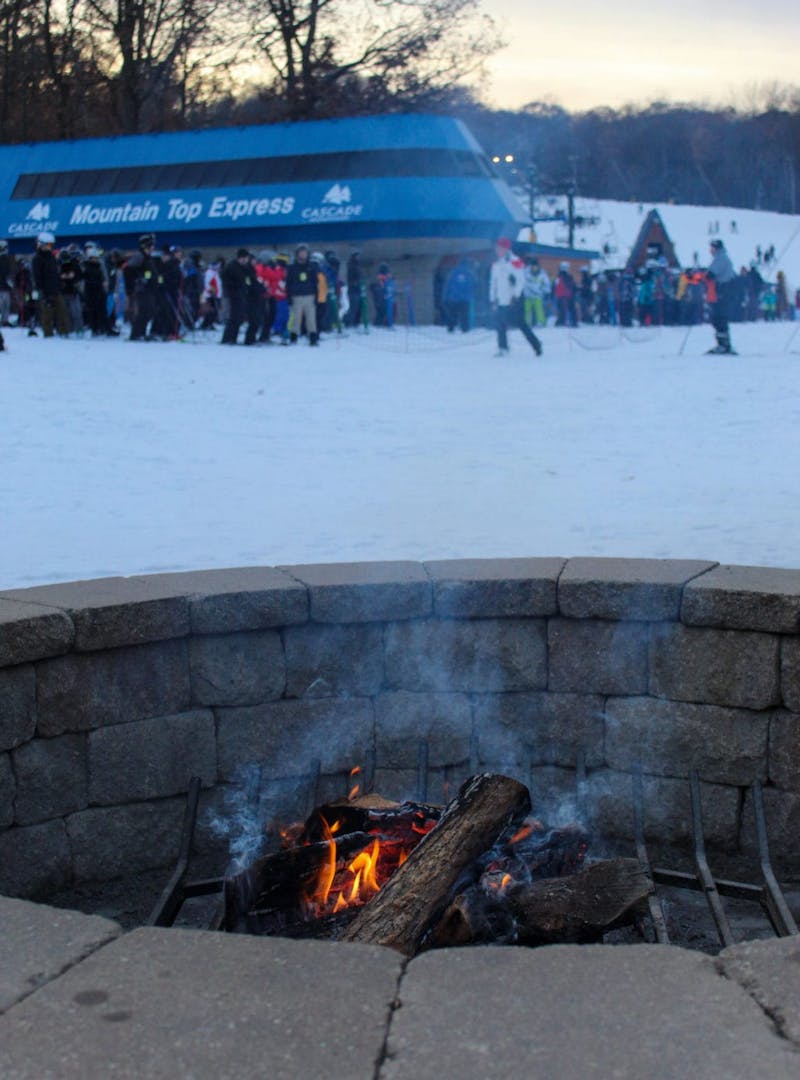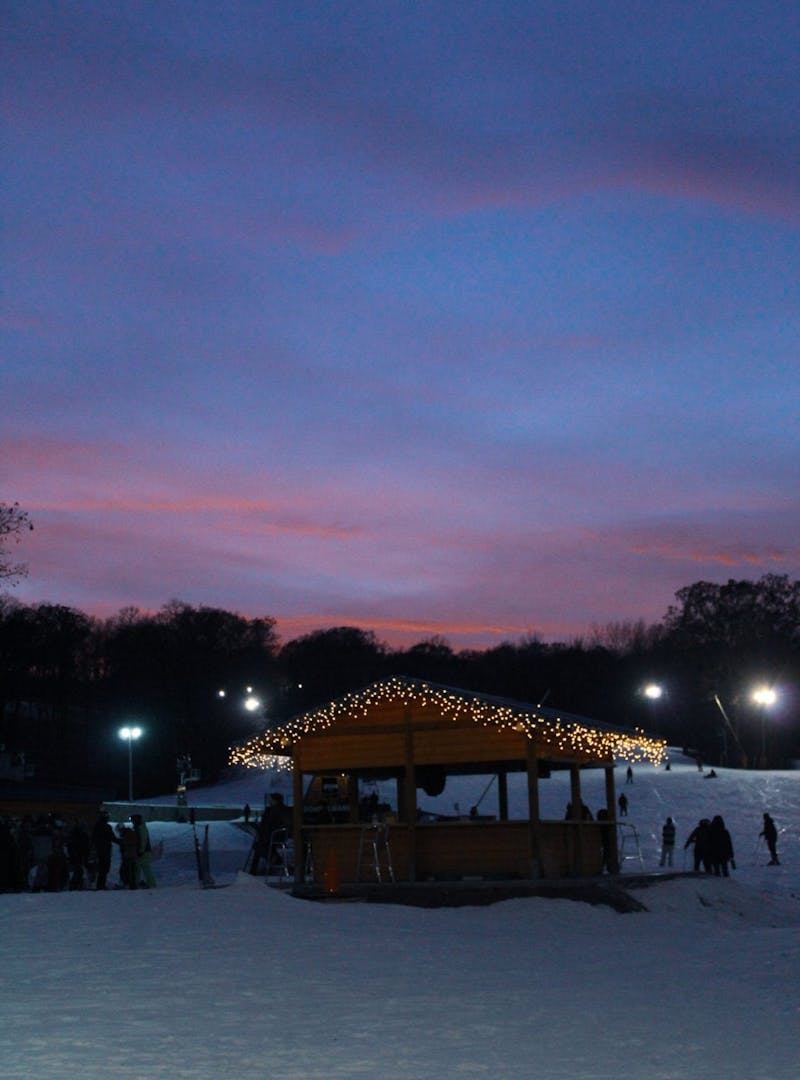 The skiers and the campers
Despite the long hours and numerous different tasks to juggle, Walz is constantly reminded of why he loves working here. For him, it's the opportunity to be outdoors—something he's grown up with and continues to appreciate.
In fact, Cascade Mountain shares a backyard with Sky High Camping Resort, a popular campground and RV park that Walz grew up visiting. The two places are deeply connected, both geographically and historically.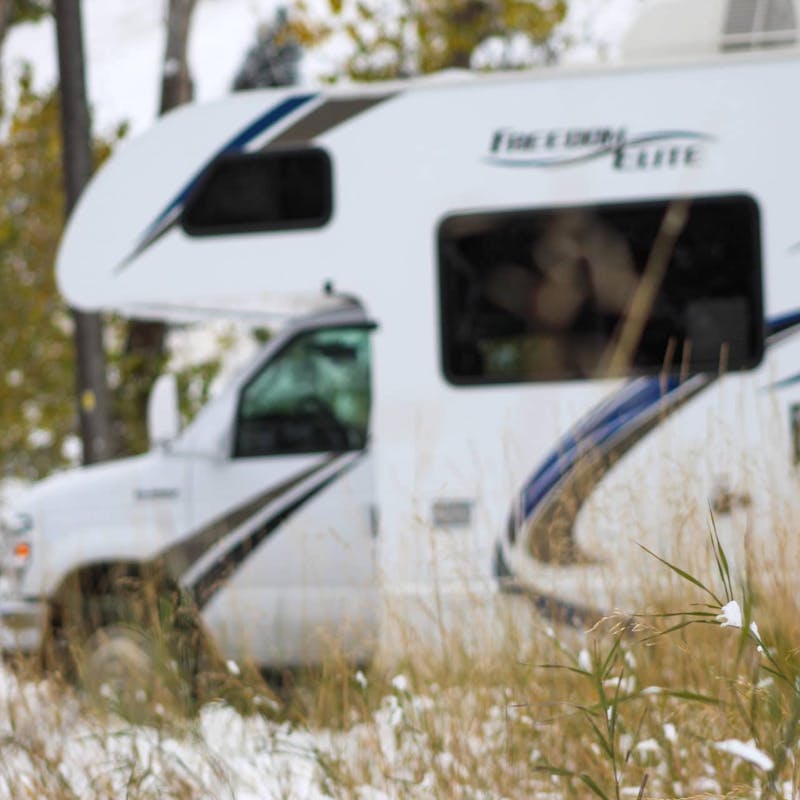 "The owners of Sky High are close family friends," says Walz. "Our dads have known each other for years, and I played baseball with the two boys. Growing up, it was awesome to ski or bike on the mountain during the day, and then run up the hill and camp right there on top of Cascade at night. It was like the skiing family right next to the camping family."
As Walz and I talk, it's evident that family plays an important role in many of his stories. So when I ask him what he thinks makes Cascade Mountain so special, his answer is not surprising: "I'd like to think that being a family-owned business attracts people. I hope that people come here and see how family-friendly we are, and they feel encouraged to get their kids into skiing or to simply just get outside."
All photos by Amanda Bungartz
Find Your Perfect RV
Whether you're new to the world of RVing or you're ready to narrow your search, we're here to help you sort through it all and find the RV that's right for you. Explore RVs based off of your lifestyle and the features important to you.
Find Your RV