Eight fall foliage spots to add to your bucket list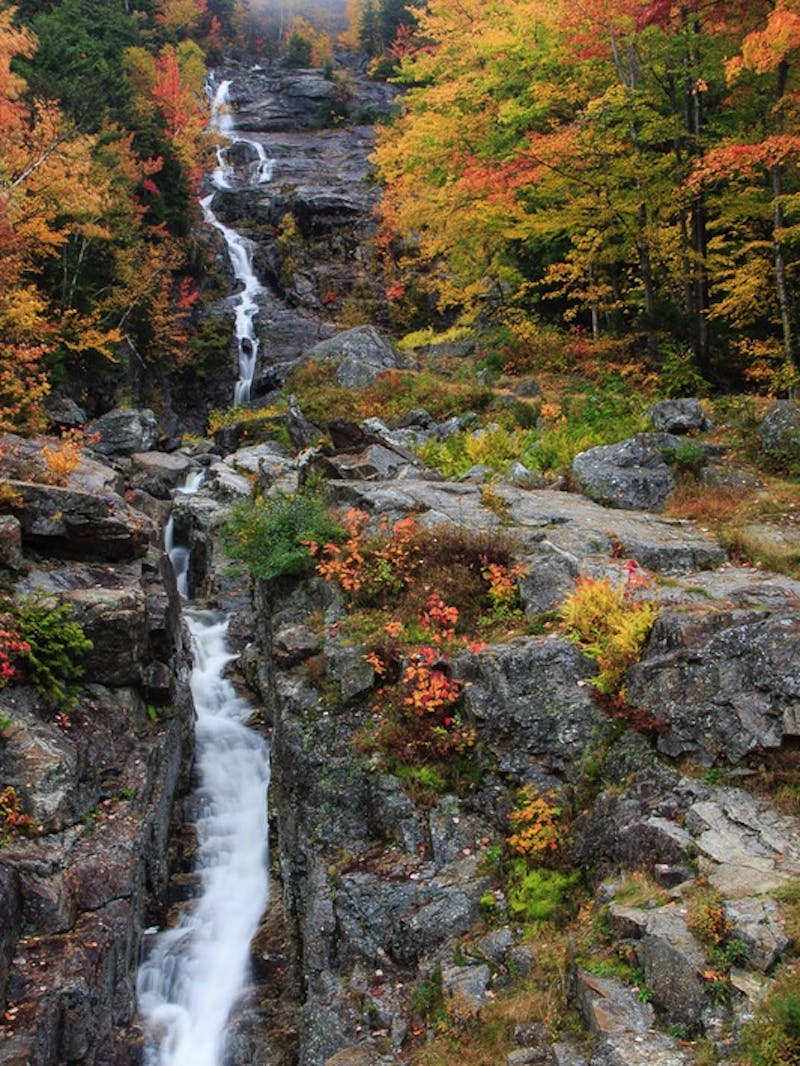 This guide first appeared on Roadtrippers in August 2019.
As the days get shorter and the nights get cooler, the end of summer doesn't have to mean the end of outdoor adventure. The fall is an ideal time to visit some unbelievably beautiful sites—without all of the excess heat and crowds. And while there are numerous places across the U.S. to watch the leaves change, this little stretch of northeastern heaven is bound to give you some of the best autumn foliage.
1. Green Lakes State Park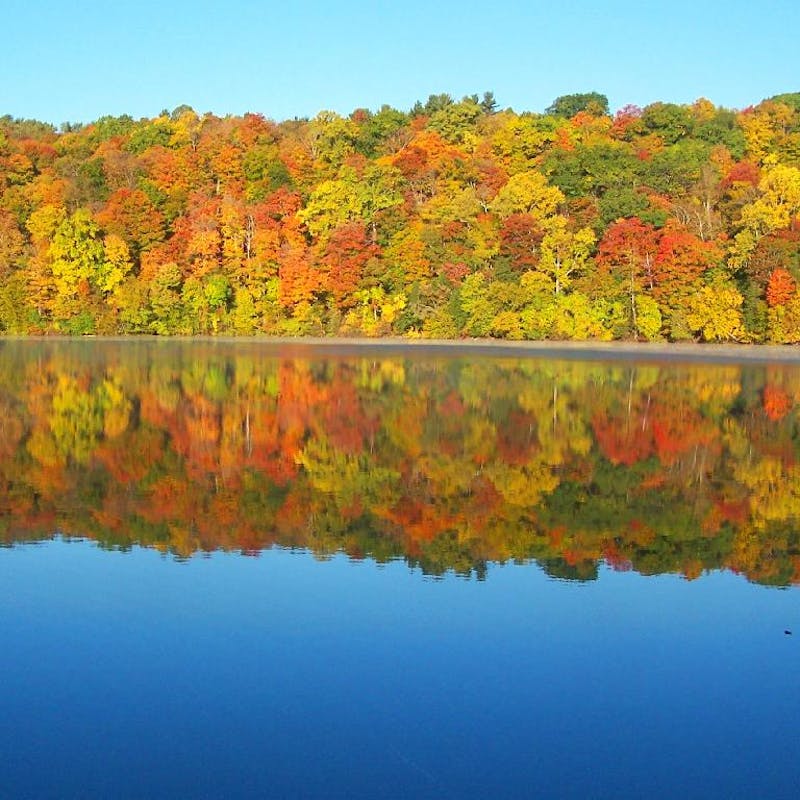 A favorite among campers, hikers, and even golfers, Green Lakes State Park is as stunning as it is accessible. Located just outside of Syracuse off highway 5, this small state park attracts a lot of visitors in the summer but the fall is when it really shines. These two glacial lakes (named Round Lake and Green Lake) are completely surrounded by wooded forests, all of which turn beautiful shades of red, orange, and gold come October. In fact, Green Lakes State Park has the largest stand of old growth forest in Central New York! We recommend sticking to the northern end of the park—this area has more clearly-defined trails and offers some of the best leafy views.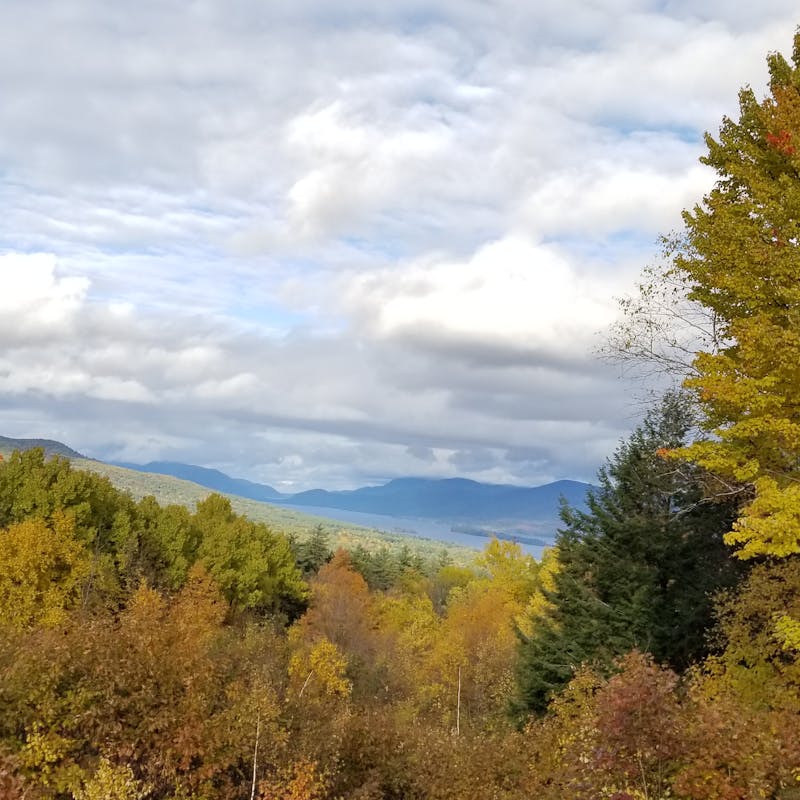 A little further east, near the border of New York and Vermont, you'll reach Lake George. And looking down over all of Lake George is the marvelous Prospect Mountain. Located in the foothills of the Adirondacks, Prospect Mountains has a 2,000 foot summit that can be reached by foot or by car. At the top, not only will you be rewarded with endless views of the surrounding Adirondack Region, but you'll uncover sweeping hills covered in gold, yellow, and amber autumn leaves. On a clear day, the 100-mile view from the mountain's summit encompasses five different states (meaning even more fall foliage to be seen!).
3. Mount Philo State Park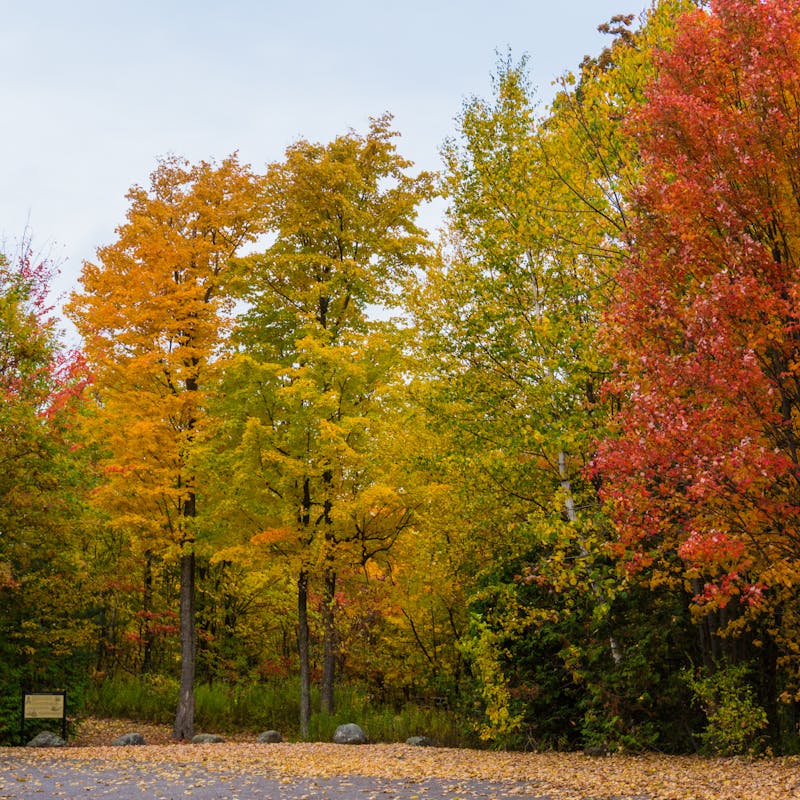 The state of Vermont has practically become synonymous with fall foliage, and we think one of the best spots to experience the changing leaves is Mount Philo State Park. This 237-acre park provides views of both Lake Champlain and the Adirondack Mountains, but you'll get to enjoy the changing colors right away. The entrance to the park is lined with maples—some of the most vivid fall trees. Follow the signs for House Rock Trail, which will lead you to some large, wooden chairs and unbelievably picturesque landscapes.
4. White Mountain National Forest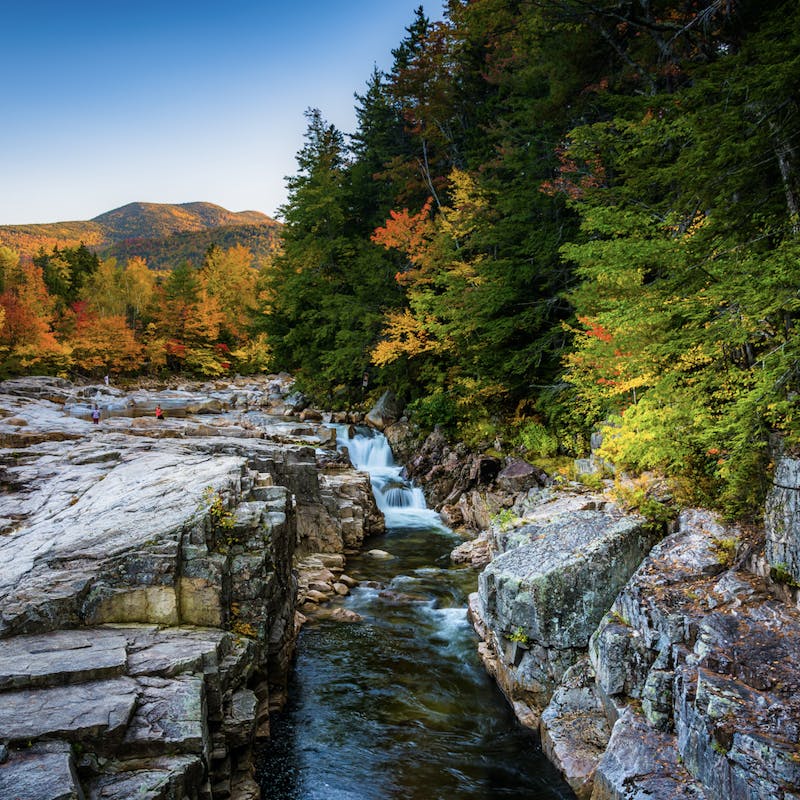 A massive piece of land, the White Mountain National Forest contains 148,000 acres of protected wilderness. You could easily spend a weekend here and still not see everything. To make the most of your trip, we recommend starting on the Kancamagus Scenic Byway offers—one of the most beautiful routes through New Hampshire's White Mountains, especially during the fall foliage season. Often referred to as the "Kanc" by locals, this 35-mile road remains untouched by homes, buildings, or service stations, allowing visitors to fully enjoy the maple, beech, and birch trees bursting into color. If you want to stop and stretch your legs, pull over at the Sugar Hill, Pemigewasset, or Hancock overlooks and grab a quick photo. Or take a short hike to see Sabbaday Falls, an exquisite multi-tiered waterfall surrounded by pedestrian bridges.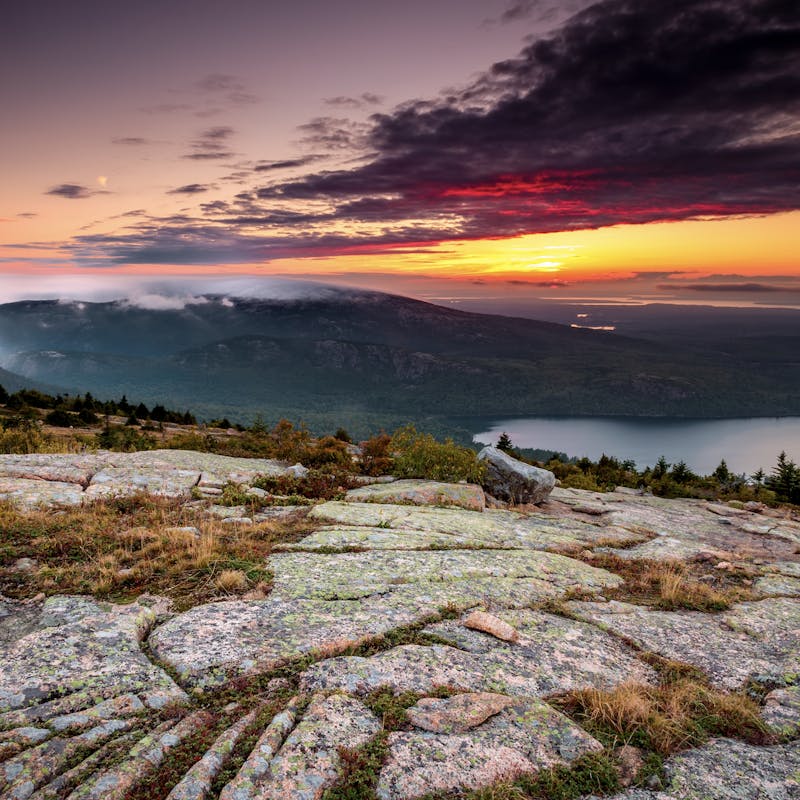 Cadillac Mountain is one of those places you just have to see to believe. Not only is it the highest point on the east coast, but it is also believed to be the first location in the U.S. to be struck by the sun's rays each morning. Driving or hiking to the summit of Cadillac Mountain to see "the nation's first sunrise" is a popular activity among visitors, especially in the summer. But in an effort to avoid all of the foot and car traffic, we suggest making a visit here in the fall. During September and October, you will still see magnificent views of the forest-filled coastline and multiple small islands, but you will also get to enjoy the miles and miles of colorful trees. What is normally an endless sea of green in the summer turns into a beautiful mix of emerald, crimson, and burgundy in the fall. Like we said, you just have to see it to believe it...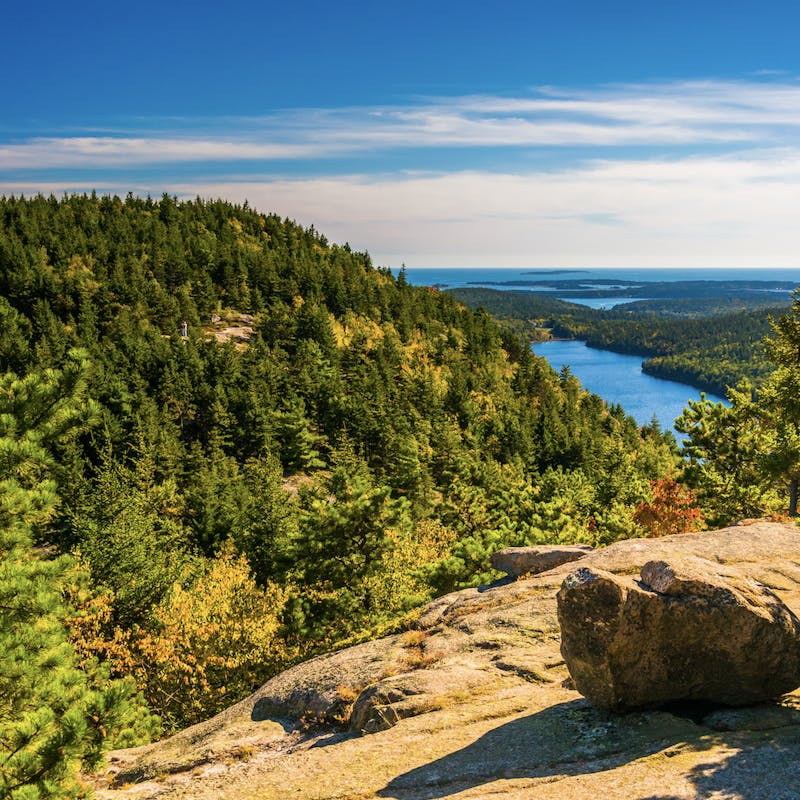 After stopping at Cadillac Mountain, you'll undoubtedly want to see the rest of Acadia National Park. While the park extends to some surrounding islands and a peninsula, the bulk of the park is on Mount Desert Island off the coast of Maine. And despite the name of the island, Acadia National Park is actually incredibly lush and full of vegetation, providing endless opportunities to see colorful leaves. The National Park Service says the autumn leaves reach their zenith in mid-October, but the weeks leading up to and following behind are also pretty spectacular. With such a variety of plant life, don't be surprised to see an array of quintessential fall foliage colors like red, yellow, and orange, but also some purple, black, and magenta as well. Throw in some evergreen trees, plus the deep blue Atlantic ocean, and you've got yourself a full rainbow.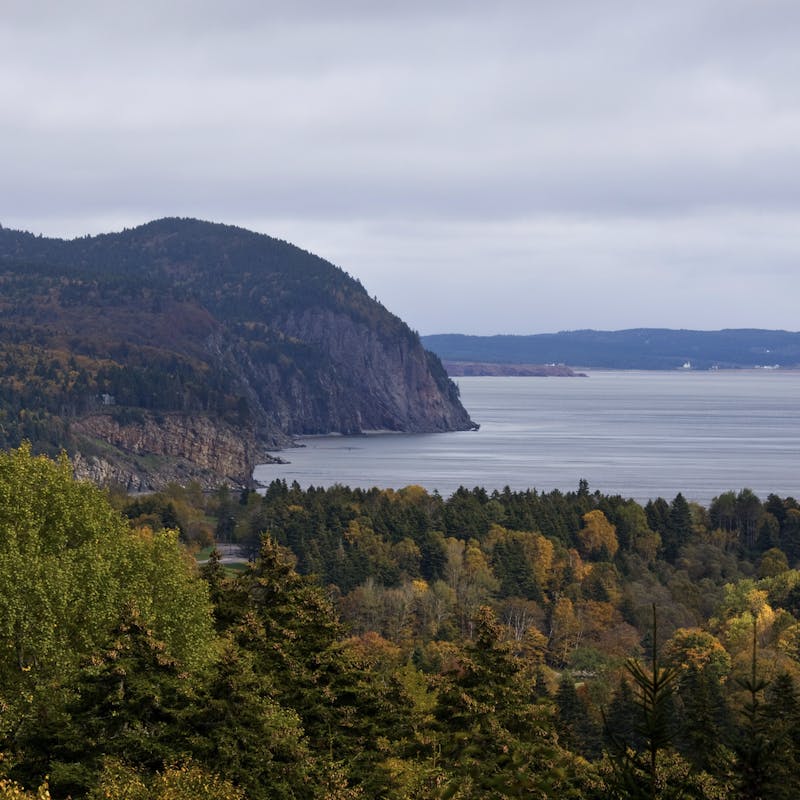 Don't be fooled—the U.S. isn't the only place to offer some amazing autumn colors. Just a few hours north of Acadia, Fundy National Park sits along the coast of New Brunswick in Canada. Here you'll find more than 20 different waterfalls, beautiful views of northern Nova Scotia, and, of course, some magnificent fall foliage. While most "leaf watchers" stick to the area surrounding New England, Fundy National Park is a true hidden gem. It's worth nothing that from late August through early October—during the peak fall foliage period—the Bay of Fundy sees large numbers of whales migrating through its waters, making it an optimal time for whale watchers. Autumn leaves AND whales? Sounds pretty ideal to us...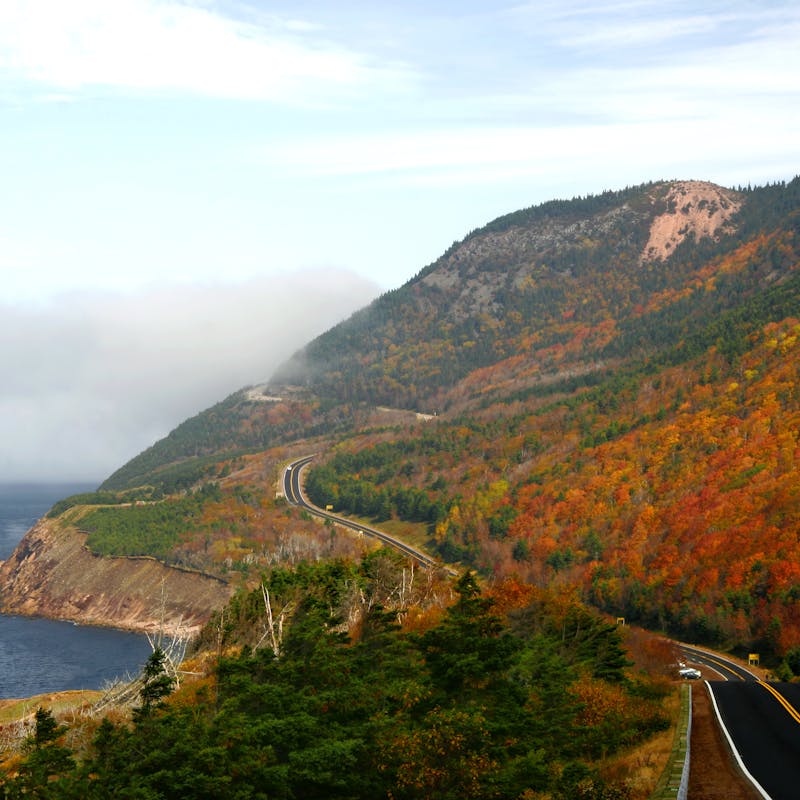 Our final stop takes you about as far as you can go before having to hop on a boat. Cabot Trail is located on the northern tip of Cape Breton in Nova Scotia. Comparable to highway 1 in California, this 185-mile scenic roadway is one of the most famous drives in all of Canada. With so many things to see along Cabot Trail—scenic overlooks, cultural heritage sites, whale watching stops, hiking trails, quaint towns—it's not uncommon for visitors to spend three or four days exploring the area. It's also not uncommon to be completely surrounded by orange-colored hills in the fall. In September and October, the entire landscape along Cabot Trail transforms into a burst of yellow, gold, orange, and coral. If we had to pick a grand finale for the fall foliage road trip, this would definitely be it...
Take this trip yourself
Every year, Mother Nature puts on a breathtaking autumnal show, leading many to claim fall as their favorite season. And we think the northeast United States boasts some of the most spectacular fall foliage you will find anywhere in the world. So, regardless of whether you're a seasoned leaf peeper or looking to see the changing leaves for the first time, this road trip is bound to give you everything you're looking for and more.
Photo Credit: Jeff Woo / Shutterstock; andyarthur / Flickr; Lo McHugh / Shutterstock; vermontalm / Shutterstock; Jon Bilous / Shutterstock; kurdistan / Shutterstock; Jon Bilous / Shutterstock; Steve Smith / Shutterstock; cworthy / Shutterstock.
Find Your Perfect RV
Whether you're new to the world of RVing or you're ready to narrow your search, we're here to help you sort through it all and find the RV that's right for you. Explore RVs based off of your lifestyle and the features important to you.
Find Your RV