Is A Class A Motorhome Right For You?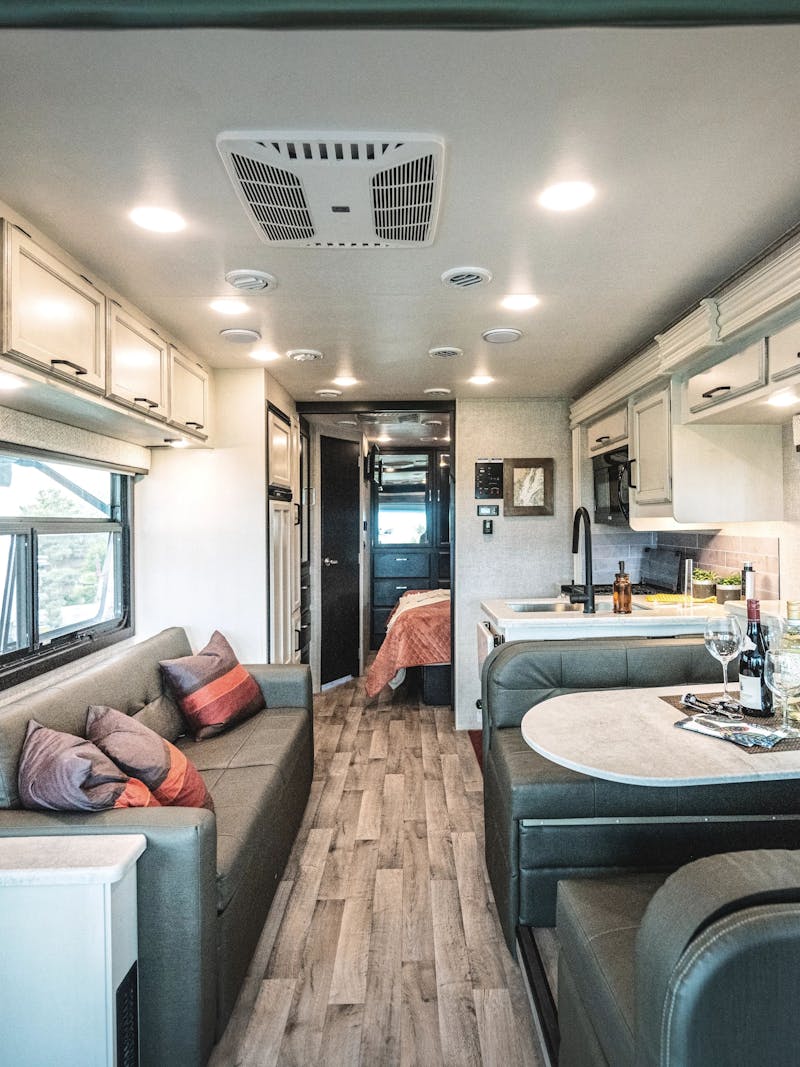 Class A motorhomes are the largest type of motorized RV and closely resemble the shape of a bus. Sometimes referred to as motor coaches or simply motorhomes, these RVs are luxurious and offer many home-style amenities, such as washers and dryers, dishwashers, spacious bedrooms, and multiple bathrooms. They also have large storage spaces and can often tow small vehicles or boats. However, a common concern about buying a motorhome is their overall size and ability to park in different places.
To help address some of these concerns and highlight just how luxurious and accommodating motorhomes really are, we asked three different owners to share why they ultimately decided to buy a Class A and how the RV they chose fits their unique lifestyle. They address some common Class A concerns, including driving, parking and off-grid capabilities, and share their advice for anyone interested in buying a motorhome.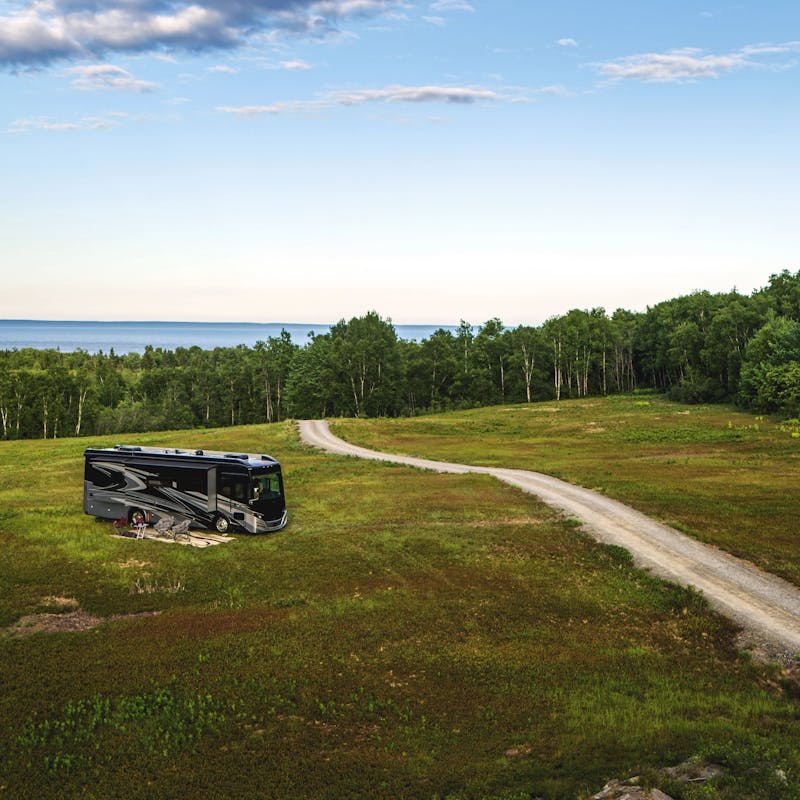 Michael & Tiffany Dunagan / Full-Time Couple / Tiffin Open Road
Why did you choose your specific Class A motorhome?
We had never owned an RV before so we started our search by looking at many different RVs. We knew we wanted to travel full-time so we prioritized RV types that offered a lot of space and home-style amenities. Initially, we were leaning towards a fifth wheel because they have open floor plans and high ceilings. However, we didn't own a truck and the thought of having to purchase a large dually and learning how to tow felt overwhelming, so we decided to narrow our search to Class A motorhomes and Super C RVs. We ultimately chose our Tiffin Open Road for a few important reasons. First, the learning curve for both driving and setting up this particular rig felt the least difficult. We loved the idea of simply pushing a button to lift the jacks, detaching the hoses and driving off to the next destination. Second, after touring so many different motorhomes, we personally felt like Tiffin had the best quality (especially their cabinetry), the best customer service and offered the most beautiful designs. We also liked that we could take a gas motorhome to a Ford dealer for servicing. This was especially important since we knew we would be traveling all across the country and access to service locations can get challenging. And finally, we absolutely love the layout. Our Open Road has a large living area, one and a half bathrooms, a built-in workstation, and two slideouts. We have plenty of space to relax, work and entertain.
Did you have any concerns about buying a motorhome? If so, what were they and how did you address them?
It's natural to have some concerns, no matter what type of RV you choose. Afterall, you're going to be driving or towing your house around with all of your possessions. One of our biggest concerns was having enough space. When we moved out of our house, we decided to fit everything we would need into an SUV. This way, we knew we'd have ample space in the RV to fit everything. From there, we only bought a few additional, essential items. Another concern was overall noise and comfort while driving. We had an extra suspension system installed at the factory before we picked up the RV, which helped make the ride extremely smooth. The quality and insulation in our motorhome is excellent, so the noise in the cab area is minimal and we can easily carry on with a normal conversation. Our last concern had to do with the size of the kitchen. Tiffany loves to cook, and she has learned to get creative in the smaller space. It took some practice, but now she can cook just about anything that she did in our sticks and bricks. Don't be afraid to use the convection microwave—it works just like an oven, only smaller.
What are some of your favorite hobbies and activities, and how does your Class A motorhome fit these?
Our favorite thing to do is travel. We especially love traveling to the beach and Disney World. Since we both work remotely, we didn't want to wait until we took vacation to be able to travel. With our RV, we can drive early in the mornings, stop and work during the day, and then explore in the evenings. If we are near Disney World, we can find a spot near the park and then visit after we're done working for the day. We've also picked up a few new hobbies since we started RVing. Two of our favorites are kayaking and pickleball. RV resorts and campgrounds often have classes, so you can learn new things or find other campers with the same interests. Being in new places really inspires us to try new things.
How do you find adequate places to park and camp with your motorhome?
Since we still work full-time, we knew we would need to find campgrounds and parks that offered full hook-ups and reliable service. These places can book up fast, especially if you have a bigger rig and there are limited sites available that can accommodate your size. We try to book as far ahead as possible, but we also like to get off the beaten path once in a while. When we're not at an established campground or RV park, we enjoy tailgating, camping on the beach and utilizing our Harvest Host membership. Our tanks allow us to dry camp for about three nights, and our generator offers ample power so we can use things like the microwave, coffee maker and chargers. We also installed three extra solar panels, which gives us a slight boost. We wouldn't be able to boondock for extended periods of time running off the solar alone, but it's the right amount of power for us for just a few days. We also recognize that our rig is too big to camp in most state and national parks. This wasn't a huge priority for us, and there are plenty of private RV parks nearby that can accommodate larger RVs. Even if the campsite you book has enough space to fit your motorhome, make sure you consider the route to get to that particular campsite. In our experience, the size of the actual space isn't the issue, it's the narrow paths and tight turns leading to it that can get tricky. Try to park your Class A somewhere and then walk or bike to the campsite to check out the route. You can also ask someone working at the park to help guide you.
What is your advice for driving a large Class A motorhome, especially if you need to tow a vehicle?
We had never driven an RV before we bought our Tiffin, so it was a bit scary for us. But our biggest piece of advice is to go slowly and don't worry about what other drivers think. Don't feel like you need to rush or drive fast if someone is behind you. We practiced turning, backing up and parking in a large, open parking lot. We frequently got out of the RV to look around and gauge how much space we had. This might take time but it's worth it. We also learned to call campgrounds ahead of time and ask for the best directions for arrival. We weren't afraid to tell them that we were RV newbies and asked which campsites were the easiest to park in. The first few campsites we reserved were all pull-through sites, which allowed us to get a feel for the rig and setting up without having to worry about backing up or backing in. We do have a small SUV but we actually don't tow it. Instead, we drive separately and this has worked out well for us. One of us can focus on driving the motorhome while the other follows in the SUV. Having a separate car does mean paying double for gas, but it also allows us to scout roads or easily run errands without having to hitch and unhitch.
What advice would you give someone who is considering buying a Class A motorhome?
Be sure to include maintenance and supplies in your RV budget. Even when your RV is under warranty, there are still things you might want to add or fix that aren't covered. Plus, new features and gadgets are always coming out that can help improve the RV experience and you'll likely want to add some to your rig. We also recommend choosing an RV and a floor plan that is best for your lifestyle and particular travel style. We wanted a large, open living space to relax and work, but this meant we had to sacrifice some space in our bedroom. And that was perfectly fine with us. Thinking about how you want to spend your time can help you prioritize space. Talk to as many RVers as you can and watch as many YouTube videos as possible. At the end of the day, be honest with yourself and choose what is best for you and your family.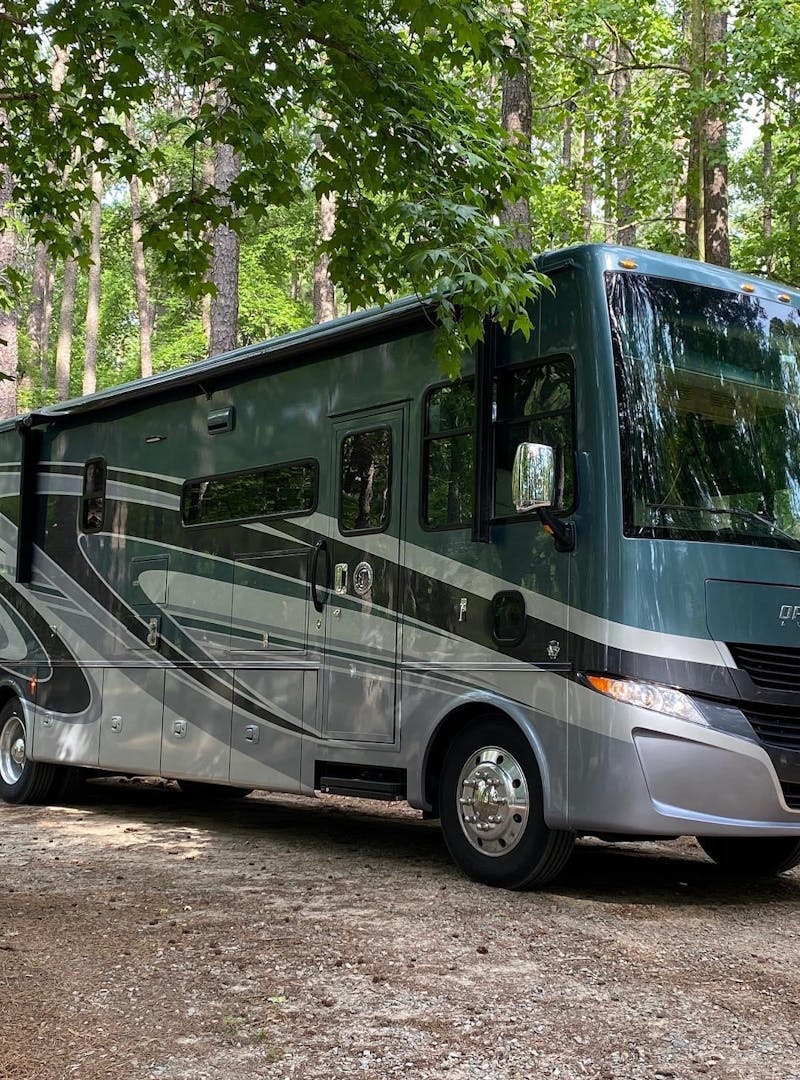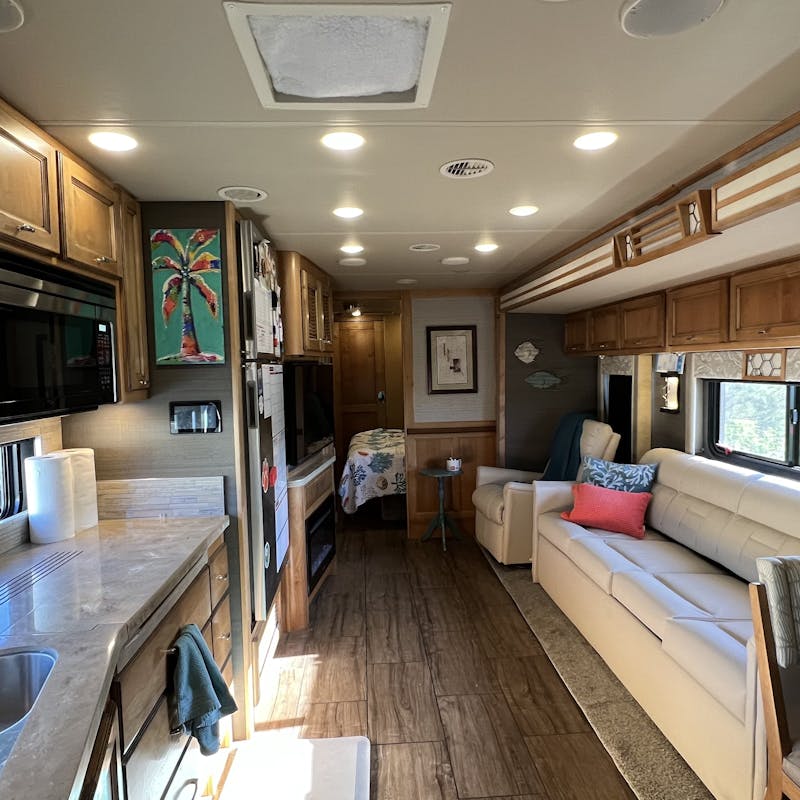 Laura Georgieff / Full-Time Family / Tiffin Phaeton
Why did you choose your specific Class A motorhome?
Our family chose to get a Class A motorhome for a few reasons. First, the Tiffin Phaeton 40QKH has a bunkhouse, which is perfect for our three children and we didn't feel like we were sacrificing living space. Second, since we knew we would be living in our RV, quality was extremely important. Our Tiffin Class A checks all of the boxes: it has a custom chassis that can handle a lot of weight, the cabinets are made from actual wood, the tile floors are solid, the appliances are high-quality, and the overall craftsmanship is extremely impressive. Third, we travel a lot and when we were towing an RV, we were limited to what we could do while driving. But with our motorhome, I can homeschool our kids at the kitchen table, we can use the bathroom, make lunches, and watch TV on our big screen all while traveling to our next destination. Even on shorter rides, we all have enough space to read books, play boardgames or take a nap. The quality of our driving time has improved dramatically. And lastly, our family loves to boondock and this is often a concern for people that own motorhomes. However, we can boondock as long as we have diesel in our tank with our Class A's generator. Even without the generator, our family of five can boondock comfortably for multiple days.
Did you have any concerns about buying a motorhome? If so, what were they and how did you address them?
Our very first RV was actually a large fifth wheel. We knew we would be traveling and working full-time, so we opted for a fifth wheel layout that had a designated office and loft space. However, after nine months, we realized we no longer wanted to tow an RV and needed a different layout. Originally, we were concerned about some of the Class A floorplans—there didn't seem to be enough room separation. But once we toured our Tiffin, we realized we actually could get a lot more space and privacy than in our fifth wheel. We never feel like we are on top of each other. Our kids have their own space in the bunkhouse, my husband and I have privacy in the rear bedroom and we can all enjoy the large, spacious living area upfront.
What are some of your favorite hobbies and activities, and how does your Class A motorhome fit these?
We love to visit national parks and go hiking. Since a lot of these parks and hiking spots are in more remote places, we went with a diesel engine. This has allowed us to drive steep roads and mountain passes without concern. And while we're often too big to stay inside national parks, we have no trouble finding places to camp just outside the park. Plus, our whole family loves to bike so we can easily bike to and from places! We have a large bike rack on the back of our Tiffin that holds all five bicycles. And when we get to the campground, the bikes come down and off we go.
How do you find adequate places to park and camp with your motorhome?
Because our Tiffin motorhome has all the comforts of home and feels so luxurious, we usually feel comfortable no matter where we camp (including truck spots and Walmart parking lots). Since we have everything we need with us, we like to prioritize campgrounds that are closer to points of interest over places that offer a lot of amenities. The beauty of a Class A motorhome is how versatile and self-sufficient it is, especially if you have a generator. With a simple adaptor, you can power most of your essentials on 20 or 30 amps. Since getting our motorhome, the number of places we can camp has expanded, not diminished. Even though we have a bigger rig, we haven't felt confined or limited by where we can go.
What is your advice for driving a large Class A motorhome, especially if you need to tow a vehicle?
We've been towing a small car with our Class A for six months, and our number one piece of advice is to find a car or vehicle that you can flat tow. If you move quickly or like to change locations a lot, you'll want the hitching and unhitching process to be easy. Plus, maneuvering a dolly around your campsite can be tricky, especially if the campsite is smaller. The second piece of advice is to invest in any driving upgrades. This includes things like line assist, side cameras and rear cameras. These really help keep you extra safe on the road and make a big difference when you're turning, changing lanes or parking. And lastly, practice driving as much as you can and take your turns extra wide! Driving a big motorhome might seem tiring at first, but I promise you'll get used to it. And if you're towing a car behind you, then you'll have a smaller vehicle once you get to your destination.
What advice would you give someone who is considering buying a Class A motorhome?
Make sure you test drive a Class A motorhome before you buy one. Spend as much time as you can at different dealerships, and walk through a variety of models and layouts. Try to picture yourself owning one. And if you're looking at other RV types, make sure you factor in the cost of a tow vehicle when comparing value. Some people buy brand new towable RVs, only to realize they also need to buy a tow vehicle that can pull it. But with a Class A motorhome, you don't need to add on the price of an additional tow vehicle. Plus, the amenities inside many Class As are nicer than some homes and apartments. Think instant water heaters, heated floors, convection cooking, and dishwashers. In my opinion, Class A RVs offer the smoothest ride there is—you'll never want to go back to non-air suspension! The quality of life that our motorhome gives us is truly unmatched.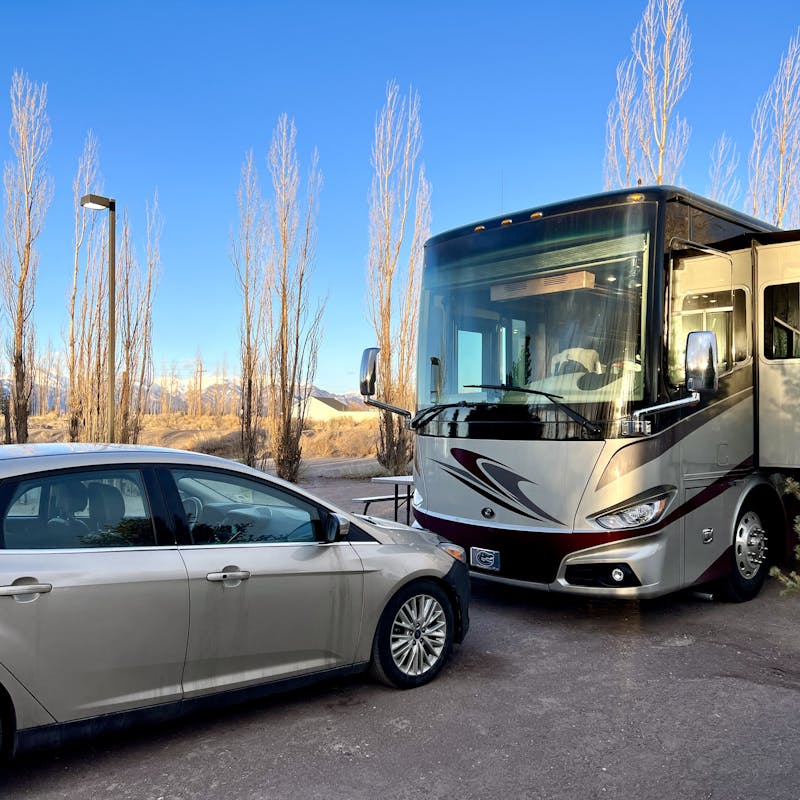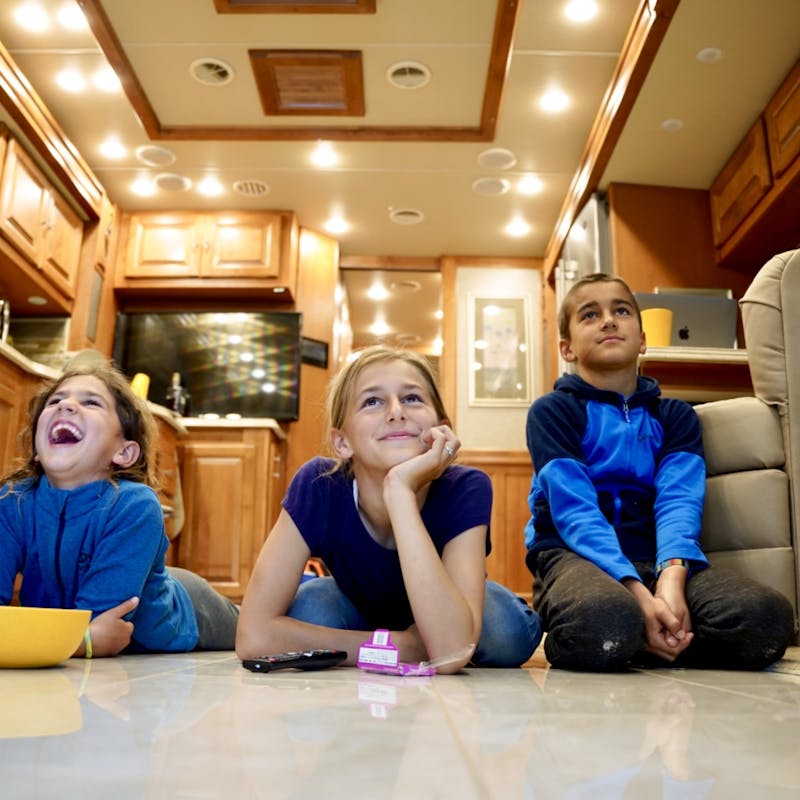 Anne Klumpp / Retired Couple / Entegra Aspire
Why did you choose your specific Class A motorhome?
We briefly discussed other RV types before buying our 2015 Entegra Aspire 44B but quickly realized that a Class A motorhome would be perfect for us. Having a Class A motorhome means that, while on the road, I can get up and move around as needed (provided I'm not the one driving). It also means we have access to drinks and snacks en route to our next stop, so we don't need to pack up coolers, computers, phones, and charging cables every time we change locations. In addition to the bathroom, we love the extra large windshield that provides an elevated vantage point all around us. Our captain's seats swivel, converting our driving area into part of our living space. Some other features that we love are the bath and a half, a television that directly opposes our couch, a residential-sized refrigerator, drawer stack that pulls out to provide more counter space in the kitchen, a huge pantry, a king-sized bed, and a washer and dryer. We loved the quality of the build of the Entegra and all of the insulation used in production. Our coach is quieter when parked or driving, and it is easier to keep cool in the summer and warm in the winter.
Did you have any concerns about buying a motorhome? If so, what were they and how did you address them?
My husband knew he wanted a diesel pusher so we could safely tow a vehicle, and make it up and down any steep mountain passes. We also knew we wanted to flat tow a car to eliminate the need for a dolly and started life on the road towing a manual-transmission Jeep Patriot. We have since learned that many automatic transmissions can be flat towed and have up-sized to a Ford F-150 truck. Before we had an RV, we had a sailboat. I was never comfortable at the helm of the boat and vowed that I would drive our motorhome with confidence. It takes time to build this confidence, but I'm more comfortable every time I get behind the wheel. 
What are some of your favorite hobbies and activities, and how does your Class A motorhome fit these?
We started living full-time in a motorhome because we loved to travel but hated packing and being unable to take our dog with us. Now, we travel full-time and rarely pack a suitcase or take our dog to a kennel. We love exploring, whether it's in a city or off-road. We tow a Ford F-150 truck behind our Class A, which allows us to go off-roading but still find parking in the city. We try to experience national parks and other areas on our e-bikes. With a bike rack mounted on our F-150, we can take our bikes anywhere our truck can. We are passionate about visiting new cities and experiencing local culture through food and beverage. You'll find me cooking when we aren't out exploring an area's restaurant scene. The kitchen in our motorhome allows me to make almost everything I did in our house. Occasionally, I have to adjust a recipe but, for the most part, cooking in our home on wheels isn't that different from cooking in a sticks and bricks home.
How do you find adequate places to park and camp with your motorhome?
We typically use RV LIFE Trip Wizard to plan our routes and find campgrounds to stay in. This website is great because it offers many ways to filter results, including "big-rig friendly." From here, I check individual park websites to get an idea of costs and to see if there are any size restrictions. If we know we want to boondock, we like to use Campendium. Many boondockers have shared information about free camping on this platform. But regardless if we are going to a truck stop, an RV park or boondocking, I'm a huge fan of using satellite and street views on Google maps. Not only can you plan for where you might be able to park, but you can also look for potential issues with trees and tight turns. If you're thinking about boondocking in a motorhome, we recommend using Google maps, arriving early and in the daylight (and preferably not on Saturday of a holiday weekend), scouting out the area when you get there using your towed vehicle or bike, and always having a backup plan in case the spot doesn't work out. 
What is your advice for driving a large Class A motorhome, especially if you need to tow a vehicle?
In our experience, driving a Class A motorhome isn't much different from driving a big car. Slow and steady wins the race. I don't need to get anywhere fast, I just need to get there safely. Trust your mirrors and cameras. I'm continually monitoring where I am in the lane using the mirrors. Our coach has cameras on both sides that activate with the blinker. With our side cameras, a wide-angle backup camera and the mirrors, I feel confident in where I am on the road and what is surrounding me. And don't forget to take your turns extra wide. Give yourself extra space and, with time, you'll get a better feel for how your rig turns and moves.
What advice would you give someone who is considering buying a Class A motorhome?
Our first piece of advice is to imagine yourself living in it! Even better? Go through the motions of daily life. Stand at the kitchen counter and think about cooking dinner. Get in the shower, put your foot up and move your arms around. Sit on the toilet to see if your knees touch the cabinet. Relax for a minute on the couch and look at the TV. It's like trying on your RV to see if it fits your life. Be sure and look at the space with the slides extended and closed. If going to the bathroom or making lunch in the kitchen while the RV is in motion is why you want a Class A, you'll want to ensure you can still have access to those amenities when the slides are pulled in.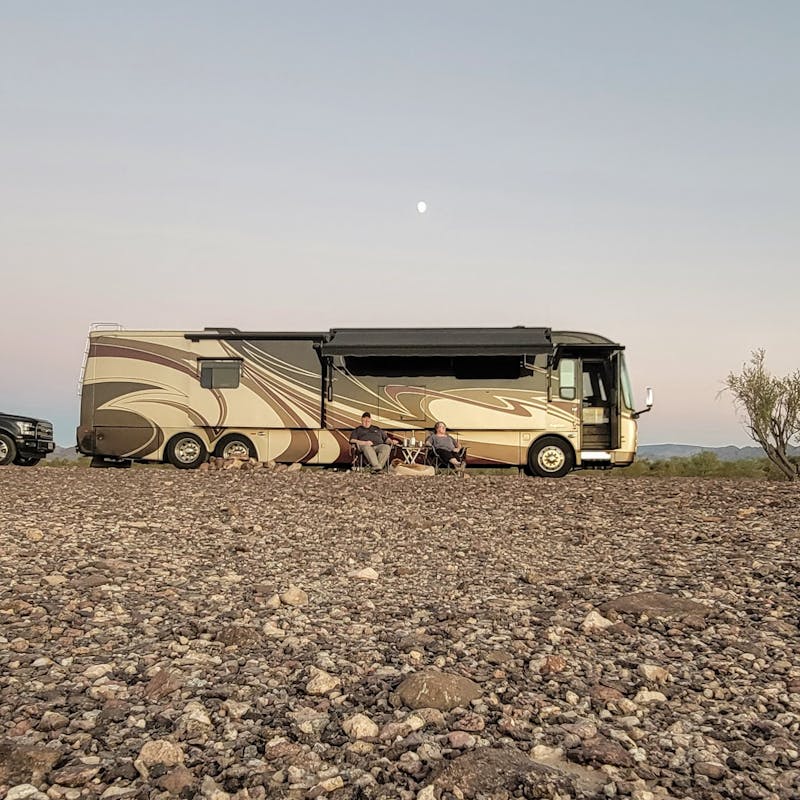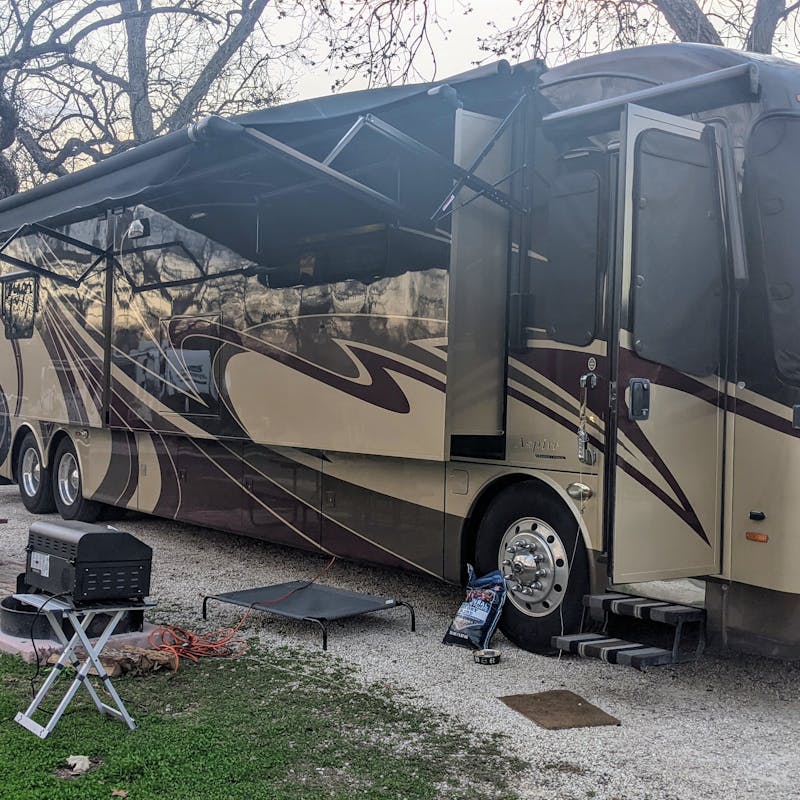 Find Your Perfect RV
Whether you're new to the world of RVing or you're ready to narrow your search, we're here to help you sort through it all and find the RV that's right for you. Explore RVs based off of your lifestyle and the features important to you.
Find Your RV