Posted November 21, 2023
THOR's innovative EV charging station concept offers plenty of room to maneuver motorized eRVs and travel trailers towed by EVs.
THOR Industries is committed to developing and deploying electric recreational vehicles that can deliver everything present and future customers expect from an RV. Those expectations include the ability to go everywhere and stay anywhere, whether towing a traditional travel trailer with an EV or adventuring in an electric motorized RV. 
We recently advanced that objective with the debut of a stunning state-of-the-art concept for EV charging stations designed to serve the specific needs of a full range of electric recreational vehicles (eRVs) — from small travel trailers towed by electric vehicles to the largest Class A motorhomes.
The concept is part of THOR's effort to encourage the development of pull-through eRV-compatible chargers near rural destinations popular with RV owners. These initiatives include the Company's support of the RV industry's effort to encourage state governments to support and invest in installing eRV-compatible stations.
"Electrified transportation will play a central role in the future of RVing as eRVs become available for purchase, and more people opt to pull a traditional or electrified travel trailer with an EV tow vehicle," said THOR Industries President and CEO Bob Martin. "A charging station ecosystem that can accommodate eRVs and EV tow vehicles is essential to this transformation, which is why THOR is actively exploring options to support the effort. We designed this concept to provide states and rural communities a better understanding of the infrastructure needed near parks, destination towns and other popular destinations to retain the tremendous economic benefits future RV travelers will offer.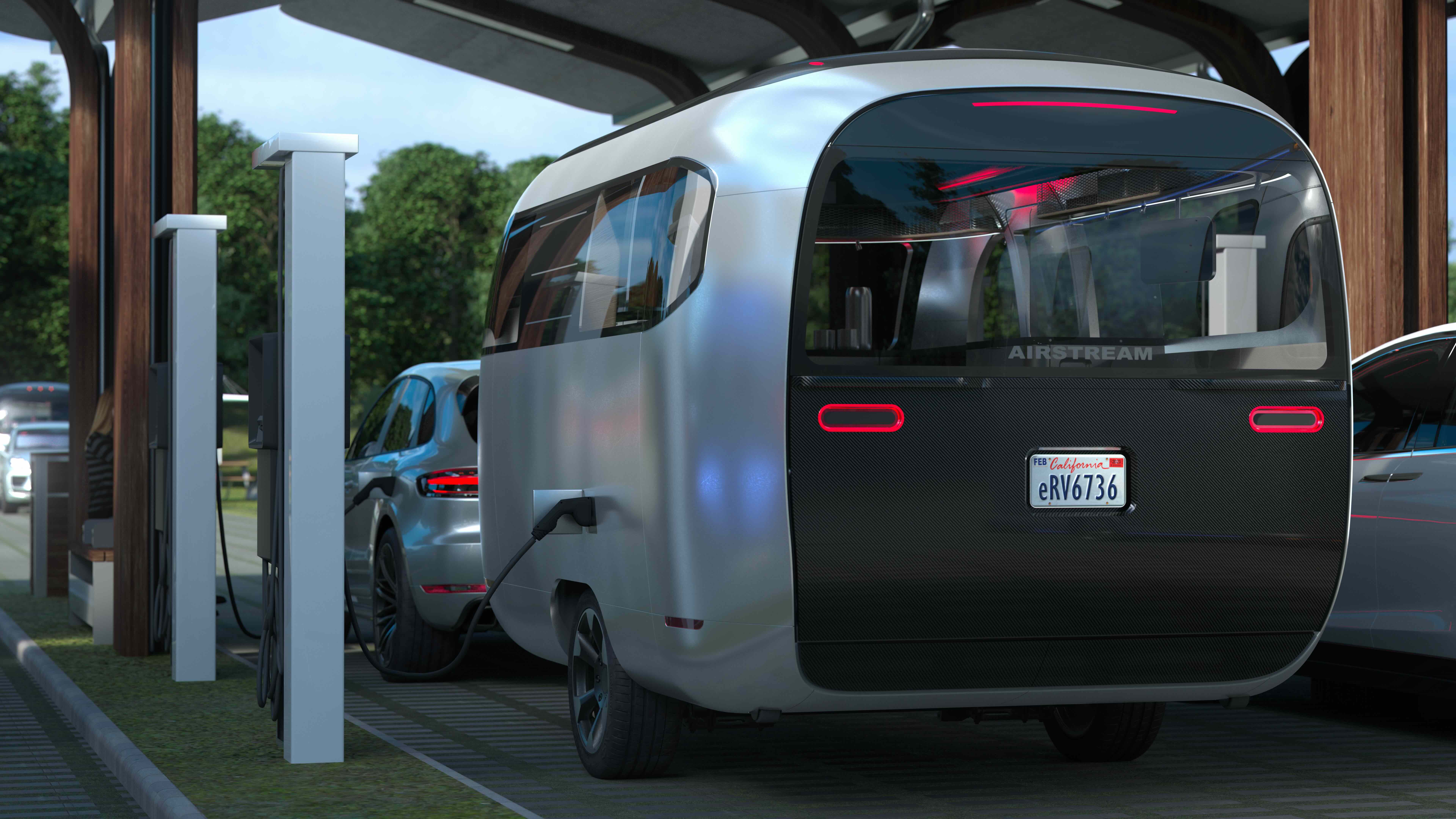 Wide pull-through aisles allow travel trailer owners to charge their EV tow vehicles without the need to unhitch and re-hitch. Dual charging cords provide time-saving simultaneous charging for those using an EV to tow a travel trailer with an electric drivetrain.
A Charging Station Built For People
THOR believes every aspect of the eRV experience should be enjoyable, including charging. To that end, the concept charging station is a pristine, people-focused facility. It's a roadside oasis where travelers can recharge alongside their vehicles. The facility is designed to enhance an eRV traveler's outdoor experience and mindset. It exists in harmony with its surroundings, not in contrast. It encourages travelers to spend most of their charging time outside their vehicles.
The charging station concept is based on best practices developed by the engineering firm Black & Veatch (B&V), a leader in EV charging infrastructure design. The ideas were first outlined in a recent white paper commissioned by the RV Industry Association detailing the economic case for states to use some of the $7.5 billion federal EV funding currently available to the state and tribal governments to build eRV-compatible pull-through charging stations. That paper is now being presented to state policymakers as part of an RV Industry Association lobbying effort.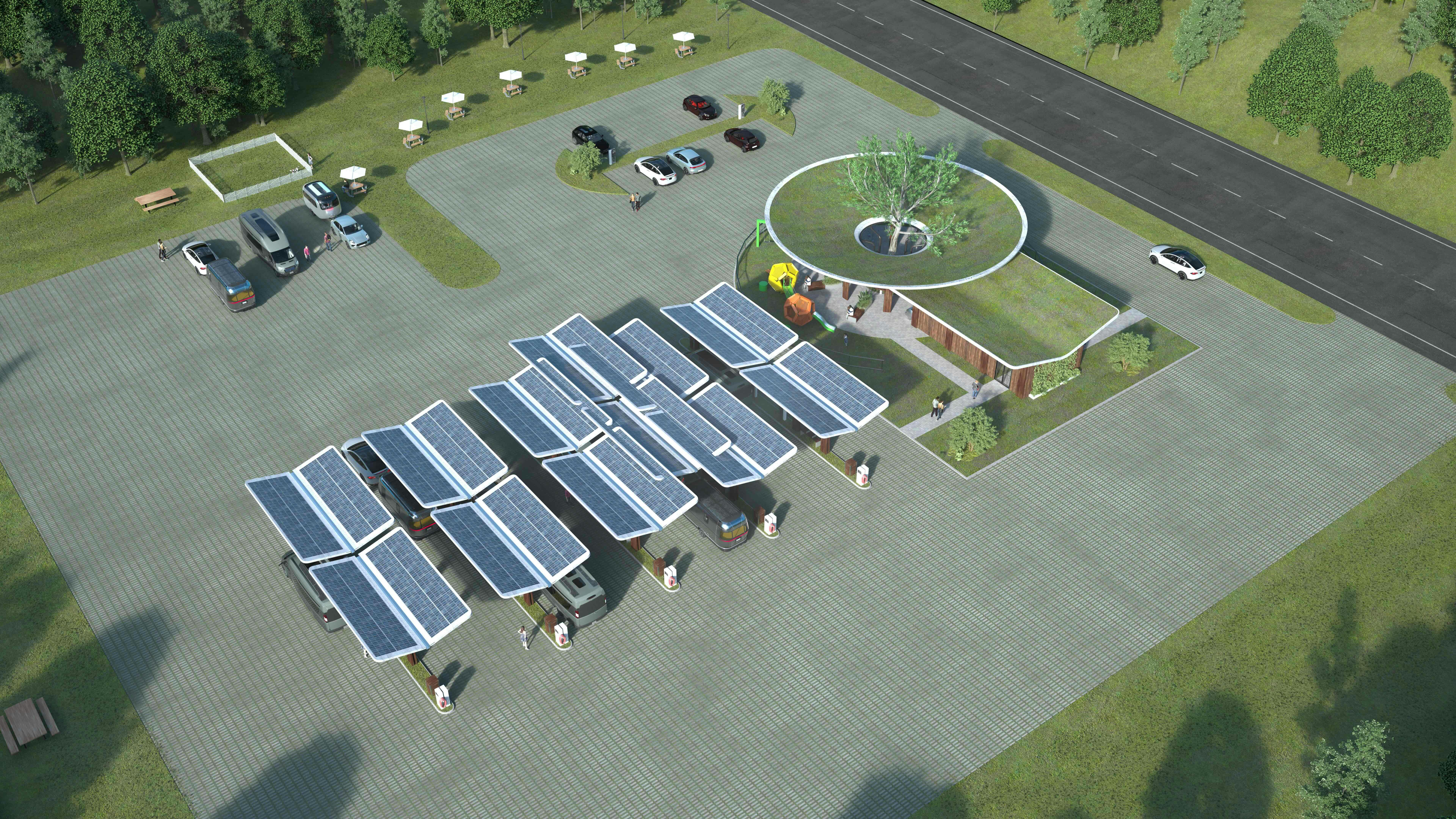 Ample room to maneuver is central to the charging station concept. The added space helps create a safe, convenient charging experience for all users, especially owners of motorized eRVs and those using an EV car or truck to tow a travel or work trailer.
Aspects of the concept, most notably its pull-through charger islands design and room to maneuver, would enhance charging infrastructure hosted by rural retailers, campgrounds or local governments. THOR believes such facilities will play a critical role in building out the EV charging infrastructure necessary to give eRV owners the freedom to explore and adventure.
Rural town governments that underwrite public eRV-compatible charging infrastructure will benefit by adding or creating a reason for visitors to stop and spend time discovering (and spending money) in their communities. Rural retailers investing in such infrastructure could reap similar economic benefits, whether the business is located in a town or along a rural highway.
Private campgrounds equipped with eRV-compatible charging infrastructure would be well-positioned to attract the growing number of people who tow travel trailers with EV tow vehicles. These adventurers currently must unhitch and re-hitch their trailer whenever they need to charge their tow vehicle.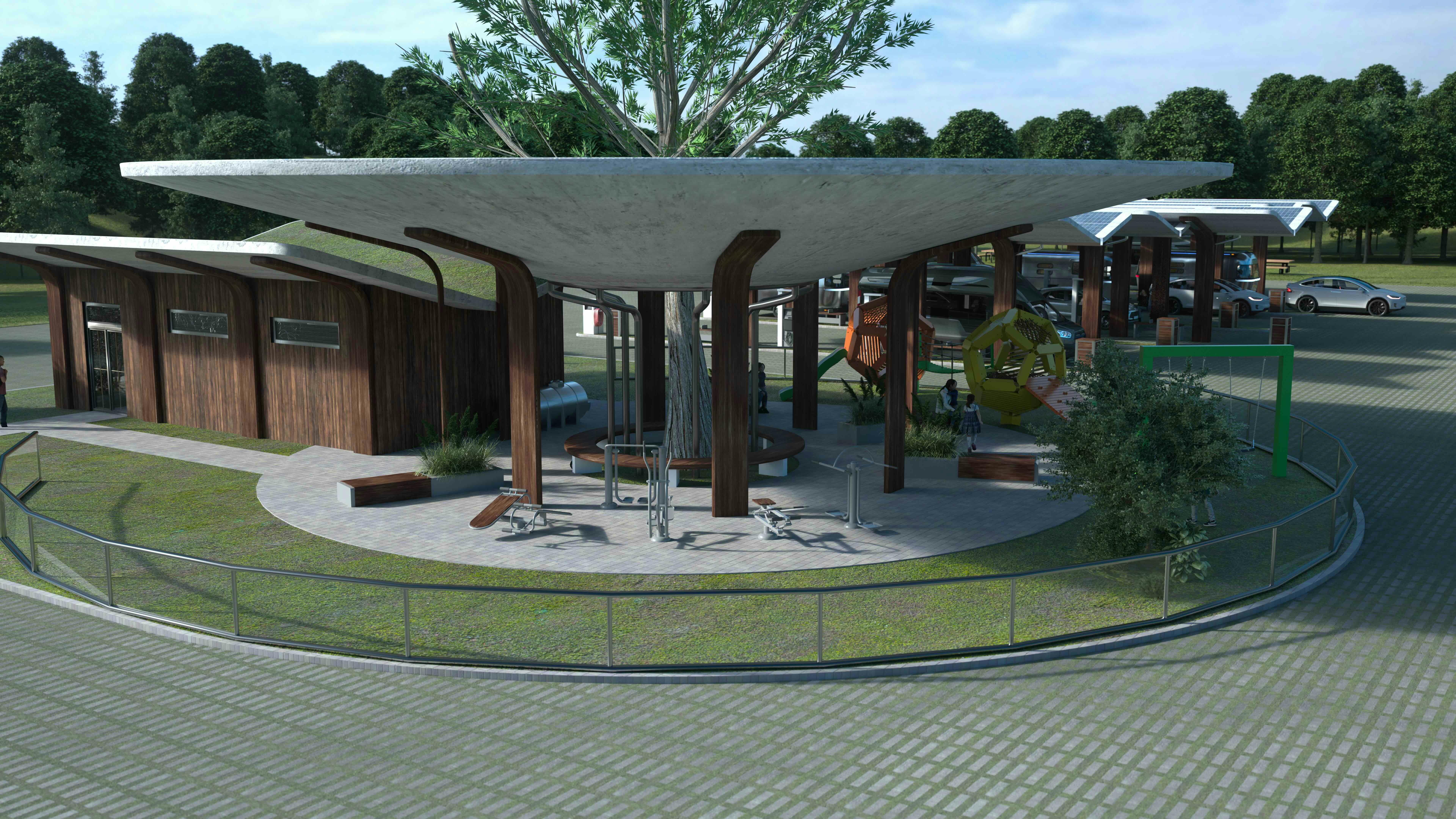 Amenities, including restrooms, a playground and fitness equipment, help eRV owners relax and recharge alongside their vehicles. These facilities, like the entire concept charging station, are designed to blend into their natural surroundings.
A Stand-Out Design That Blends In
As depicted in the renderings, the concept is situated off a secondary road (a state highway, for example) in a rural wooded area, one in which an RVer may transit on their way to a state or national park. This setting reflects THOR's belief that such compatible facilities must be developed not only in urban areas and along major interstates but also along the secondary routes that carry RVers to popular rural destinations.
Broad access points to facilitate easy ingress and egress, wide aisles between the pull-through charger islands, and ample room to maneuver a large motorized eRV or an EV car/truck towing an RV are central to the concept. The chargers have cable management systems that keep the charging cables off the ground and out of the way when not used.
In keeping with its people focus, the concept offers numerous amenities. These include restrooms, a fenced dog run, and a fenced playground with an adjacent adult fitness area. The recreation area has a water bottle fill station and drinking fountains for humans and dogs. Five covered picnic tables are located in the green space surrounding the charging station.
The concept includes several traditional pull-in chargers for use by EV passenger cars. These are located on the edge of the station to maximize space for larger vehicles to maneuver. All the charging points have a roof designed to capture the sun's power and rainwater while protecting users from the elements.
The THOR family of companies facilitate outdoor adventure, and nature is our business partner. The concept's design reflects that dynamic. The station will blend in with its natural surroundings using berms, trees and green spaces. These features are possible because, unlike a gas station, the charging station does not handle or store fuel.
The bathroom structure's courtyard features a mature native tree, while its exterior is paneled with reclaimed wood. Recycling containers, a rain harvesting system, and solar panels on the roofs support sustainability.
Ancillary services are also available at the concept charging station, including an air pump for tires, a water station to fill the RV's tanks, and a sewage dump station.
The eRV age is dawning, and THOR is leading the way with innovation and advocacy to ensure the road to tomorrow is electrified.