Blog: Electrifying the Road to Adventure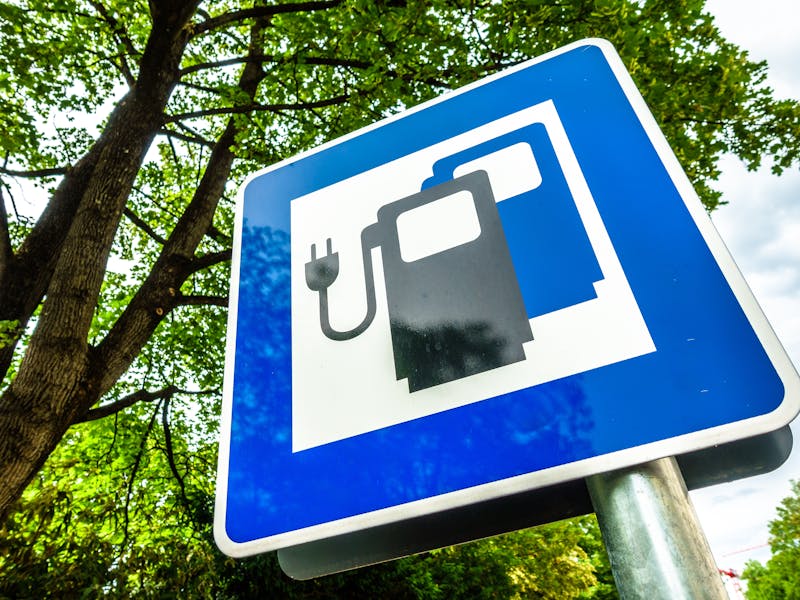 Posted July 6, 2023
Game-changing innovation doesn't happen in a vacuum. 
The gasoline automobile, railroads, the internet — all of these transformative technologies required a physical and policy ecosystem to move from viability to universal adoption. The same is true for eRVs — electric-powered recreational vehicles.
That's why THOR Industries is taking a central role in the RV industry's vital efforts to shape the future of EV charging in the United States. Specifically, THOR is supporting the Recreational Vehicle Industry Association's (RVIA) campaign to persuade both state and local governments to support the construction of eRV-compatible charging stations along major roadways and near popular RVing destinations, including National Parks.
"THOR and its family of companies understand that the future of outdoor adventure is electric," says THOR Senior Vice President of Global Innovation McKay Featherstone. "That's why we have prioritized the development of best-in-class towable and motorized eRV products. But an amazing eRV product without a robust network of easy-to-use charging stations is like a lightbulb without electrical wiring."
Making the Case
There are currently some 56,000 public EV charging stations in the U.S. Nearly all of these facilities are designed for EV cars, which pull into a parking spot-type space to reach the charger. This model presents significant challenges for eRVs. Larger motorized eRV classes would need to pull in and take up multiple charging spots, which reduces the availability of chargers at the site. EVs with towable RVs would need to decouple – park, un-hitch, pull into charge, and re-hitch afterward. Both scenarios generate congestion and safety concerns for everyone using the site.
Based on the soaring rate of EV adoption by Americans, it is estimated the country will need 500,000 charging stations by 2030. To close the charging infrastructure gap and thus support the continued adoption of EVs, the federal government's National Electric Vehicle Initiative (NEVI) is currently distributing a total of $7.5 billion over five years to state governments and other governing authorities to fund the construction of additional EV charging stations along designated interstates and highways.
The RVIA and THOR are working to convince state officials to invest a portion of their NEVI funds in pull-through EV charging infrastructure that is compatible with eRVs and other large vehicles, including medium-duty commercial EVs and electrified work trailers. A white paper authored by the engineering firm Black & Veatch, a leader in the design of EV charging infrastructure, is a centerpiece of that initiative. The document details the economic benefits of including pull-through eRV-compatible infrastructure in charging stations. It also provides design parameters for creating facilities that can accommodate all types of EVs currently in use and those that will debut in the coming years.
Industry representatives use the white paper to support the eRV charging case in advocacy meetings with relevant policymakers and leaders in states where RV ownership and travel have traditionally been highest. The message: incorporating pull-through facilities into all new charging stations is a way to "future-proof" the state's charging network and vital segments of its economy. States that invest today in pull-through EV infrastructure will be well-positioned to retain their share of business activity and tax revenue from the $140 billion RV industry as it begins to electrify.  Such facilities will also help speed the electrification of commercial fleets, thus advancing the state's air quality goals.
The Importance of Rural Charging
The NEVI program requires states to prioritize building out the EV infrastructure along designated interstates known as Alternative Fuel Corridors. However, once a state has met that objective, it can use its remaining money to create EV charging infrastructure elsewhere. A separate NEVI grant program provides added funding for establishing EV charging stations in underserved communities, including rural areas. The RV industry is encouraging states to use some of those funds to create eRV-compatible charging stations at and near popular RVing destinations, including state and national parks. Developing an extensive network of reliable eRV-compatible charging facilities near such points of interest is critical to making eRVs viable and ensuring that states retain the considerable economic benefits of RVing.
It's been said that the future is not something we enter. It is something we create. At THOR, we're committed to helping create the future of eRVs wherever that future is developing — on the drawing table, in the marketplace, or in the halls of government.