Tips and Advice For Your RV's Maiden Voyage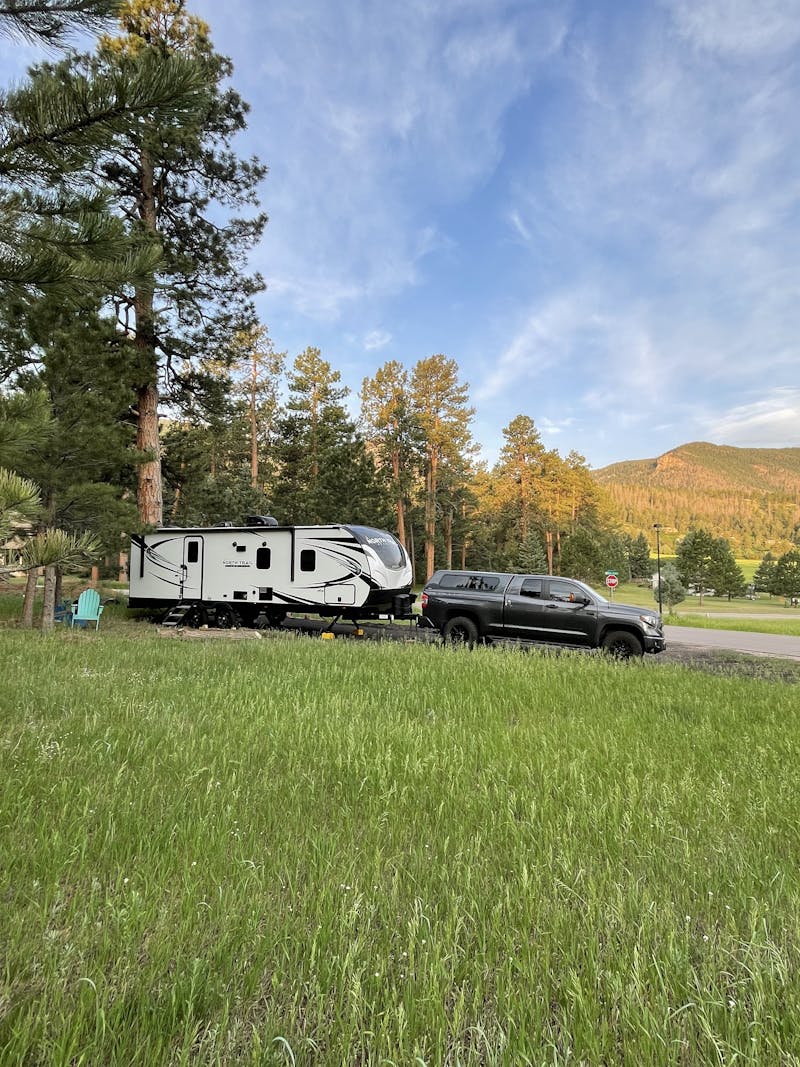 After purchasing an RV, it's time to venture out on your very first trip—your RV's maiden voyage. Perhaps this is your very first trip as a new RVer, or maybe you've been RVing for years and decided to get a brand new rig. Either way, there is a lot to learn, and your RV's maiden voyage can feel both exciting and intimidating.
We asked six different RVers to share their maiden voyage stories, including the biggest lessons learned and their advice for anyone looking to take their own RV on its maiden voyage trip.
Giancarlo Damiani

Who did you travel with and where did you go?

I traveled with my partner Erik. Both of us have a passion for travel, especially international, and we realized we could explore so much of the United States with an RV. We bought our Keystone Outback a few miles outside of Disneyland, and our maiden voyage was to the wineries in Temecula, California.

What did you learn?

Even though Erik and I spent hundreds of hours watching YouTube videos about RVing, we were still nervous when we left for our maiden voyage—neither of us had towed anything before! Despite hours of research, the best teacher will always be first-hand experience. One of the things we learned very early on is how friendly the RV community is. One of our neighbors at the campground could see that we were new to RVing and came over to help. We refer to him as our "Fairy Godfather" because he taught us so many important lessons, including how to properly level the RV, how to double check our hitch set-up and how to monitor our tire pressure (our tires were actually under the recommended limit). These were all very critical skills that we learned and corrected on the first day.

What is the best piece of advice for a new RVer's maiden voyage?

Before you leave, take some time to ensure that your RV is drive-ready. Do the tires have enough air? Did you do a walk-around of your RV to make sure everything is locked and intact? Is your TV securely attached to the wall? I also recommend studying the route to your maiden voyage destination. Are there any tight corners? How many freeways do you have to merge between? It's not a bad idea to drive to a spacious area and practice turning and reversing. There's a lot to watch out for on your first day and it can feel overwhelming. However, if you're adequately prepared, you shouldn't have any issues and you can fully enjoy your adventure.
Explore Giancarlo's RV
Keystone Outback Travel Trailer
View RV
Anne Klumpp

Who did you travel with and where did you go?

My husband Brian and I took our maiden voyage with our mini labradoodle Skipper. We launched into full-time RVing from our home in Metro Detroit with no prior RV experience. My first time driving our Class A motorhome was across the Mackinac Bridge (aka "Mighty Mack")—a five-mile-long suspension bridge that connects Michigan's Upper and Lower Peninsulas. This road can be harrowing for regular cars, so it was a bit frightening to drive in a huge motorhome but we did it without any problems.

What did you learn?

I learned two main things on that maiden voyage trip. One, driving a motorhome requires a lot more focus than driving a regular car. And two, I now know I can do it!

What is the best piece of advice for a new RVer's maiden voyage?

Knowledge is power, and knowing the limits of your RV will help ensure a safe arrival at your maiden voyage destination. Before you head out, know how tall your rig is and for what speed limit your tires are rated. Try to relax while keeping a steady watch on what is happening in front and around you. And remember that you drive over big bridges and through construction zones the same way you do on the open road, one mile at a time.
Stephanie Deininger

Who did you travel with and where did you go?

I traveled with my husband and our son, who was one and a half years old at the time. Our maiden voyage was spent traveling along the East Coast for 22 days. We picked up the RV in Tennessee, and then drove to Kentucky, the Great Smoky Mountains, both Carolinas, and Georgia before we headed back to Colorado.

What did you learn?

We learned a lot over those 22 days. The first thing was to give ourselves plenty of time to get familiar with the new RV. We got to the dealership early so we could do a practice drive in the parking lot, press all of the buttons, open all of the cabinets, and make sure everything was working properly. The second thing was the importance of a backup camera. These cameras make parking and driving so much easier. The third thing was the value of having some basic tools on-hand. We had a standard tool kit and some extra fuses to fix minor maintenance and electrical issues that popped up along the way. And lastly, we learned just how valuable the RV community can be! There are a ton of great groups and communities online, and everyone is so willing to answer questions and offer advice.

What is the best piece of advice for a new RVer's maiden voyage?

There is no right or wrong way to be an RVer, but one thing is for certain: the more you know about your RV ahead of time, the better. There's no way to predict what your first experience will be like, but if you know the basic compartments and aspects of your RV and where to find them, your first trip will go a lot smoother.
Explore Stephanie's RV
Heartland North Trail Travel Trailer
View RV
Chasity Underwood

Who did you travel with and where did you go?

I traveled with my husband Jared and our silver labrador Soul, and during our maiden voyage we traveled around Missouri.

What did you learn?

RVing is not without its challenges, but you can't let every little issue or minor inconvenience impact your attitude or outlook on the experience. We decided to sell our house and buy an RV because it worked with our lifestyle and our jobs. We realized there is so much beauty to see across the country if you want to explore it. Just coming to that realization was a big learning lesson. Everything else just felt like part of the process. For example, if our refrigerator stopped working, we could fix it. Or if our air conditioning wasn't running properly, we could figure it out. In our eyes, any trip or adventure is a learning opportunity and it's a huge blessing to be able to travel and have the freedom that we have. And that far outweighs any issue we might face along the way.

What is the best piece of advice for a new RVer's maiden voyage?

The best piece of advice I can give is to take your time. You're still learning the ins and outs of your new rig, and it will take some time to understand everything. Take things slowly, especially when you're setting up and packing up, as it can be easy to miss something (pulling the slides in, taking down loose decor, locking any sliding or swinging doors, etc.). Keep a checklist so you can document everything—there are bound to be a few things you'll miss those first few times. After you've done it a few times, your checklist should be complete and you can use that as a reference for all future trips.
Explore Chasity's RV
KZ Durango Gold Fifth Wheel
View RV
Christine Barton

Who did you travel with and where did you go?

This first trip had the whole family—my husband, our two kids and two dogs. Our maiden voyage was from the RV dealership straight to a campground about three hours away. We had never towed anything before so we wanted to give ourselves plenty of time, without having to travel too far.

What did you learn?

We learned some really valuable lessons during our maiden voyage. The first is to always confirm the details. We had expected to pick up our RV early in the morning but there was some miscommunication and it wasn't ready until later in the day. Because of the late start, we opted not to get back-up and side-view cameras installed. Seeing as this was our first time towing, we wish we had taken the time to get those, as it would've made parking much easier. The second lesson is to always have a back-up driving route. Right after we picked up our travel trailer, we relied on a fancy GPS system to guide us. Unfortunately, the GPS system needed to do an update and so it took us down narrow, bumpy roads instead of major highways. We now keep a Motor Carriers' Road Atlas with us at all times to help pre-plan a few different routes. And the last lesson is to always ask for help and be patient. When we arrived at our maiden voyage campground, we struggled to unhitch our RV and ended up bending our tongue jack. Luckily, a nearby camper was able to help us safely unhitch and get settled. We wished we had asked someone for help sooner rather than trying to force it ourselves. That's the thing about RVing—things might go wrong and plans may change unexpectedly, but you learn to adapt and patiently get through it. Once you learn how to be flexible, you can handle any situation calmly and safely!

What is the best piece of advice for a new RVer's maiden voyage?

The biggest piece of advice I can give is to prepare as much as you can, but also expect that things might not go according to plan. Just know you'll get through it, you'll learn some valuable lessons along the way and you'll be all the more prepared the next time!
Explore Christine's RV
Dutchmen Coleman Travel Trailer
View RV
Dustin & Sarah Bauer

Who did you travel with and where did you go?

Our maiden voyage was just the two of us and our four dogs. We saw our Tiffin Wayfarer Class C on a dealer's lot and bought it that very same day. Six days later, we took it out on its maiden voyage. Our maiden voyage trip was pretty epic—we visited five different states, six national parks, one national monument, and spent a week moochdocking with some family in California. We even experienced a 5.8 earthquake during our trip!

What did you learn?

We actually had a fifth wheel before our Wayfarer, but the two RVs were so different. The biggest learning curve was just figuring out how to operate all of the different gadgets and functions. Things like a generator, automatic levelers, a tankless water heater, solar power, and a WiFi booster were wonderful additions but we had never experienced them before, so we had to figure them out along the way.

What is the best piece of advice for a new RVer's maiden voyage?

Our best piece of advice for new RVers is to record your RV's initial walkthrough at the dealership. Keep the recording on your phone so you can reference the information while on your maiden voyage trip. Bring all of your owner's manuals with you as well. It's nearly impossible to remember every single step, but having the walkthrough video and manuals will help!
Explore Dustin and Sarah's RV
View RV
Find Your Perfect RV
Whether you're new to the world of RVing or you're ready to narrow your search, we're here to help you sort through it all and find the RV that's right for you. Explore RVs based off of your lifestyle and the features important to you.
Find Your RV