It's Hammer time:
The Dirt on the "King of Hammers" Road Race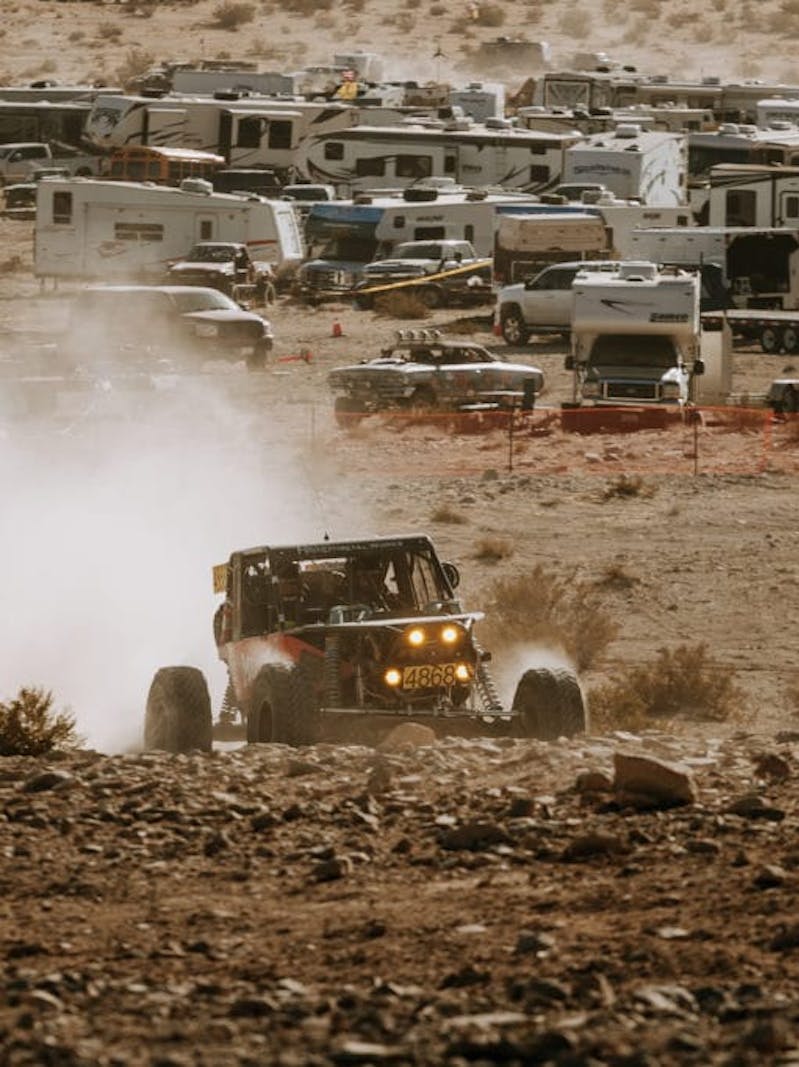 This story first appeared on Roadtrippers in February 2020.
A thick layer of dust hangs in the air above Johnson Valley, a recreational off-highway area in the high desert of Southern California. From my vantage point atop a hill dubbed Chocolate Thunder, I see thousands of RVs spread out across miles of desert, like tiny boats floating on an ocean of sand. 
In the center of it all sits Hammertown, the makeshift town that springs up here for a month every year during King of the Hammers (KOH). The massive off-road event brings around 60,000 people to the desert for 10 days of racing and festivities each February. Despite its size, Hammertown is barely visible behind the dust layer kicked up by fans heading out to watch the races.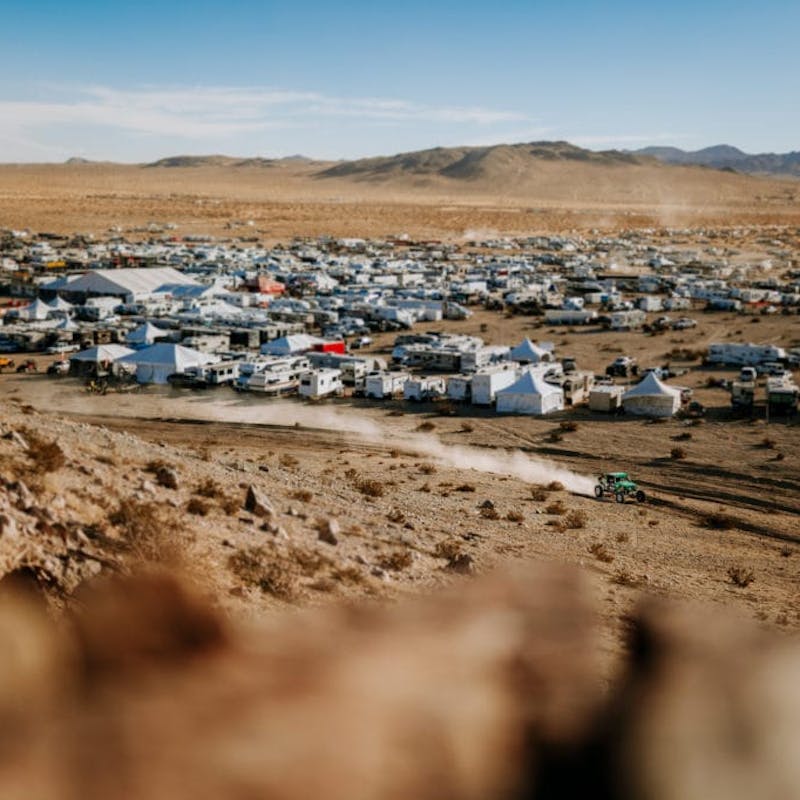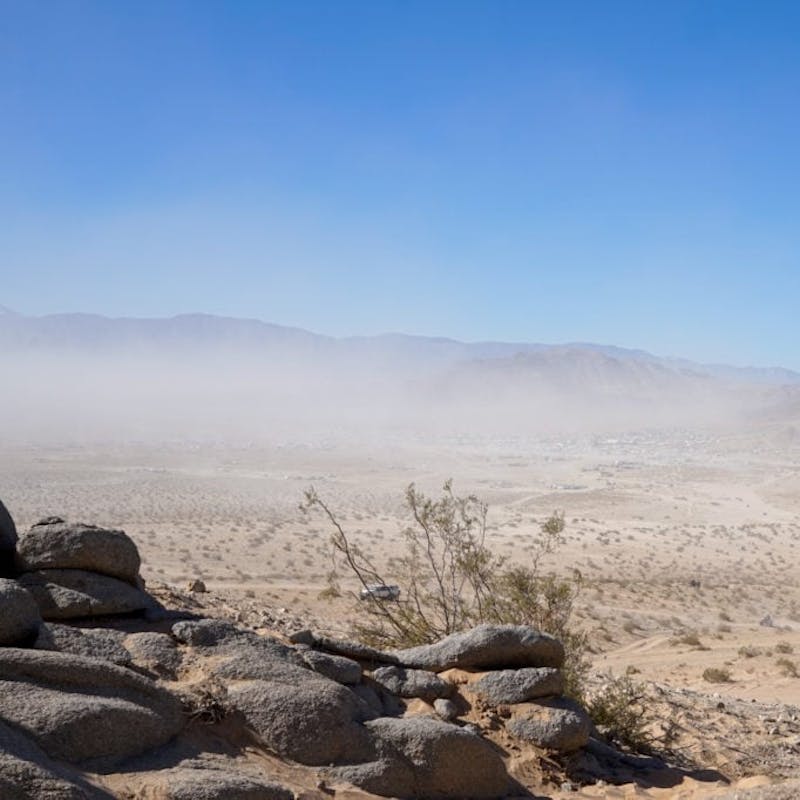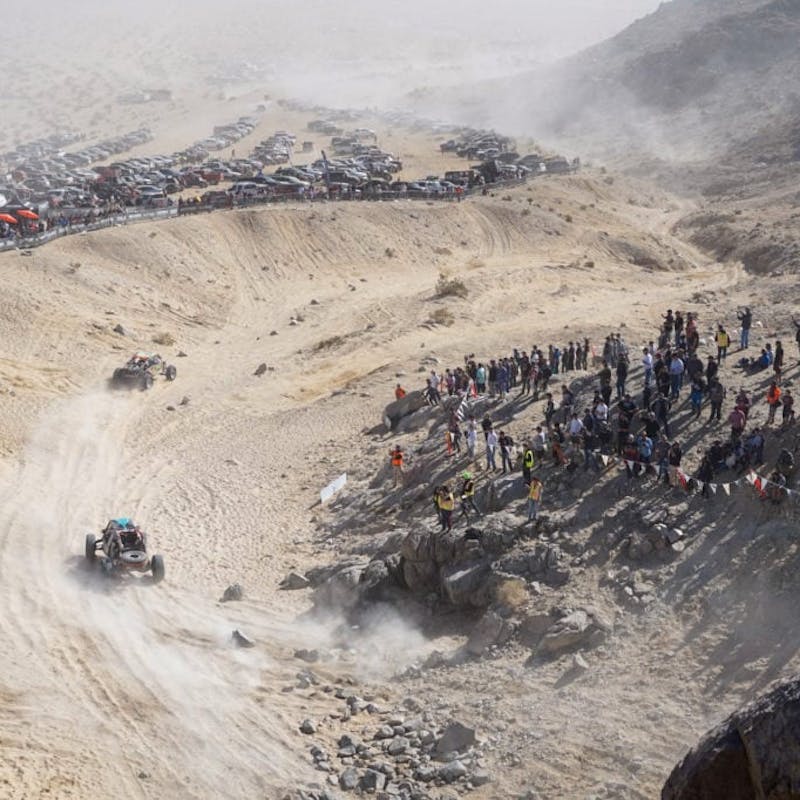 The weeklong event packs in several races, and today it's finally time for the big one: the namesake King of the Hammers race. In just a few moments, the low hum of excitement from spectators gathered along the course will be briefly replaced with cheers and revving engines, when the competitors start making their way through Chocolate Thunder. The race organizers call King of the Hammers "the toughest one-day off-road race on the planet," and it's easy to see why. The terrain in Johnson Valley ranges from slow, steep rock-crawling to dry lake beds where speeds exceed 100 miles per hour, plus everything in between. Competing teams need vehicles—and drivers—that can handle it all.
Conquering the Hammers
When King of the Hammers first started, it was nowhere near the massive, weeklong spectacle it is today. According to KOH media director Emily Miller, it all began 13 years ago, when 12 guys were racing for a case of beer in Johnson Valley. "They were stringing together these really brutal rock trails known as the Hammers, in between doing the desert sections," she says. "Everybody thought it couldn't be done, but they did it—and came back and did it again."
The Hammers are known as some of the most difficult off-road trails in the U.S., and they are near-impossible to conquer in a stock vehicle. Since its humble beginnings, King of the Hammers has paved the way for a whole new type of vehicle and racing, known as Ultra4. Today's Ultra4 vehicles are unlimited four-wheel-drive cars that can handle everything from rocks and climbing to extreme distance, high speed, and open desert. "An Ultra4 car combines all capabilities. Most notably, they can climb and descend these amazing rocks and rock terrain," says Miller.
Standing on the sidelines as the first Ultra4 vehicle makes its way through the course is a powerful experience. From the hill where I'm standing, alongside hundreds of other spectators, the car below resembles a robotic insect as it climbs down the narrow, rocky trail, one steep boulder at a time. A series of large rocks descending down a trail like this is known as a waterfall, and the Ultra4 vehicles topple down them seemingly effortlessly.
The trail ends with a sandy bend leading into a stretch of desert, and the car slides around the corner at a neck-breaking speed before disappearing in a cloud of dust. The next vehicle is right behind it, already vying for the first place position in the prestigious, 212-mile race.
RVs are everything
The desert conditions in Johnson Valley are harsh—days are hot and dusty, nights are frigid, and it's not unusual to see snow this time of the year. The closest hotels in any direction are about 30 miles away. Most people who come out for the full week of races do so in an RV. "When people talk about tent camping—sure, you could do that," Miller says. "But we really encourage people to bring RVs, just so they are more protected, safe, and comfortable."
Stephen Dale Niegel has been driving his RV to Johnson Valley from Northern California to attend King of the Hammers for the past three years. His son originally talked him into coming, and they've kept up the "boys' trip" tradition. Niegel says having an RV makes it easier to sleep at night: "It just gives us the comfort of home out here in the desert."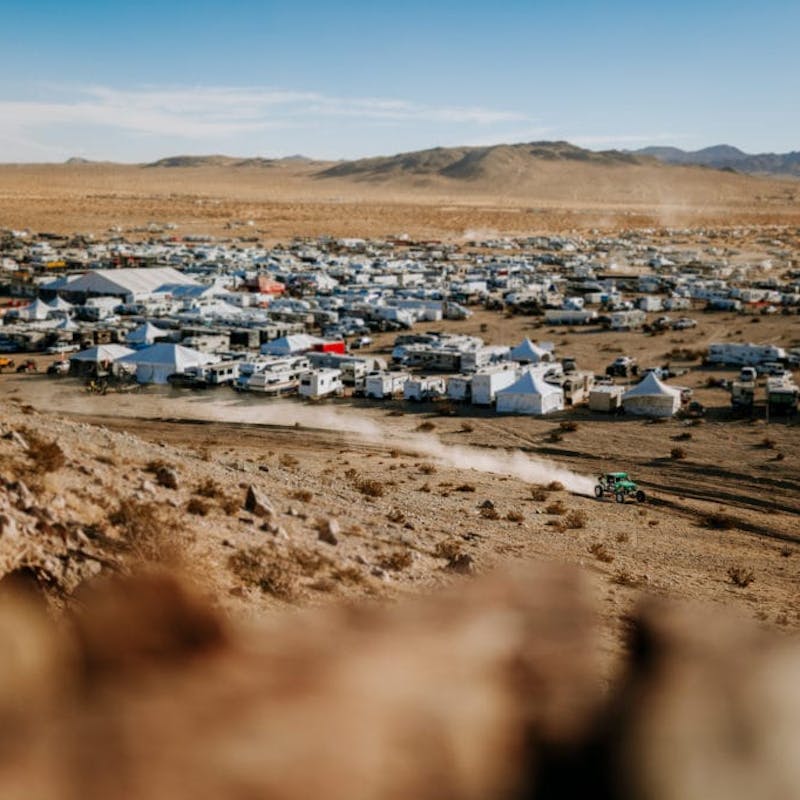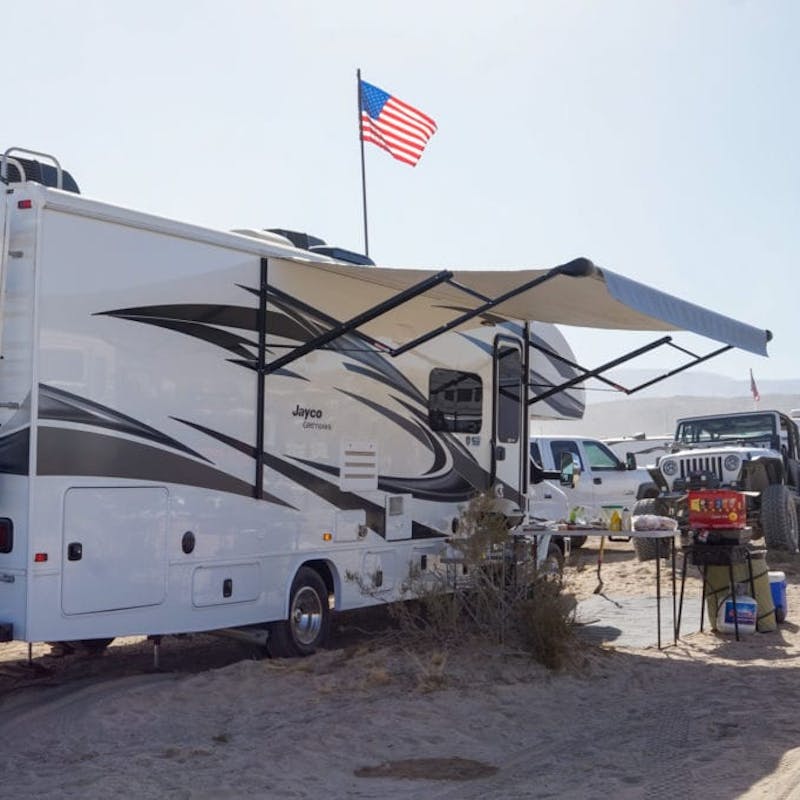 This year, 6,000 RV passes were sold. That number doesn't include the KOH staff, who all stay in RVs throughout the event. Once they get to Johnson Valley, they don't leave until the event is over and it's time to pack up and go home. Some staff members are out here for an entire month. "Our RVs are everything to us," Miller says. "They're our workspace, our refuge, where we cook. We are completely dependent on our RVs."
She points out that Hammertown, which only exists for a month every year, is laid out like a real city. "We survey the location, we put up street signs," Miller says. "When they call it Hammertown, they really mean it is a town, and our RVs are our backbone."
One big family
Not everyone comes to King of the Hammers to watch the races. While most races start and end in Hammertown, you need a four-wheel-drive vehicle to catch the action at any of the view spots set up along the course. Some attendees tow Jeeps or ATVs behind their RVs and go off-roading during the day, while others just stay at camp to relax and barbecue instead. King of the Hammers is nothing if not a party, and the off-roading community often feels like one big family.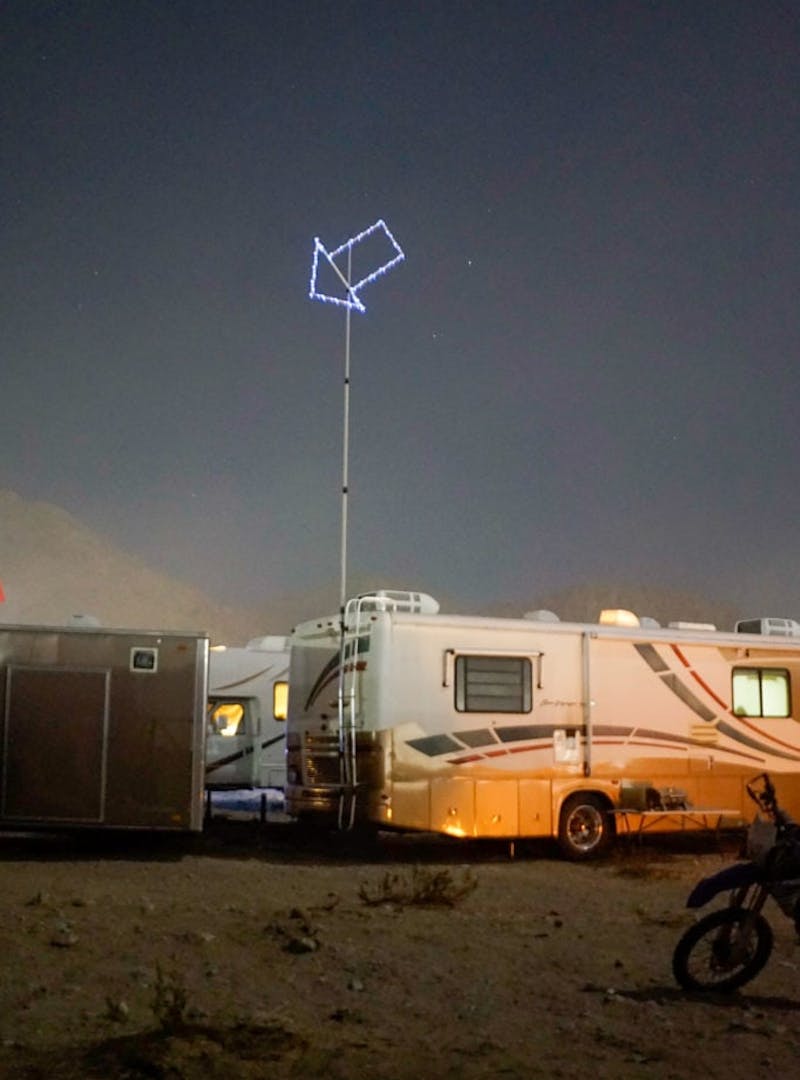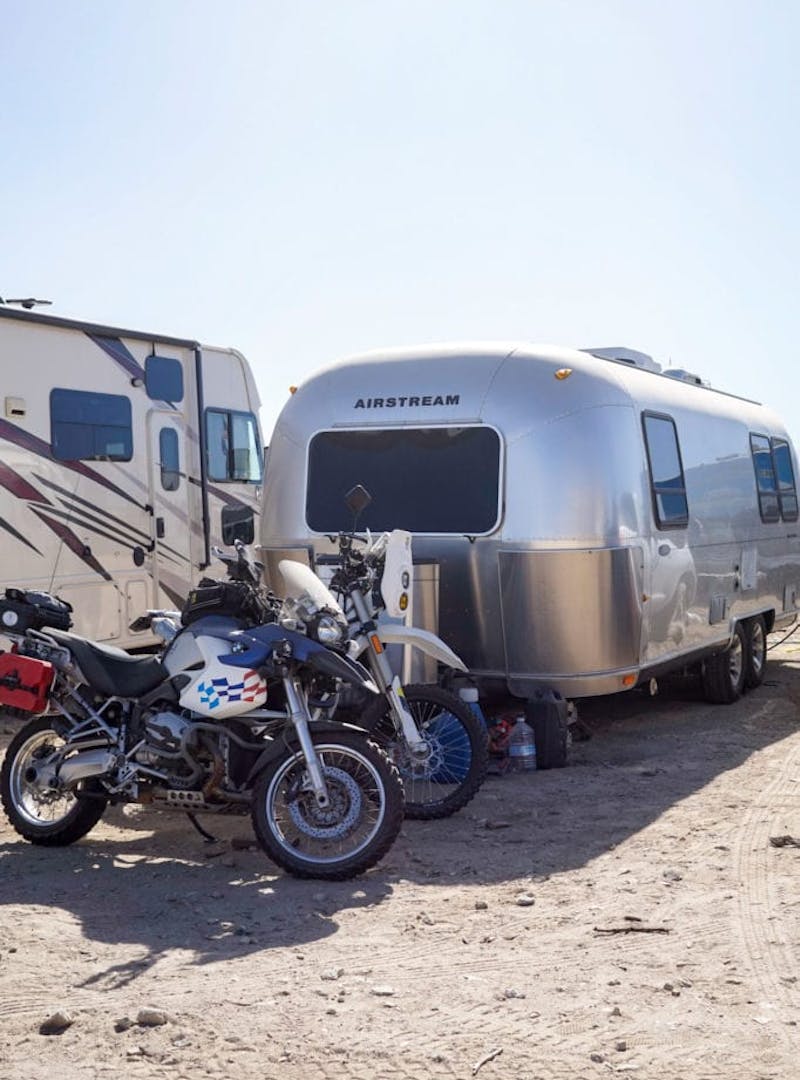 For Theresa Contreras, the off-roading family is a very literal concept. She is the president of LGE-CTS Motorsports, a family business started by her parents in the 1980s and currently run by Contreras and her sister, Sara Morosan. Both sisters are volunteering at the event, and for two full days I drive around Johnson Valley with Contreras in her custom-built Ford Expedition.
"Our family is very outgoing and we very much enjoy the community and want to see it grow in any way that we can," Contreras says, as she expertly maneuvers the large SUV up a steep desert hill. She got involved in Ultra4 racing in 2014, as a co-driver for Jessi Combs. Combs, who was known as "the fastest woman on four wheels," tragically passed away in a fatal crash while attempting a land-speed record last year. Contreras carries on her legacy by continuing work with Real Deal, a nonprofit she and Combs started to get more women involved in skilled trades.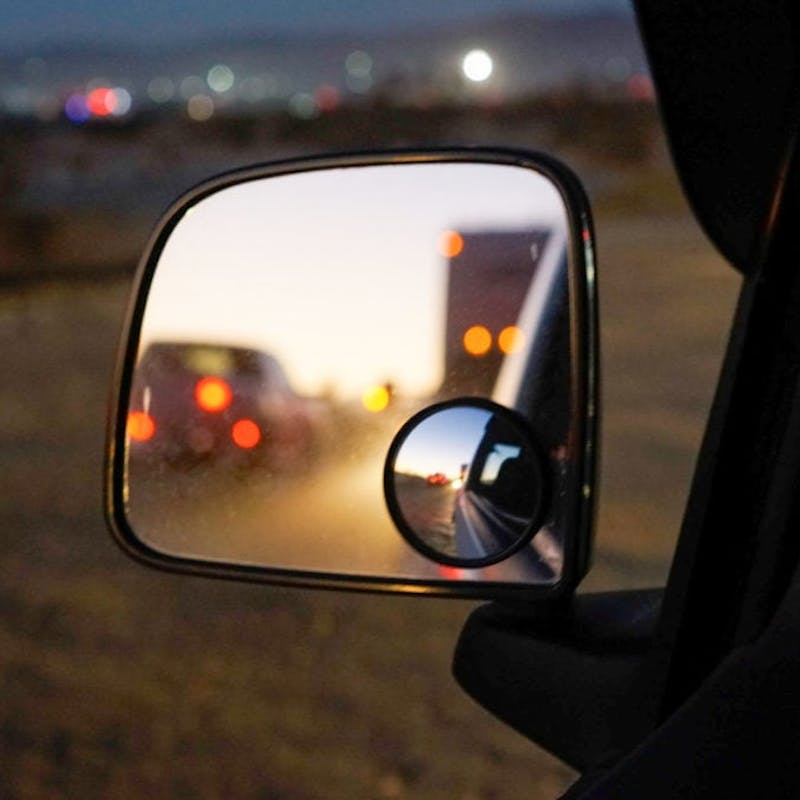 While climbing the side of Chocolate Thunder to get to the spectator spot, we hit an especially treacherous part that looks like solid rock, but is actually loose sand. As the Expedition starts to slide backwards, Contreras quickly applies the brakes and jumps out to assess the situation. We end up getting towed out of the spot by a helpful older man in a vintage Bronco.
I'm admittedly terrified by the situation at first, but Contreras seems completely unfazed—this is just par for the course when driving off-road. It's also a perfect example of the community spirit at King of the Hammers. If you get stuck, someone will help pull you out. It's what families do.
All Photos by Sanna Boman and Richard Giordano
Find Your Perfect RV
Whether you're new to the world of RVing or you're ready to narrow your search, we're here to help you sort through it all and find the RV that's right for you. Explore RVs based off of your lifestyle and the features important to you.
Find Your RV