A complete guide to fishing your way through the South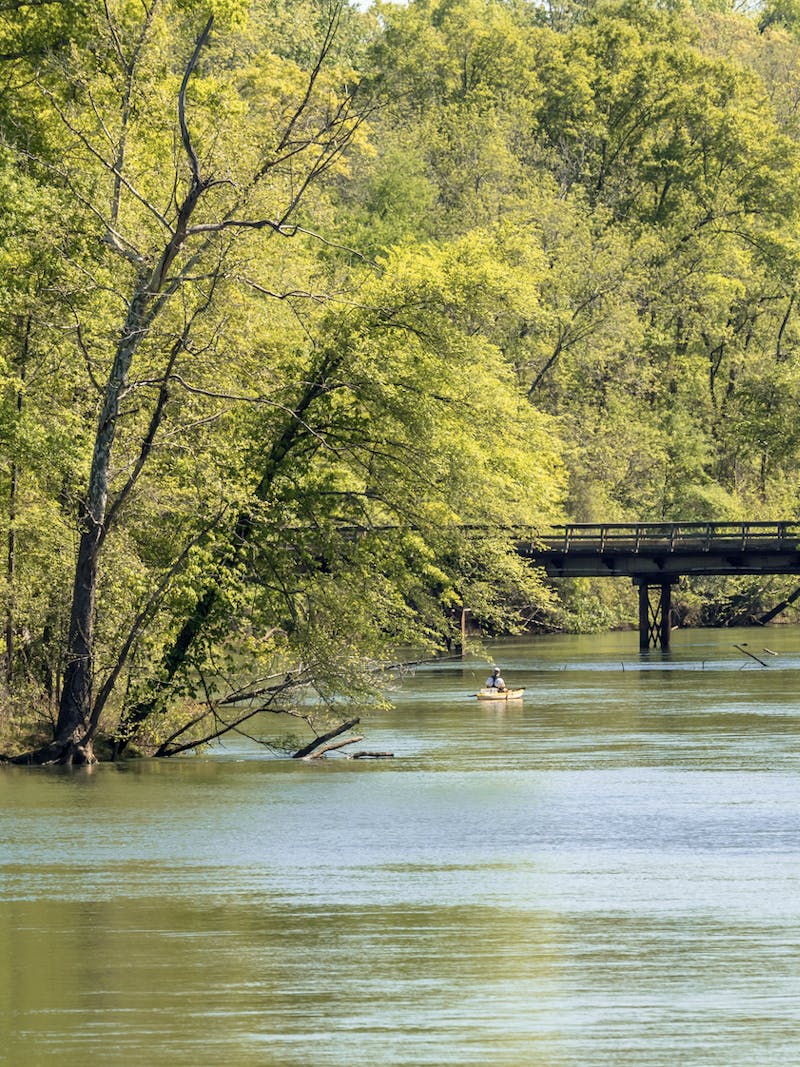 This guide first appeared on Roadtrippers in July 2019.
With the help of well-known kayak fisherman Robert Field, we put together a road trip that highlights some of the best fishing spots throughout the Southern United States (including a few of Field's favorite, lesser-known spots). Kicking off on Florida's southeastern coast—a region that Field describes as the "best offshore kayak fishing in the country"—this trip covers seven states and offers ample opportunities to fish a variety of different oceans, lakes, and rivers. Regardless of whether you prefer to fish from the shore, by boat, or even by kayak, this trip has a spot for everyone.
First up on our fishing road trip is Pompano Beach, Florida, just north of Fort Lauderdale. Here you'll find an abundance of mahi-mahi, blackfin tuna, and Spanish mackerel (the summer is peak season for swordfish and marlin, as well). In addition to the delicious table fish caught here, what makes this spot so unique is that the Gulf Stream—a gigantic current that runs up the east coast—is at its closest point to land right in front of Pompano Beach. This means fisherman don't have to venture as far out into the ocean in order to catch such incredible fish. And if you don't have your own boat, no problem. There are numerous fishing charters to choose from, offering both half-day and full-day trips.
2. Gasparilla Island State Park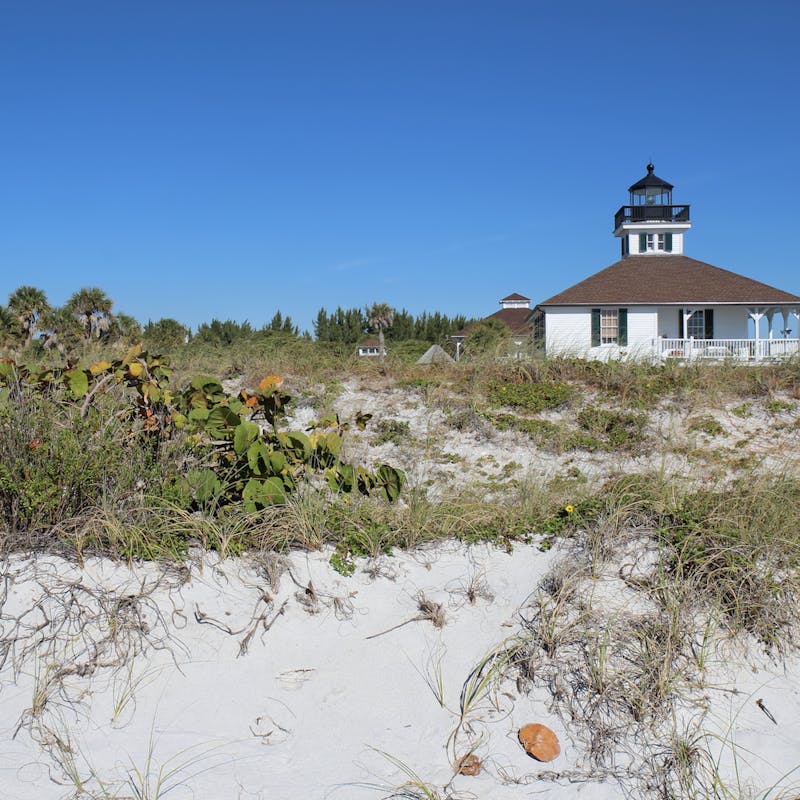 Next, we cross over to the west coast of Florida and check out Gasparilla Island State Park. This small park is flanked by the Gasparilla Sound and the Gulf of Mexico, providing a nice, secluded area to fish (mostly trout and pompano) and access to stunning white sand beaches. Because of it's remote location, the park is rarely crowded—even in the summer! Most of the beaches in Gasparilla Island State Park don't allow swimming, so fisherman rarely have to worry about casting around people. What you do have to look out for, though, are manatees. A popular spot for manatees to eat and congregate, fisherman should be extra careful when they take boats out in the Gasparilla Sound.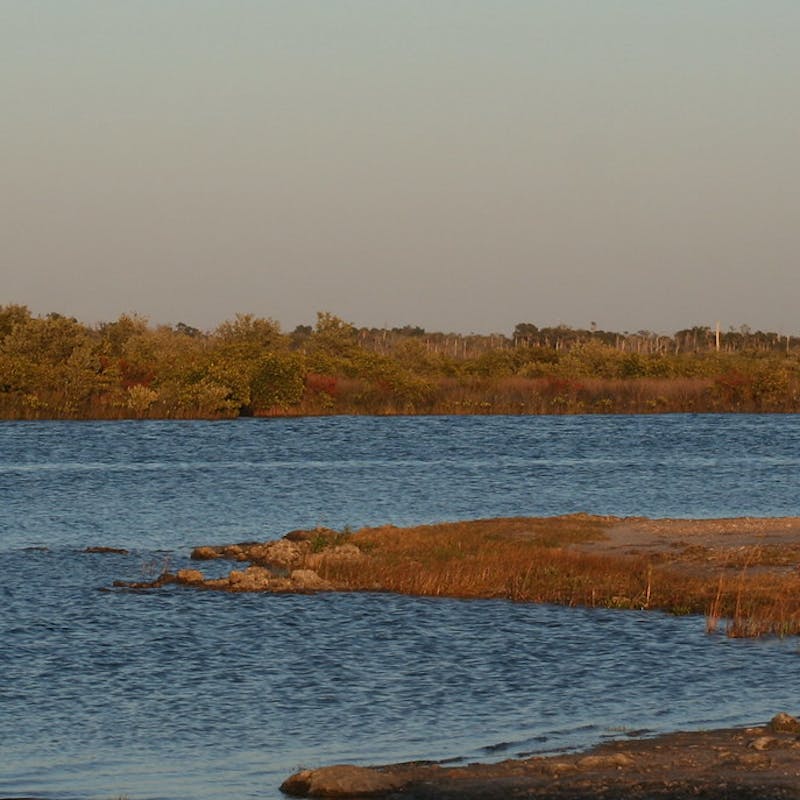 Continuing north above Tampa, just off Highway 19, you'll reach Ozello Community Park. This beautiful park is home to miles and miles of coastal wetlands and marshes. Here you can either fish directly from the Ozello Pier or launch your boat and get easy access to the Gulf of Mexico. And while you can't swim through the channels, you can still kayak or stand up paddle board—offering up-close views of the mangrove islands and the shallow sea grasses. If you do stop to fish, be mindful of the changing tides and be sure to park your car or RV in a highly elevated part of the park (or you might come back to find your tires underwater).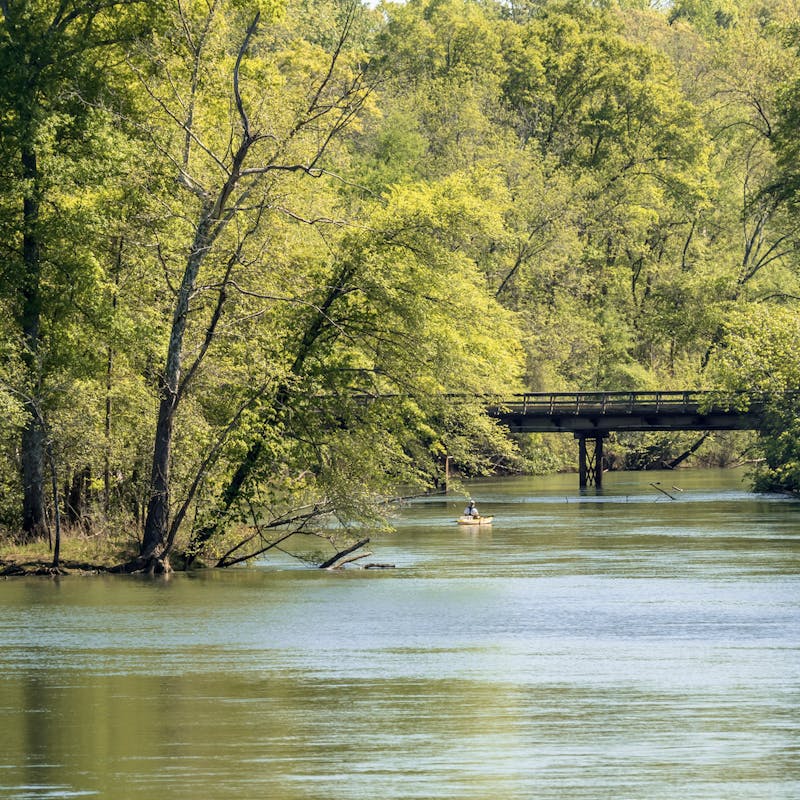 Leaving Florida and cutting through Georgia, the next stop is the Catawba River in South Carolina. This river, which is about 220 miles long, originates in North Carolina and makes it way down through the Blue Ridge Mountains into the Lake Wateree reservoir. One of Field's favorite spots, the Catawba River is known for its bass fishing—particularly largemouth bass. This portion of the river, near Rock Hill, is sluggish and muddy with lots of vegetation, making it the perfect largemouth habitat. And while this area might be excellent for bass, it is still a bit undeveloped and can prove difficult for shore fishing. If you prefer to shore fish, some good access points include the Rock Hill Recreation Complex, Landsford Canal State Park, and the public boat ramps on Highway 9 and Highway 49.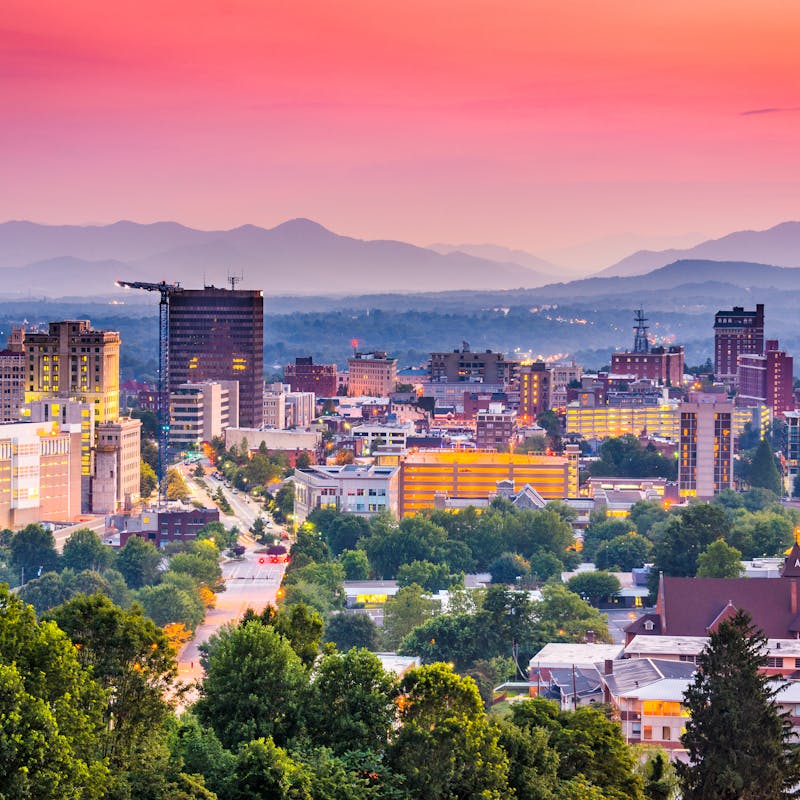 Located in the Blue Ridge Mountains, Asheville is a charming little mountain town. Known for its vibrant art scene and historic architecture, Asheville is also an ideal spot for fly fishing. From tiny plunge-pools to wide open rivers, there are a variety of streams and creeks located throughout the surrounding wilderness. Asheville even offers guided fly fishing float trips for both first-time and experienced anglers. Most guides will provide the boat, the gear, and the knowledge—all you have to do is show up! The rivers around Asheville are full of smallmouth bass and trophy trout, including rainbow, brown, and brook trout. And according to Field, trout are some of the fastest and most fun fish to catch, so get ready...
6. Chattahoochee River National Recreation Area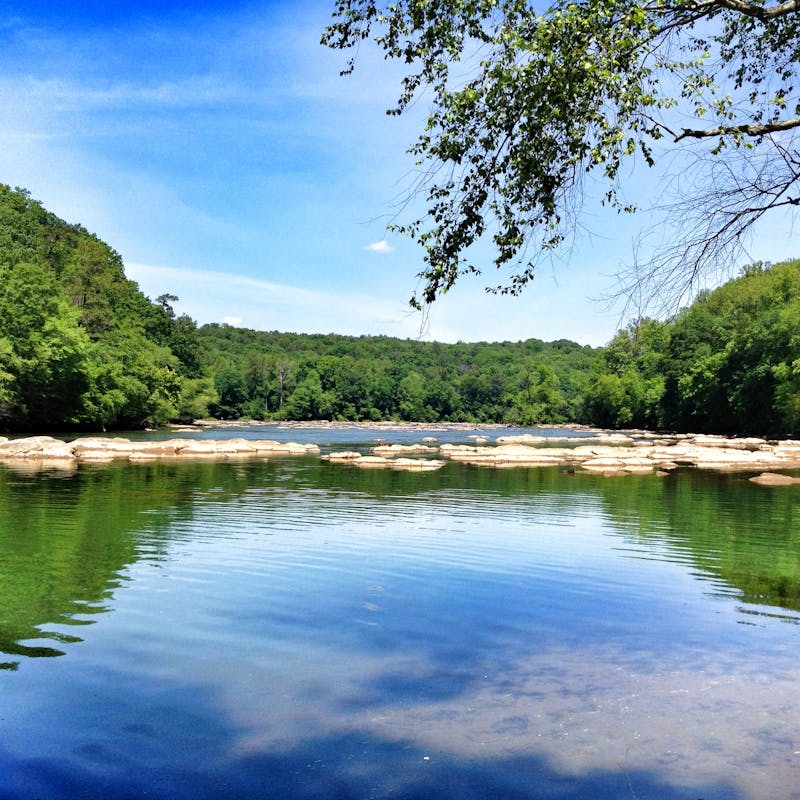 As we make our way back down south, we'll stop just north of Atlanta at the Chattahoochee River National Recreation Area. A lush oasis in the middle of a bustling Southern city, this area is great for both fishing and camping. Many vacationers flock here just to catch a prized trout or catfish. In the summer, it's not uncommon to see people rafting down the river, dropping their lines as they float by. And if you're looking to spend a few days in the area, Field recommends finding a campsite or an RV park nearby. There are two popular RV campgrounds near the river: Atlanta Marietta RV Resort and Banning Mills RV Park. Both are just a short drive from the Chattahoochee and offer plenty of outdoor activities, including zip-lining, hiking, and horseback riding (in case you want a short break from all that fishing).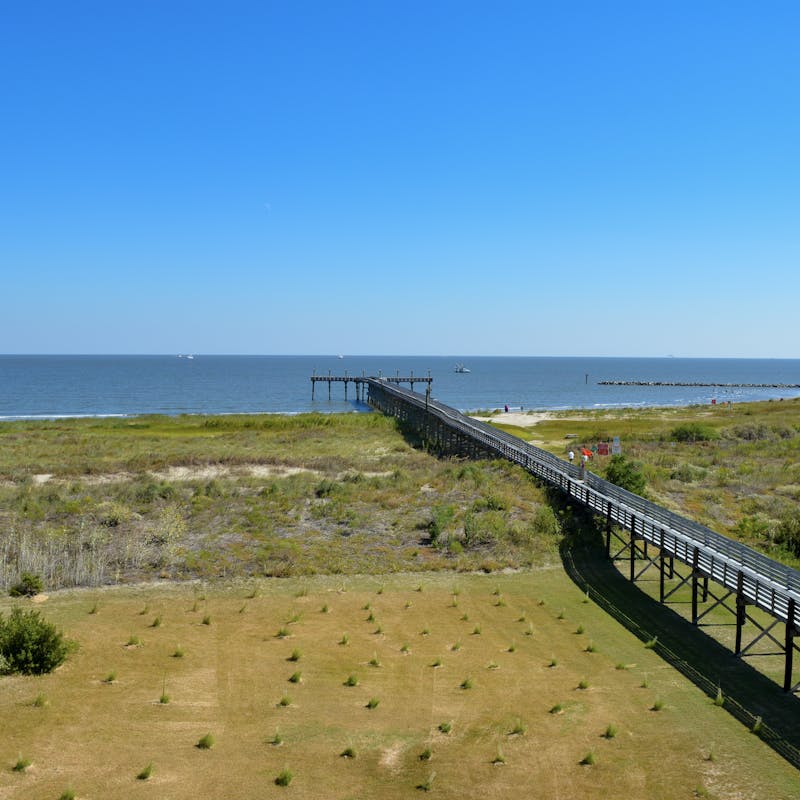 While most people think of the bayou when they think Louisiana fishing, Field favors the waters off the coast of Grand Isle. Home to more than 280 different species of fish, this stretch of southern shoreline is a true mecca for anglers. Grand Isle actually serves as the breakwater between the Gulf of Mexico and the network of channels that connect the Louisiana bayou and the Mississippi River—mixing both fresh and saltwater. Every July, Grand Isle hosts a Tarpon Rodeo, where thousands of anglers come to compete in a competition to catch the biggest tarpon (a large, saltwater fish that jumps out of the water when hooked). Tarpon are notoriously strong and difficult to catch. Just ask Field, who has hooked 14 tarpon in his lifetime but has never managed to successful reel and catch one. In addition to the infamous tarpon, speckled trout can be caught year-round, while redfish swim through the waters in fall and winter.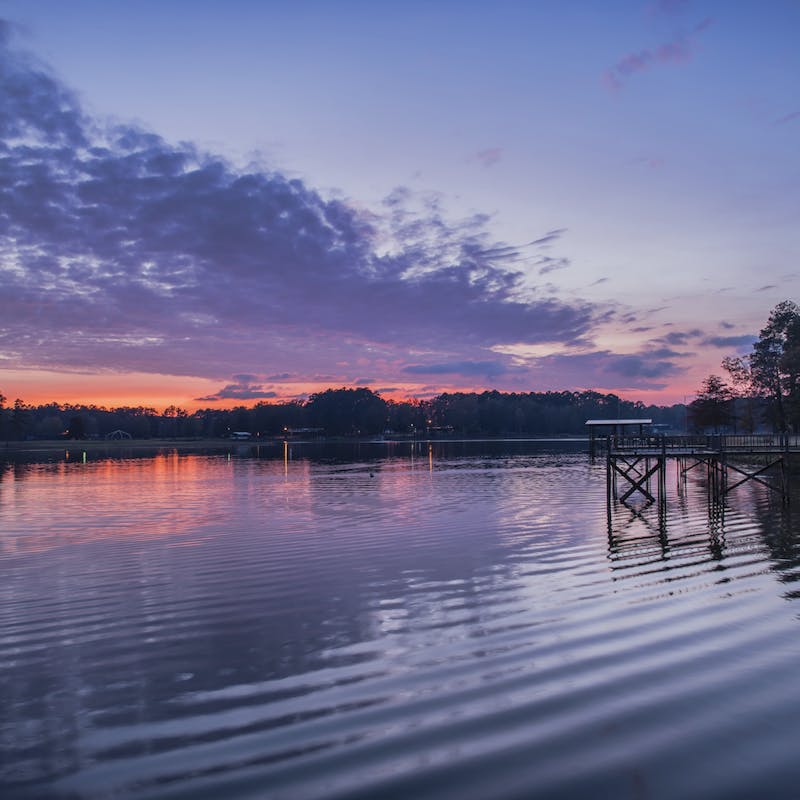 Still technically in Louisiana, the Toledo Bend Reservoir is so long it crosses the border between Louisiana and Texas. In fact, this reservoir is the largest man-made body of water in the South and the fifth largest in the United States. Here you'll mostly find largemouth bass, crappie, and catfish. One of the biggest fish to be caught out of the Toledo Bend Reservoir was actually an 84 pound smallmouth buffalo back in 2006 (that is, if you don't count the 260 pound alligator that was caught in 2017). During the summer months, aquatic activity slows in the reservoir, so it's best to fish during the early morning, late evening, and at night when the temperatures are cooler. Both Texas and Louisiana require licenses to fish on the Toledo Bend Reservoir, but there may be some variation across the two states for the number and size of fish you can catch. Be sure to check with the Department of Wildlife and Fisheries for the latest updates.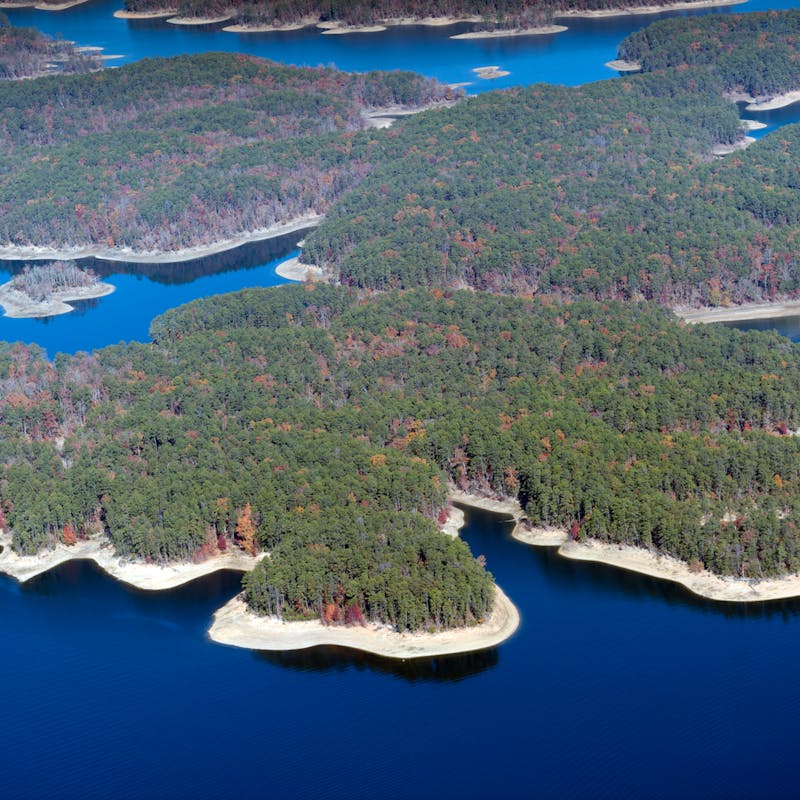 Lake Ouachita is, by far, the largest lake in Arkansas. Surrounded by the Ouachita National Forest, this 40,000-acre lake is extremely well known for anglers and consistently ranks as one of the top 10 spots in the nation for largemouth bass fishing. Seeing as the lake is so massive, the best way to experience it is by boat. There are plenty of places to rent a boat and a wide variety to choose from, including fishing boats, speed boats, even houseboats. Or, if you prefer to explore the lake by land, Lake Ouachita State Park offers excellent camping. Located on the far eastern side of the lake, the campground has both fully-equipped cabins (including seven that overlook the lake) and 93 campsites (58 Class AAA, 23 Class D, and 12 walk-in tent sites). Here you can hike, picnic, grill, and, of course, fish.
10. Beavers Bend State Park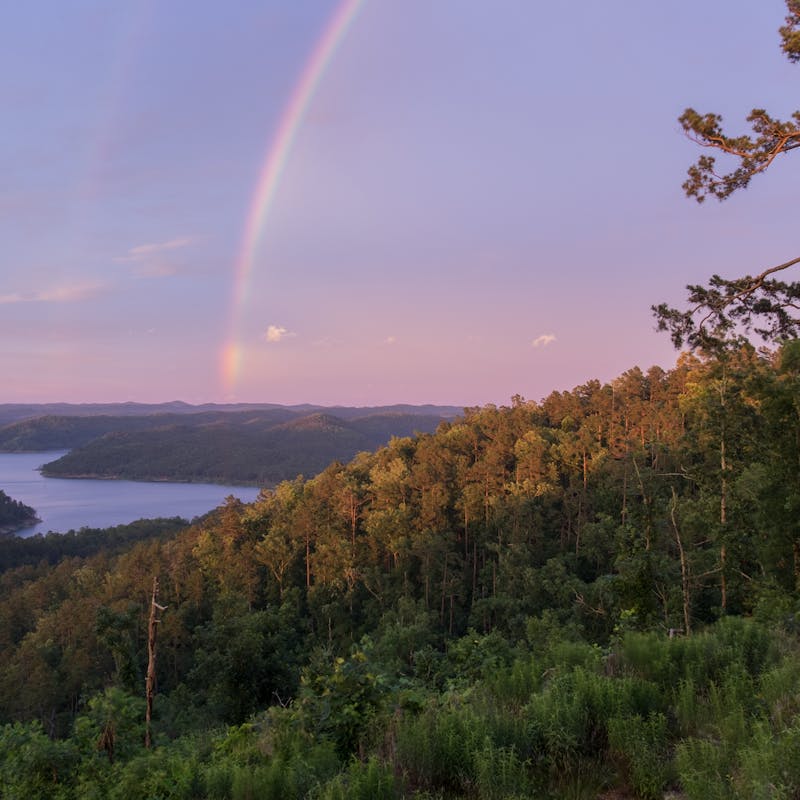 Our last stop on the trip is Beavers Bend State Park in Oklahoma. Located along the shores of Broken Bow Lake, the beautiful pine forests and crystal clear waters make this one of Oklahoma's most popular nature areas. The streams running throughout the park are stocked with trout year-round, and there are two designated catch-and-release trophy areas. Follow the Mountain Fork River down to Broken Bow Lake for some excellent canoeing and fishing opportunities. If you choose to stay in the park, you'll find plenty of modern cabins, RV sites, and tent campsites. The RV sites feature water and electric services, as well as dump sites. And pets are always welcome, just be sure to keep them leashed.
Take this trip yourself
From the salty shores of Florida, where tuna and marline rein supreme, to the peaceful rivers of the Carolinas, where some of the biggest bass in the country get hooked, this road trip is perfect for any angler. Even if you're just starting out or like to casually fish, there are still plenty of beautiful southern sites and amazing campgrounds to experience. And some parting words of advice from Field: Don't ever grab a catfish.
Photo Credit: Felix Mizioznikov / Shutterstock; Stephen B. Goodwin / Shutterstock; Richard Elzey / Creative Commons; Gary Rolband / Shutterstock; Sean Pavone / Shutterstock; Keizers / Wikimedia Commons; Realest Nature / Shutterstock; Bonnie Taylor Barry / Shutterstock; Unherdable / Wikimedia Commons; Autumn M Friesen / Shutterstock
Find Your Perfect RV
Whether you're new to the world of RVing or you're ready to narrow your search, we're here to help you sort through it all and find the RV that's right for you. Explore RVs based off of your lifestyle and the features important to you.
Find Your RV