A Guide to RVing at Festivals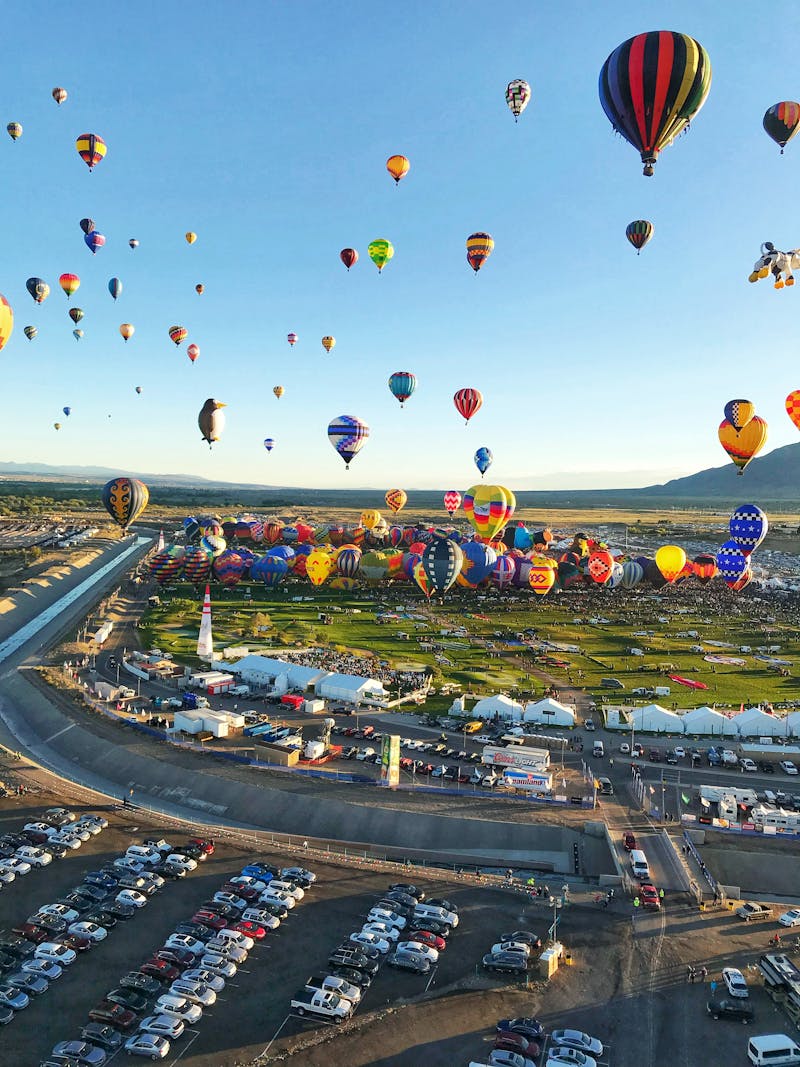 THOR Community: Multiple Authors
Festivals have become increasingly more popular over the last few years—everything from music and film festivals to renaissance and comedy festivals. And one of the most convenient ways to visit a festival is with an RV. Having a nearby homebase where you can eat, sleep, and shower makes the whole festival experience easier and more enjoyable.
If you do decide to take an RV to a festival, there are a few important things to consider. Does the festival have hook-ups, water or sewer? Is there a special, dedicated section reserved for RVers? Can you freely leave and re-enter the festival grounds? Can you bring your pets? These are just a few questions to consider when planning your RV festival trip. To help you make the most of your trip, we asked three different RVers to share their personal experiences RVing at three different festivals. They also share their tried-and-true tips for what to do before, during and after your festival trip.
Samantha Edmunds: Texas Renaissance Festival
With over 600,000 people in attendance, the Texas Renaissance Festival (aka RenFest) is an excellent opportunity to witness historical reenactments, taste ethnic foods, see colorful costumes, and enjoy live entertainment. Having an RV at the festival allows you to participate in both the daytime activities and evening events. Camping at festivals can often enhance the overall experience, as many festivals have "after hours" with additional food and entertainment.
Our family attended RenFest in 2021 and had the best time. The festival grounds have ten full hook-up sites and over 200 acres served for dry camping. Being able to bring your RV means you can move freely between the campground and the festival and avoid long lines. Additionally, having our RV allowed us to take breaks during the day, give our kids a quiet place to nap, and refill our snack and water supplies.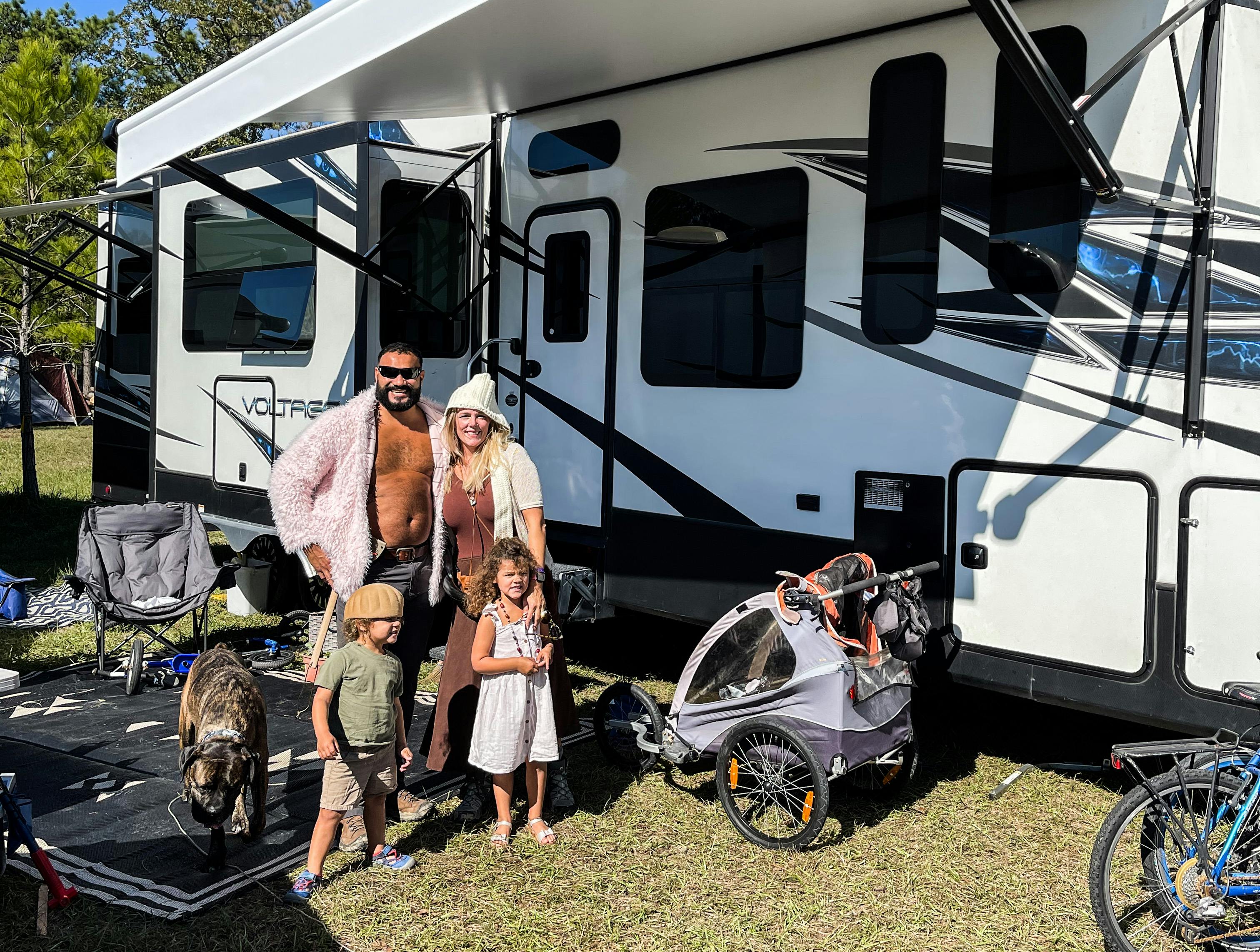 Before your RV festival trip:
Check that your RV's generator, charging stations, water pump, and solar equipment (if you have solar) are all working properly.

Empty your black and gray water tanks, and fill your propane, fresh water, and gas tanks. Some festivals have freshwater available but it doesn't hurt to bring extra.

Pack small traffic cones or string lights to help define and mark your campsite.

Make sure you have jack pads and stabilizers, especially if the festival grounds are on dirt or sand.

Clean out your refrigerator and check that it is working properly. Do some meal prep and plan which meals you'll eat at the festival and which you'll eat back at the RV.

Clean and oil any hitch or towing equipment to ensure easy, smooth operation.

Pack electrolytes or water multipliers. These won't take up much space and can help you stay hydrated during the day.

If you can, try not to bring any valuables. If needed, bring a cable combination lock for extra security.

​​At festivals, there are a lot of people pulling from the same limited power sources, so it's critical that you bring a surge protector with you. This will help protect your RV's electrical panel in case there is a power surge.
Kimberly Graham: Grey Fox Bluegrass Festival
Our family attended the Grey Fox Bluegrass Festival in the Catskill Mountains when both of my children were less than a year old. I grew up in a very musical family, so sharing a love of music and festivals was a tradition I wanted to continue. Grey Fox is the largest bluegrass festival in the region, with thousands of people attending every year. The four-day festival has designated areas for workshops, dancing, intimate musical performances, and a lot of food and craft vendors.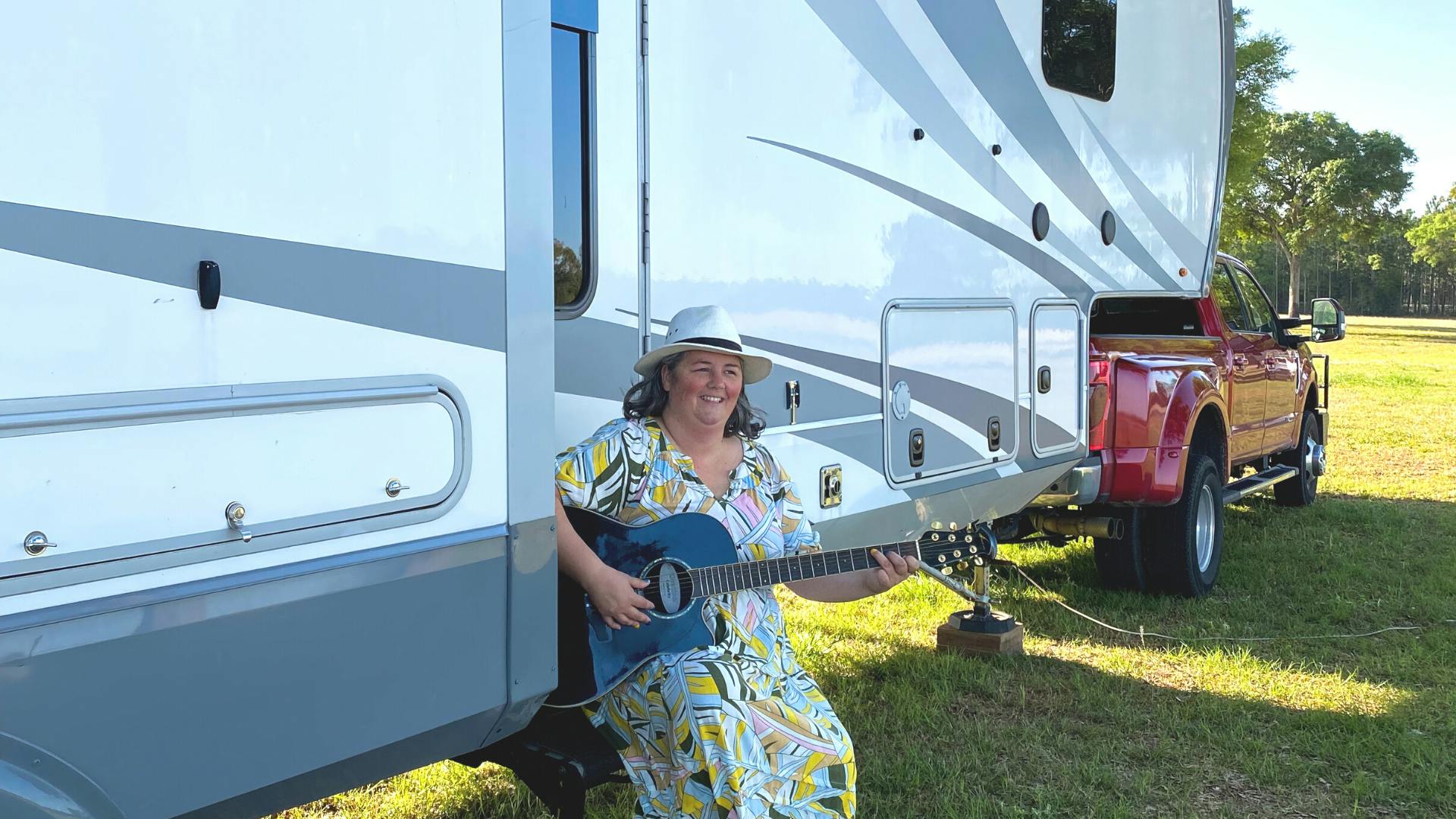 Being able to attend a music festival like this in your own RV allows you to experience the festival differently than if you attend just for the day. In addition to being able to make our own food and use your own bathroom facilities, I believe that the true magic of a festival happens before and after the crowds leave, when you can take in the quiet scenery and bond with your neighbors and fellow RVers.
During your RV festival trip:
Bring enough water and propane to get you through the entire event, including travel days. Amenities may not be provided, and it could be difficult to leave the festival grounds to top-off your propane or gas tanks. Limit dishwashing and take quick showers to conserve water, and limit propane by bundling up with extra blankets.

You don't need to buy solar panels or a large generator to boondock at a festival. Batteries that can hold their charge for several days and a well-functioning inverter should power your RV for the weekend. To save on power, turn off everything that could drain your batteries when they are not in use. This includes things like lights, the microwave, climate control, and water pumps.

Plan and prep your meals in advance so that you have less dishes to wash. Planning your meals is also a good way to save money. While there will be plenty of delicious food from local vendors, it can get expensive to eat every meal at the festival. Our family typically budgets for one festival meal per day and then we cook in our RV for the rest of the meals.

Keep your shades closed during the day to help keep your RV cool. And when taking a shower, try to use a bucket to catch the excess water and then repurpose that water for other things, like flushing the toilet.
Robin Baxter: The Albuquerque International Balloon Fiesta
In 2017, Warren and I attended the Albuquerque International Balloon Fiesta. We had recently purchased our Keystone Montana fifth wheel and had heard great things about the Balloon Fiesta, including how popular it was for RVers. We were new to the RV lifestyle and really didn't know what to expect, but upon arriving at the festival grounds, everyone was extremely helpful and friendly. In addition to riding in some of the balloons, Warren and I got asked to be a part of a special "balloon team." We spent the next few days learning all about hot air balloon culture, helping launch balloons, collapsing and packing them, and participating in a secret initiation that symbolized acceptance into the hot air balloon family.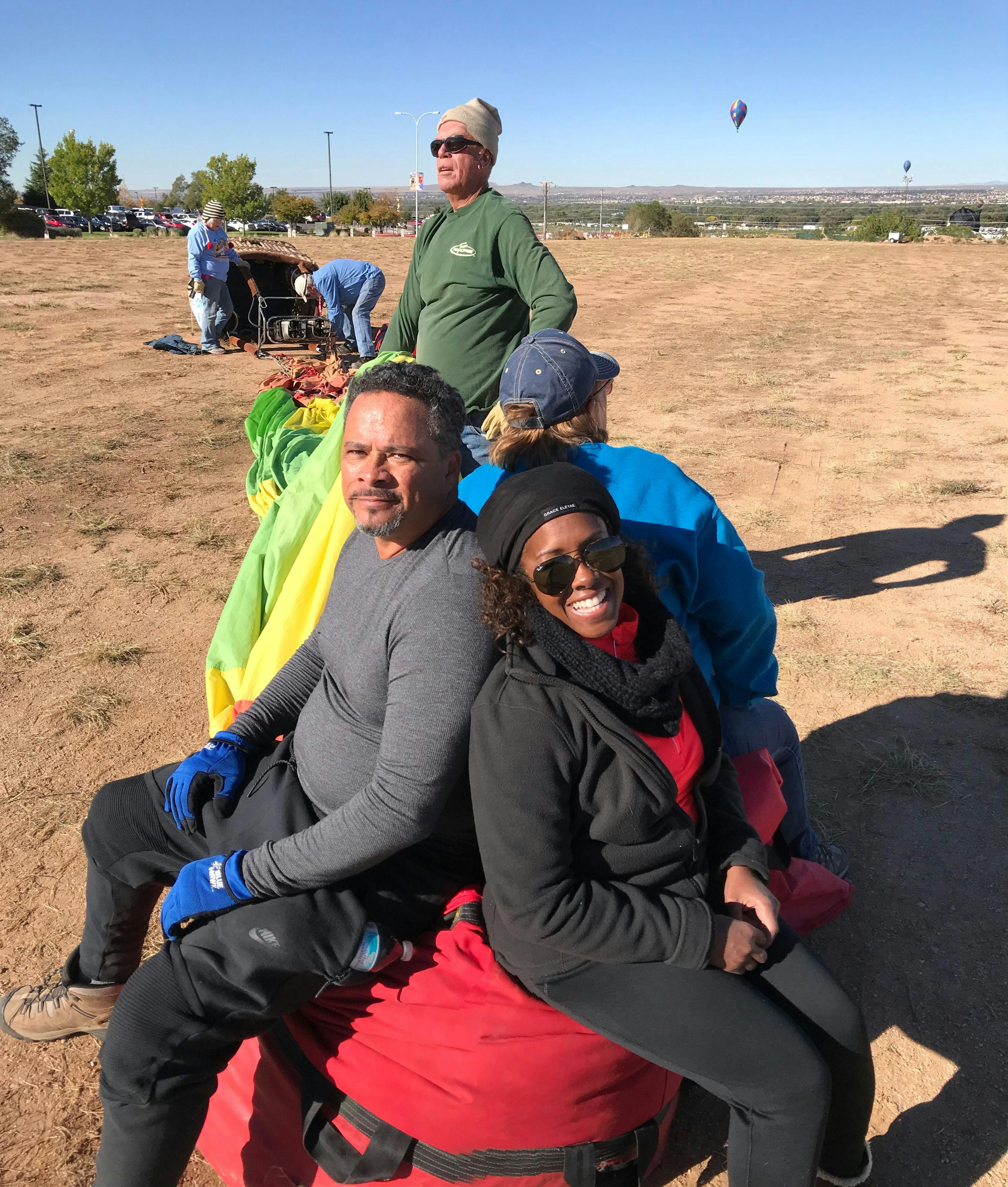 This incredible trip showed us that bringing an RV to a festival is the best way to travel. First, there is usually a dedicated space for RVs at these festivals and you immediately bond with your fellow RVers because you have a major thing in common (you both own RVs). Neighboring RVers are also a great resource to help you park, set-up and share valuable knowledge. Second, having an RV at a festival is extremely convenient. You have all of your supplies and belongings right there with you, including a place to rest, make food or use the bathroom. And lastly, if you travel with pets and the festival allows them, you don't have to worry about leaving them with a friend or pet-sitter. Having an RV gives a lot of pet-owners peace of mind and the flexibility to be able to check on their pets during the day if needed.
After your RV festival trip:
Be sure and dump both your black and gray water tanks at a proper dump station. Never dump them at the festival grounds unless they have sewer hook-ups or a proper disposal area.

Clean your slide outs, awnings, leveling legs, and stabilizers. Things can get dirty and dusty at a festival, especially if you're outdoors, so try to clean everything before you leave to ensure a more seamless departure.

Check your tires and tire pressure. Your tires could have picked up small rocks or sharp objects, or the pressure may have changed due to weather.

If you used a water purifier during your stay, don't forget to remove it from the water hook-up and take it with you.

Always pick up your trash and leave your campsite cleaner than you found it.

Give yourself plenty of time. If you plan to leave at the end of the festival, there's a good chance everyone else will be leaving at the same time. Long lines can form as people pack up and leave, so plan accordingly and don't rush the process.
Find Your Perfect RV
Whether you're new to the world of RVing or you're ready to narrow your search, we're here to help you sort through it all and find the RV that's right for you. Explore RVs based off of your lifestyle and the features important to you.
Find Your RV