Thor Announces Closing of Erwin Hymer Group Acquisition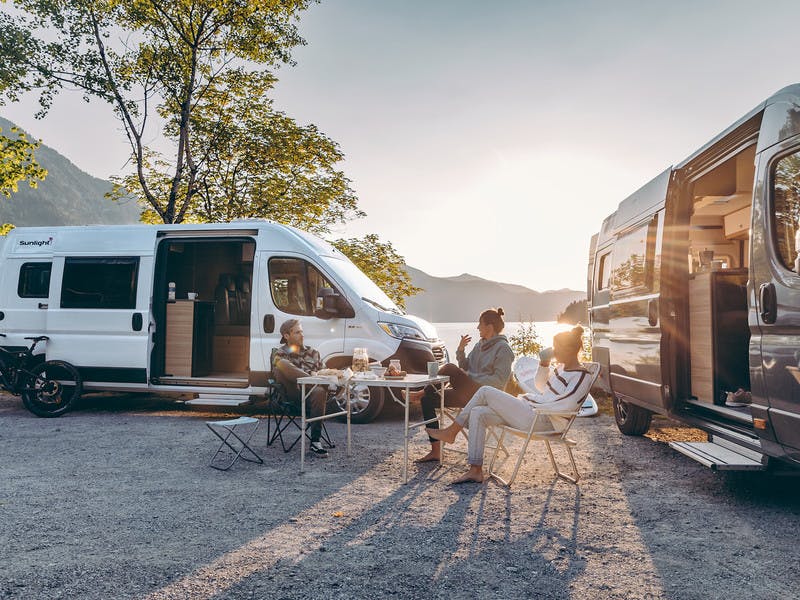 Posted February 1, 2019
Combination creates the global leader in the recreational vehicle market
Acquisition consistent with Thor's long-term strategic growth plan
Carve out of Erwin Hymer Group's North American operations from the transaction resulted in a purchase price reduction of €170 million, and a €180 million reduction in the obligations the Company would have otherwise assumed under the terms of the original stock purchase agreement
ELKHART, Ind., Feb. 1, 2019 /PRNewswire/ -- Thor Industries, Inc. (NYSE: THO) today announced it has completed its acquisition of Erwin Hymer Group (EHG), one of Europe's largest makers of recreational vehicles (RVs), effective February 1, 2019. The combination of Thor and EHG creates the world's largest RV manufacturer, with leading positions in both North America and Europe. The acquisition excludes EHG's North American businesses, and reflects a €170 million (approximately $194 million) purchase price reduction and a €180 million (approximately $205 million) reduction in the obligations the Company would have otherwise assumed under the terms of the original stock purchase agreement.
"This is an exciting time for Thor as we complete the acquisition of Erwin Hymer Group, and immediately gain a leading position in the dynamic European RV market," said Bob Martin, Thor President and CEO. "Europe, the second largest market for RVs globally, is the most logical place to begin the next chapter of Thor's growth.  Having built relationships with the EHG management team over the course of several years, the opportunity to enter the European market with a European industry leader fits squarely within our strategic plan. EHG brings tremendous strengths in product development, technology and production efficiency that complement Thor's historic strength in the North American market, making our combined company the undisputed global leader in the RV market."
"We are committed to our strategic growth plan, and, since the acquisition of Jayco in 2016, we have evaluated numerous opportunities, ultimately deciding the best path for long-term growth was expanding our core RV business geographically into the European market. Now that the purchase is closed, we can focus on our action plans to achieve meaningful operational synergies and sharing of best practices throughout our global operations," Martin added.
Martin Brandt, CEO of Erwin Hymer Group, commented, "The closing of the sale of EHG to Thor marks the beginning of the next phase in the growth of our business.  We are excited to begin working together, learning from each other, enhancing our operations and ultimately providing a satisfying experience for our customers and their families.  As we begin to leverage the combined talent of our companies and share best practices across the globe, we are more optimistic than ever about the future and the results that will be achieved by the combined company."
Christian Hymer, son of the late founder, Erwin Hymer, and member of the EHG Supervisory Board, said, "In Thor, we found the ideal, long-term strategic owner for the great company that our father built.  Thor will provide the resources needed to foster the ongoing entrepreneurial spirit that is the foundation of the Erwin Hymer Group and permeates both companies' corporate cultures.  As significant shareholders, our family is fully committed to the long-term success of Thor and the Erwin Hymer Group."
The acquisition consists of EHG's European operations, which represent the vast majority and core of EHG's historical operations and are the driving strategic rationale for the acquisition.  The acquisition of EHG provides attractive growth opportunities for the combined company, both in the near and long term, through EHG's leading position in the growing European RV market.
As the Company announced on January 21, 2019, the acquisition excludes EHG's former North American operations. The exclusion of EHG's North American operations from the transaction resulted in the financial terms of the stock purchase agreement being amended to reduce both the purchase price by €170 million (approximately $194 million) and the obligations the Company would have otherwise assumed by €180 million (approximately $205 million). The purchase price adjustment resulted in a corresponding reduction in the acquisition financing debt the Company syndicated to fund the purchase.  The equity consideration component of the acquisition price was fixed at 2.3 million shares with the original stock purchase agreement, and was unchanged.
Transaction Closing Details
The purchase price was funded through a combination of available cash of approximately $95 million debt, and the issuance of 2.3 million shares of Thor common stock. The debt financing consists of two credit facilities led by J.P. Morgan and Barclays: $2.1 billion Term Loan B with a 7-year maturity, consisting of a $1.4 billion tranche and a €618 million tranche (approximately $704 million). $750 million, 5-year senior secured asset based loan facility of which approximately $100 million was utilized as of closing. "Our balance sheet has historically been a strength for Thor and we intend to maintain that strength and balance sheet discipline," said Colleen Zuhl, Thor Senior Vice President and CFO.  "With the closing of the EHG acquisition, our focus will be on reducing leverage while continuing to invest in our long-term growth initiatives and return capital to our shareholders.  We anticipate being able to significantly reduce our debt levels using internally generated cash flows over the next two to three years."
Transaction-Related Costs 
Costs relating to the acquisition will be included in Thor's 2019 quarterly financial results.  Specific estimates of the dollar values of these costs are not yet available for the second quarter, however these costs will be comprised of the following categories, among others: Loss on the foreign currency forward contract. The foreign currency forward contract was used to lock in an exchange rate at the September 2018 announcement date, and will be adjusted to market value at the end of the second quarter and will be closed out with any remaining gain or loss recognized in Thor's third-quarter results. Transaction-related costs for legal, professional and advisory fees related to financial due diligence, preliminary implementation costs and regulatory review costs. Interest expense (including ticking fee) charges. Transaction-related costs, including professional, legal and advisory fees related to closing of the transaction as well as the integration and implementation of enhanced controls consistent with SOX requirements plus the expensing of capitalized fees related to the prior Thor debt facility, are expected to be in the range of $40 million to $55 million for the 9-month period subsequent to our first quarter which ended on October 31, 2018. This estimate excludes any loss on the foreign currency forward contract, purchase accounting adjustments and future interest charges.
Thor anticipates providing pro-forma financial statements for the combined company in a filing with the Securities and Exchange Commission within 75 days after closing.
"We see many opportunities to grow our combined business, and we are excited to share details regarding many of these initiatives with our investors over the coming quarters. We are already moving forward with teams that are on the ground, ready to leverage the best of Thor and the Erwin Hymer Group to create significant bottom-line enhancements through the sharing of best-in-class operating practices and by continuing to enhance the customer experience throughout the worldwide RV market. We have near-term opportunities to enhance our procurement strategies, leverage technology and engineering resources, cross-pollinate aftermarket support and dealer development methods that will be essential to our integration of EHG" added Martin.
"Since Thor's founding with the acquisition of Airstream in 1980, we have consistently worked to maximize long-term shareholder value," said Peter B. Orthwein, Thor Executive Chairman.  "With the European market in an earlier stage of recovery than the North American market, this largest acquisition in our Company's history is happening at the right moment to join with a leader in the European RV market to accelerate our long-term growth. Completing this acquisition illustrates the optimism we have for our business and our markets, and the confidence we have in our team's ability to effectively manage our now global business."
About Thor Industries, Inc.
Thor is the sole owner of operating subsidiaries that, combined, represent the world's largest manufacturer of recreational vehicles.  For more information on the Company and its products, please go to www.thorindustries.com.
Forward Looking Statements 
This release includes certain statements that are "forward looking" statements within the meaning of the U.S. Private Securities Litigation Reform Act of 1995, Section 27A of the Securities Act of 1933, as amended, and Section 21E of the Securities Exchange Act of 1934, as amended. These forward looking statements are made based on management's current expectations and beliefs regarding future and anticipated developments and their effects upon Thor, and inherently involve uncertainties and risks. These forward looking statements are not a guarantee of future performance. We cannot assure you that actual results will not differ materially from our expectations. Factors which could cause materially different results include, among others, raw material and commodity price fluctuations; raw material, commodity or chassis supply restrictions; the impact of tariffs on material or other input costs; the level and magnitude of warranty claims incurred; legislative, regulatory and tax law and/or policy developments including their potential impact on our dealers and their retail customers or on our suppliers; the costs of compliance with governmental regulation; legal and compliance issues including those that may arise in conjunction with recently completed or announced transactions; lower consumer confidence and the level of discretionary consumer spending; interest rate fluctuations; the potential impact of interest rate fluctuations on the general economy and specifically on our dealers and consumers; restrictive lending practices; management changes; the success of new and  existing products and services; consumer preferences; the ability to efficiently utilize production facilities; the pace of acquisitions and the successful closing, integration and financial impact thereof; the potential loss of existing customers of acquisitions; our ability to retain key management personnel of acquired companies; a shortage of necessary personnel for production; the loss or reduction of sales to key dealers; disruption of the delivery of units to dealers; increasing costs for freight and transportation; asset impairment charges; cost structure changes; competition; the impact of potential losses under repurchase agreements; the potential impact of the strength of the U.S. dollar on international demand for products priced in U.S. dollars; general economic, market and political conditions; and changes to investment and capital allocation strategies or other facets of our strategic plan. Additional risks and uncertainties surrounding the acquisition of Erwin Hymer Group SE (the "Erwin Hymer Group") include risks regarding the potential benefits of the acquisition and the anticipated operating synergies, the integration of the business, changes in Euro-U.S. dollar exchange rates that could impact the mark-to-market value of outstanding derivative instruments, the impact of exchange rate fluctuations and unknown or understated liabilities related to the acquisition and Erwin Hymer Group's business. These and other risks and uncertainties are discussed more fully in Item 1A of our Annual Report on Form 10-K for the year ended July 31, 2018 and Part II, Item 1A of our quarterly report on Form 10-Q for the period ended October 31, 2018.
We disclaim any obligation or undertaking to disseminate any updates or revisions to any forward looking statements contained in this release or to reflect any change in our expectations after the date hereof or any change in events, conditions or circumstances on which any statement is based, except as required by law.
Contact
Mark Trinske
Vice President of Investor Relations
(574) 970-7912
mtrinske@thorindustries.com 
View original content:http://www.prnewswire.com/news-releases/thor-announces-closing-of-erwin-hymer-group-acquisition-300788082.html
SOURCE Thor Industries, Inc.