Thor Motor Coach Reveals Outdoor Adventurer 4WD Magnitude SV34 at RVX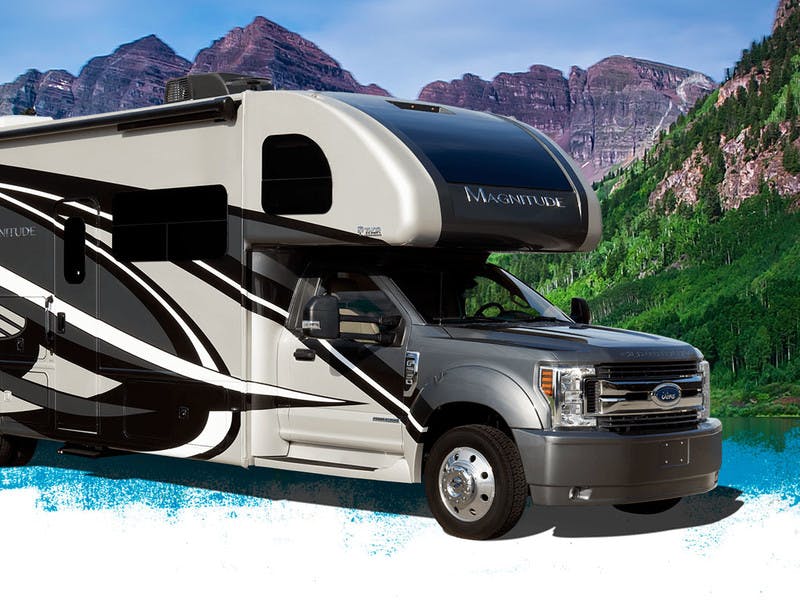 Posted March 5, 2019
Salt Lake City, Utah – Thor Motor Coach® is partaking in RVIA's first RVX: The RV Experience at the Salt Palace Convention Center in Salt Lake City, Utah, from March 12 through March 14, 2019. According to RVIA, RVX will be the industry's only dealer-focused market development trade event designed to promote the RV industry and its products.
The 2020 Magnitude™ SV34 Super C motorhome is premiering at RVX with a new 4WD option aimed at outdoor enthusiasts. "Our product development and engineering team worked diligently to implement four-wheel drive on the SV34," said Chris Carter, Product Manager at Thor Motor Coach. "Timing was perfect to debut at RVX because of the tie-in with the Outdoor Adventurer Reveal category and Salt Lake being so close to Moab and other great destinations. We're excited to bring light off-road capabilities to our fans who are wanting to get off the beaten path."
The SV34 is featuring a conceptual exterior package and interior decor, and standard amenities that are available for 2020 such as Winegard® ConnecT™ 2.0 4G LTE router and WiFi extender and the Thor Motor Coach App. The App serves as a companion to Thor Motor Coach owners, tracking maintenance, keeping service records, and sending notifications when it's time for maintenance. Additionally, it functions as an integrated link to Roadtrippers, a trip planning tool, catering to RVs.
Thor Motor Coach will be in Booth 2700K and will be releasing more details on motorhomes displayed at RVX in the upcoming weeks. Check out the live videos Thor Motor Coach will be broadcasting on YouTube, Facebook, and Twitter on Wednesday and Thursday during show hours.
About Thor Motor Coach
Thor Motor Coach (TMC) is the only Made to Fit® motorhome brand in North America. TMC's diverse product lineup includes many of the world's most recognized Class A and Class C motorhome brands. As an industry leader in innovative design, TMC builds a variety of unique styles, sizes and floor plans that feel custom-made – at a truly competitive price. For more information, visit ThorMotorCoach.com or call 800-860-5658.