Coming Soon: Control and Monitor Your Keystone RV from the Road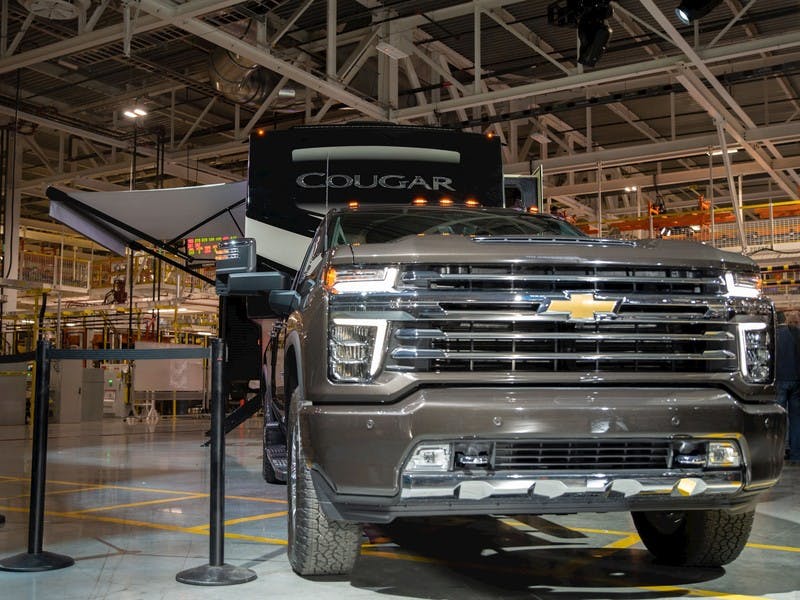 Posted February 11, 2019
Coming summer 2019, the groundbreaking iN·Command® Control System with Global Connect™ will be available in the new lineup of 2020 Chevrolet and GMC pickup trucks and SUVs. For Keystone RV owners with compatible systems, this means you will not only have the convenience of iN·Command on your smartphone, but you will soon be able to monitor and control your rig's controls from the dash of your truck.
The new implementation of iN·Command offers an additional and phone-free way to access to tank and battery levels, lights, water, HVAC, generator functions and more while on the road–the system also sends alerts should there be any RV system errors or components that need attention. Off the road, RV functions can be accessed anywhere in the world with a Wi-Fi enabled smartphone from the myChevrolet or the myGMC app. Owners who currently have a Keystone RV with the iN·Command System with Global Connect can expect to be alerted of a software update before June 1, 2019.
What is iN·Command®?
In 2015, Keystone engineers teamed with ASA Electronics® and created the industry's first app-based control system that replaced confusing switches and buttons with one sleek, easy-to-use operation panel inside the RV. Since then, the iN·Command System has emerged as one of the most highly advanced "smart-home on the go" technologies to date. Just last year, Global Connect was added to the iN·Command software, allowing users to access their RV systems from anywhere in the world via a smart phone app. This year, pushing the user experience even further, ASA partnered with General Motors to give owners ultimate control both on and off the road.
The iN·Command system has revolutionized on-the-go technology. Now, with the convenience of the iN·Command® Control System with Global Connect™ in the new 2020 Chevrolet and GMC, you can travel farther, stay out longer and explore worry free.   
Browse our iN·Command Compatible Brands:
Cougar and Half-Ton- Committed to innovation, quality, style and affordability, Keystone's Cougar brand sells more mid-profile fifth wheels and luxury travel trailers than any other brand.
Alpine- Alpine, Keystone's premier luxury fifth wheel brand, is designed for a new generation of discriminating campers who are looking for contemporary styling, innovative floorplans and modern amenities. 
Fuzion- Fuzion toy haulers are designed for customers with a grab-the-bull-by-the-horns attitude. We don't roll with the norm—we set the curve.
Raptor- A toy hauler brand that growing families, hobbyists, and outdoor enthusiasts of all types appreciate Raptor's flexible floorplans, multi-zone living, and modern, sophisticated design.
Montana and High Country (only with the optional Legacy Package)- More than 100,000 owners who have chosen Montana for its spacious floorplans, exceptional craftsmanship, cutting-edge technology, and the confidence that comes from twenty years of building durable and dependable luxury fifth wheels.